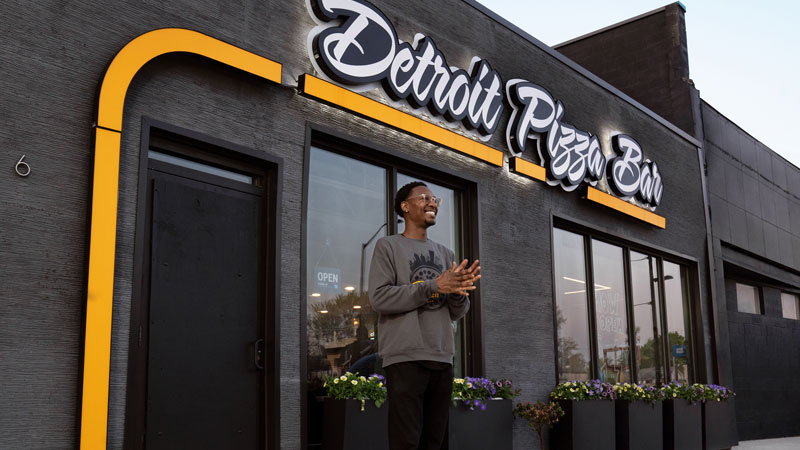 Stories
One Entrepreneur Helping to Revitalize Detroit
How JPMorgan Chase is helping small business owner and local developer Marcus Jones revitalize his neighborhood and develop Detroit's workforce for the city's next chapter.  
When the Detroit Pizza Bar opened in the Spring of 2022, it became the first sit-down restaurant in the McNichols neighborhood in 40 years. More than just a place to grab a slice, the restaurant has become an example of how intentional community development is vital for economic growth and opportunity in a community like Detroit. It also reinforces that Detroit is a good investment.
"We studied how to rebuild in a way that supports people who are already here and how to rebuild neighborhoods in a way that is sustainable," says Marcus Jones, owner of Detroit Pizza Bar.

One Entrepreneur Helping to Revitalize Detroit jpmc
WATCH VIDEO

Upskilling For a New Workforce
Jones' vision started long before his pizza bar became a reality. While in college, he realized that Detroit needed quality housing and good jobs for its residents. His first step was clear: residents needed the necessary training and skills to become a part of Detroit's new workforce and help with construction. With support from JPMorgan Chase's Entrepreneurs of Colors Fund, Jones and his partner launched the Detroit Training Center (DTC) to provide vocational training and certifications to local residents.
The work would require partnerships with local government and community leaders. "We worked closely with the city and state to create residential builders' programs—homeowner workshops—anything to teach people to acquire and rehab property," Jones explains.
As DTC grew, it expanded to include heavy construction equipment and worked to offer training and certifications to veterans and the homeless. Today, it offers even more customized vocational training and connects its graduates to jobs in Detroit.
Jones is even working to hire those newly trained DTC students himself. In 2016, he launched MJ Construction Service, which hires new graduates and emphasizes sustainable building for new and rehabbed residential and commercial projects.
As part of its ongoing investment in Detroit's recovery and commitment to supporting local developers, JPMorgan Chase collaborated with Capital Impact Partners to launch the Equitable Development Initiative (EDI), which mentors early- and mid-career BIPOC developers, such as Jones.
"We learned early on how important it is for residents to build their own neighborhoods and to support developers who reflect the population of the city," says Pierre Batton, a JPMorgan Chase Program Officer for Global Philanthropy based in Detroit.
In four years, more than 200 local developers have been trained by the EDI or are currently participating in its programming.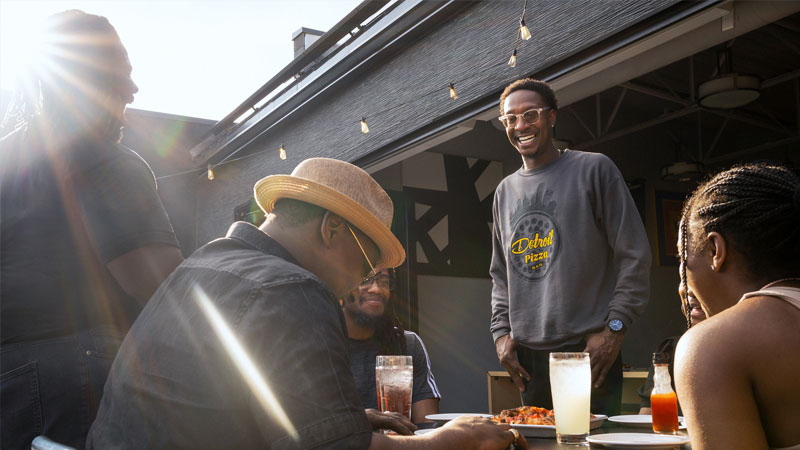 Building a Pipeline for Future Success
With more residents now trained, working and involved in redeveloping Detroit's neighborhoods, Marcus turned to his vision for a restaurant.
The idea for the Detroit Pizza Bar came after Marcus saw a request for proposals to redevelop a long-abandoned 6,000-square-foot commercial space in the McNichols neighborhood.
Over the course of 18 months, the building for the pizza bar was renovated by the same local residents trained by Jones through his workforce development programs. And, when the restaurant was ready to open, Jones was intentional about hiring people who lived within a two-mile radius, prioritizing those who might not be able to afford a car. He also reached out to public and culinary schools to train his employees in all aspects of the business so his employees could leave with even better resumes. Furthermore, his model of profit sharing helps encourage employees' sense of ownership, increases motivation and creates a family-like environment.
The new restaurant is now a workforce engine that Jones sees as critical to rebuilding lives and communities.
"The restaurant serves as a pipeline for my students to get the experience they need so they can move on to bigger jobs," he said. "Everything I've done is focused on developing the workforce and the community."
Learn more about how JPMorgan Chase helps strengthen Detroit's local economy and thousands of small businesses.
For informational/educational purposes only: The views expressed in this article do not reflect the official policy or position of (or endorsement by) JPMorgan Chase & Co. Views and strategies described may not be appropriate for everyone and are not intended as specific advice/recommendation for any individual. Information has been obtained from sources believed to be reliable, but JPMorgan Chase & Co. or its affiliates and/or subsidiaries do not warrant its completeness or accuracy. You should carefully consider your needs and objectives before making any decisions and consult the appropriate professional(s). Outlooks and past performance are not guarantees of future results. Participants compensated.