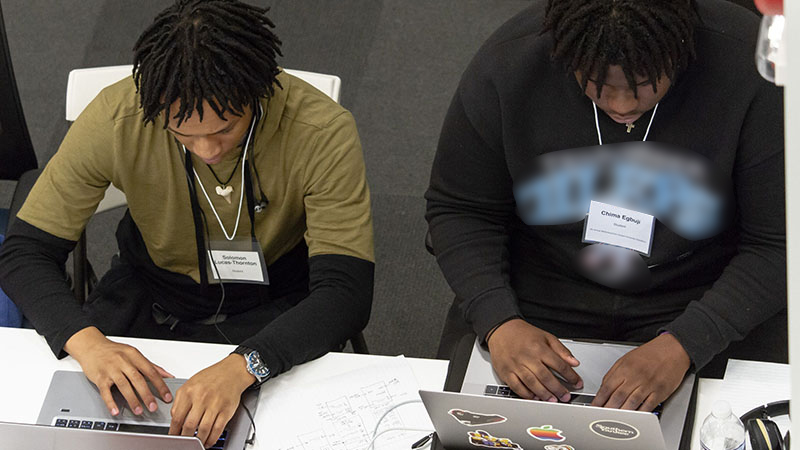 Stories
Cracking the Code on the Tech Industry's Diversity Challenge
JPMorgan Chase is teaming up with HBCUs to create opportunity for black students interested in technology.
For all its cutting-edge advancements, the technology sector still lags when it comes to diversity. According to the Brookings Institution, blacks and Latinos are underrepresented in tech jobs by roughly 50 percent.1 In other words, while Latinos make up 16.7 percent of all workers, they only comprise 6.8 percent of computer and math workers. And the gap grows even wider as black and Latino workers get closer to the C-suite: according to the U.S. Equal Employment Opportunity Commission, whites hold over 83 percent of executive level positions in tech, while blacks hold only 1.9 percent.2
At the same time, people of color are becoming an ever-larger part of the workplace: according to the Economic Policy Institute, they will comprise the majority of U.S. workers by 2032.3 To help create spaces for black college students to gain exposure to the technology industry, JPMorgan Chase has partnered with universities and organizations—including historically black colleges and universities (HBCUs)—to sponsor hackathons and promote volunteerism. Part of Tech for Social Good, a JPMorgan Chase initiative, these hackathon events are an opportunity to expose students to how they can use technology to solve social good challenges. It's also a chance for employees to use their expertise to help the next generation of diverse workers develop the skills they need to join the technology workforce.
Diamond Mickle, a JPMorgan Chase software engineer based in the Delaware Tech Center, is one of those employees. A graduate of Lincoln University, she wanted to find ways to help other HBCU alumni find jobs in the tech sector. "I have always been passionate about volunteering," she says. "I wanted to go back to any HBCU to help students navigate the transition from college to the workforce." After learning about Tech for Social Good, Mickle immediately got involved with the university hackathons that JPMorgan Chase supports.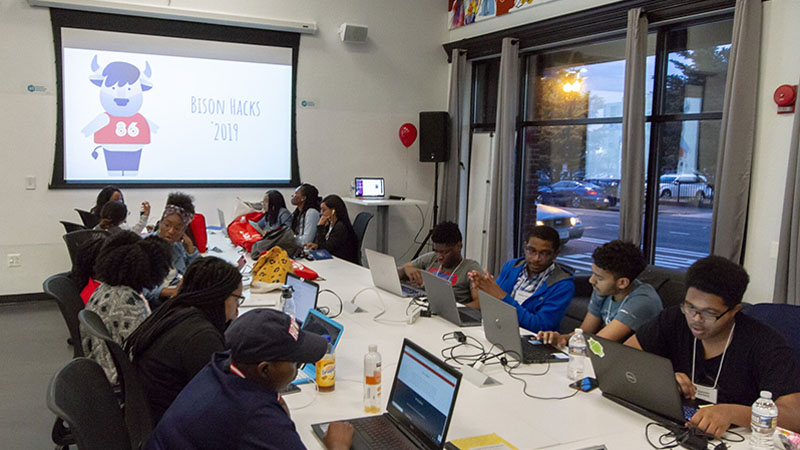 One of these events-the 5th Annual #BISONHACKS hackathon, which was held in March at the Howard University School of Business, drew more than 80 students from Howard and surrounding universities. The students were tasked with developing technological solutions to address challenges in educational achievement, justice, financial inclusion, and other issues facing members of the Washington D.C., Maryland, and Virginia communities.
JPMorgan Chase presented a challenge called the Best Hack for Empowering Entrepreneurs of Color. In it, students worked to develop technology projects that would help inspire entrepreneurs and small business owners of color, and equip them with the resources they need to succeed. The judging criteria focused on how well the solution addressed the challenge, if it was innovative, well-designed, and sustainable for the community it would serve.
The winning project for the JPMorgan Chase challenge was Startup HU, a marketplace for student entrepreneurs. The team fashioned a website with resources to assist members of the Howard community to launch their own startups. In addition to giving students a chance to put their tech skills to the test, the challenge also gave them an opportunity to connect with tech employees from throughout the D.C. area. JPMorgan Chase employees, including Mickle, served as mentors to help students brainstorm, prepare and polish their ideas throughout the challenge.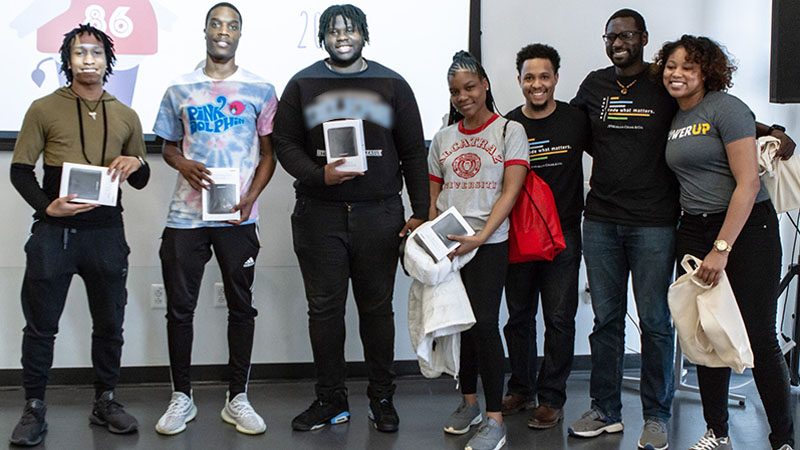 Howard University, Alum Zuri Hunter, participated in a similar challenge as a student in 2015. Now a software engineer at Mapbox, a computer software company, Hunter credits #BISONHACKS with helping her secure her first job after graduation as a technologist. Still a strong supporter of the program, this year Hunter played a vital role handling event logistics. "The Hackathon is a way for the industry to see the challenges people of color are facing and their unique ways of addressing those challenges through technology," she says.
JPMorgan Chase's work with HBCUs extends far beyond hackathons. As part of its Force for Good program, JPMorgan Chase technologists are working with Howard University on the Howard Forward 2024 plan, an initiative aimed at improving Howard's position academically, financially, and within the larger community. Since February, JPMorgan Chase's technology employees have been helping to develop a data analytics dashboard to track the University's progress toward its goals. And, with JPMorgan Chase's new Advancing Black Pathways initiative, these partnerships will continue to expand. The initiative is focused on accelerating economic opportunity for black Americans to strengthen education and job training, grow careers and build wealth.
Whether through hackathons or mentoring, software development or recruitment, there are many ways for companies to help people of color develop the skills they need to advance the future of technology. And that's an investment that will pay dividends for everyone involved.