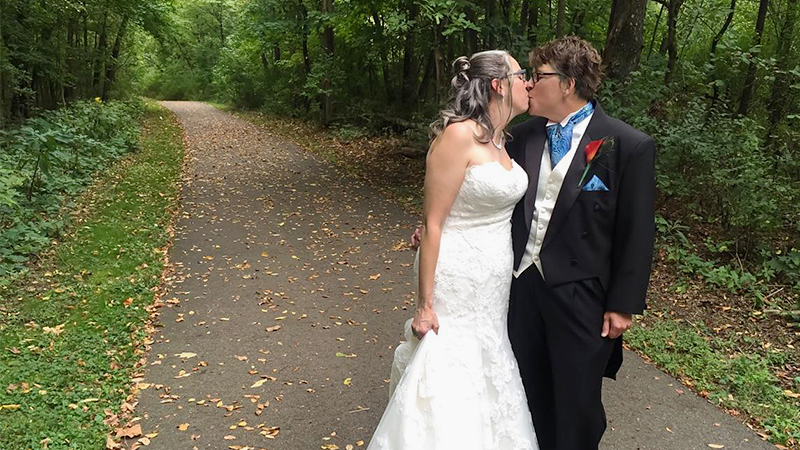 Stories
Brenda Millhouse-Huebner: Pride Means Freedom, Love and Space for All
For Brenda Millhouse-Huebner, coming out has meant being true to herself, and living with no regrets.
In our ongoing celebration of Pride, we're putting the spotlight on workers across JPMorgan Chase. Meet Brenda Millhouse-Huebner, a Personal Advisors Team Lead based in Westerville, Ohio.
Who has had the biggest impact on the person you've become?
I would say my experiences. Growing up, I knew I always wanted to be with a woman, but I was raised in a religious household and was expected to grow up, get married and have kids. I did that, and I have no regrets because it gave me three wonderful children and four grandchildren.
Before coming out, I wasn't being true to myself. After years of living out other people's expectations, I decided to prioritize being myself.
My first "real" relationship was with a woman who was not out, and it felt like I was still hiding who I was. I wanted to be my full self, so I decided to break off the relationship, move and start over.
Fast-forward to today, I am happily married to a woman who loves me, my children and grandchildren.
How are you celebrating Pride month this year?
I love the visibility that Pride month gives us and how everyone comes together to celebrate love.
I know the feeling of hiding one's identity out of fear. This year, I'm celebrating Pride month by creating a safe space for anyone who needs it. I will also be hosting and celebrating many of my LGBTQ+ friends and allies.
What makes a good ally?
Someone who ask questions and is open to learning about other people's experiences.
Recently, I had a conversation with a coworker where I told him about my past experiences. During our chat, he assured me that he would always have my back and that I can count on him if I was ever in a situation that made me feel uncomfortable to be myself. That meant a lot to me, and that's a great ally.
What advice would you give to help others bring their authentic self to work?
It's scary to be vulnerable. My advice would be to find one person you are most comfortable being around or feel safe with and open up to them. Once you find that person, it gets easier – and if you need a safe person, feel free to reach out to me!
What song would make the perfect theme song of your life?
"Firework" by Katy Perry
If you weren't an advisor, what career would you pursue?
I would be doing this; I accidentally got into finance and fell in love!