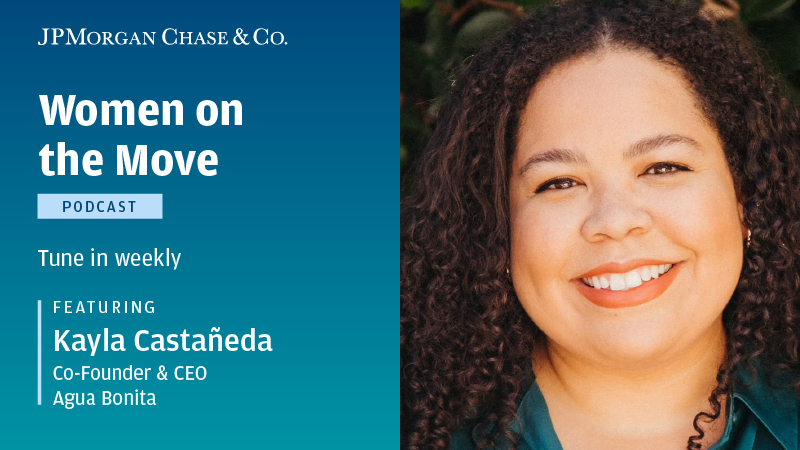 Agua Bonita CEO and co-founder on her vision to be a leader in better-for-you beverages
Kayla Castañeda incorporates her family's roots as migrant farmworkers into her company, Agua Bonita
Kayla Castañeda turned a favorite childhood treat into a successful and fast-growing good-for-you beverage company. In this episode of Women on the Move, the CEO and co-founder of Agua Bonita sits down with host Sam Saperstein to talk about her family, company, thoughts on ambition, and advice for other founders.
Journey from California's Central Valley
Kayla tells Sam that she grew up in a family of migrant farm workers in California's Central Valley. Her grandfather would bring home fruit from the fields and make aguas frescas for the family. She also grew up with a dream of owning her own business—and although she didn't realize it then, producing good-for-you versions of those refreshing fruit-based beverages would become her business plan.
First she cut her teeth in the food and beverage industry from the inside. Growing up in a small town made her crave something entirely different, so after high school she moved to New York City and started working in food and beverage, eventually moving into a sales and marketing position with Major League Baseball. She then took a role with Coca-Cola that bought her back to her roots in California.
It was during the pandemic, while working as a consultant for food and beverage companies, that she had the inspiration for Agua Bonita. "Oh, this is something that has been around in my family and in our culture forever," she recalls thinking. "So why am I not doing something like this and why is this not commercially available?" Within a week she had fleshed out a business plan and embarked on a learning curve with venture capitalism. Agua Bonita's product of a "modern" agua fresca—they use 80 percent less sugar than traditional recipes—was a hit. They first found a place on shelves in small California retailers and recently landed their first national retailer with Whole Foods Market.
Kayla attributes their success to their healthy approach as well as their commitment to corporate responsibility. Their sustainability efforts include a reliance on using imperfect fruit and recyclable aluminum containers, and they work with nonprofit partners like Justice for Migrant Women to help current migrant farm workers. But she says she believes their defining characteristic is their flavor profiles. "Right now our current offerings range from some more traditional ones like hibiscus and pineapple and sweet melon to some more fun and modern takes on these drinks like mango habanero and watermelon chili and some really cool new innovations coming soon. And then our packaging, we use a lot of fun packaging that's inspired by our culture and put it on shelf as a work of art. It's the Bonita part of Agua Bonita."
Ambition and helping others
In keeping with this season's theme of ambition, Kayla also talks with Sam about her perceptions of her own ambition. "I do consider myself ambitious," she says. "I asked my mom, have I always been this ambitious? And her answer was yes. And there's been teachers along the way that have helped you with that. So I think I've just always been ambitious and that ambition really stems from my family. No one has ever capped my dreams or told me that I could not do something internally. . . . It gave me the mindset of if not me, it's gonna be someone else, so why not me?"
In terms of advice, what Kayla most wants to convey to others is that everything is going to be okay. "I think sometimes we can get really tunnel vision, and there's a lot of things that you're juggling when you're trying to get a company off the ground, and the wins are really high, but sometimes the losses can be really low," she says. "And I think just having people around me to remind me that it's all gonna be okay, whether it works out or whether it doesn't, it's all gonna be okay, is sometimes just like that humbling thing that I need to hear to just be able to get on with my day."
She adds that she tries to encourage others by making sure that they're feeling fulfilled in other areas of their life. "Because I don't think that you can pour from an empty cup," she says. "And so that is how I encourage people to keep going with things is that there are other things that you find joy in than just this one thing. So don't let this one thing eclipse everything else."



Kayla Castañeda
CEO and co-founder on her vision to be a leader in better-for-you beverages

Subscribe