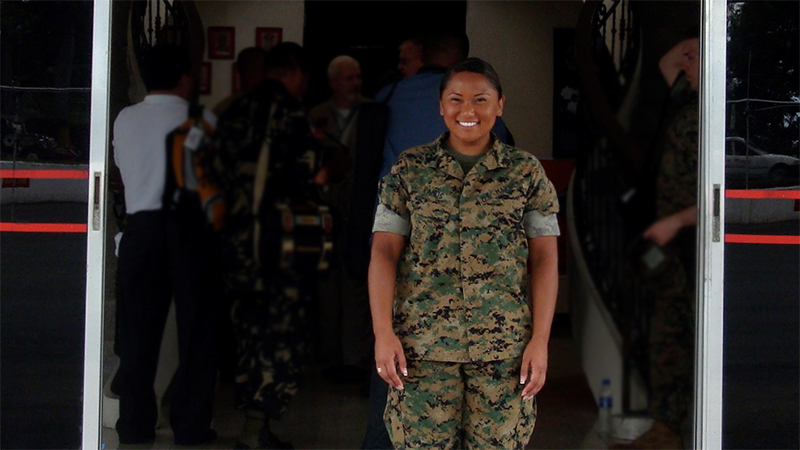 Stories
A New Home Base for Veterans Working at JPMorgan Chase
After leaving the U.S. Marine Corps, Krystle Ramos found a new community and new opportunities at JPMorgan Chase.
When Krystle Ramos graduated high school in 2005, she joined the U.S. Marine Corps. The latest in a long line of family members who had joined the military, she was excited to carry on the legacy of service. She was also excited about her chosen area of focus: nuclear, biological and chemical defense.
But upon entering service, her plans took a turn. "You have the job that you sign up for, and then when you deploy you might get trained for a different job," Ramos says. In her case, that meant being moved from a posting in Okinawa, Japan, to a deployment to Fallujah, Iraq. It was the height of the Iraq War, and she was assigned to detainee operations.
At the time, Ramos was focused on the war in Iraq and her part in it. But today, more than 10 years after completing her military service, she sees a direct connection to her time in Fallujah and her success in corporate America.
Transferring Skills
Ramos manages a large, international, internally-focused technology program at JPMorgan Chase & Co. Many of the skills she developed while serving in the Marine Corps have contributed to her success at the bank.
For example, working at a detention center in Iraq that was regularly toured by Generals and other dignitaries quickly taught her how to interact in a professional environment. "It was important that I present the correct information in the correct way, to whomever I was speaking with," she recalls. "I had to learn to be confident and comfortable speaking with very senior people, and to know how to act professionally and appropriately, and when and where."
"That confidence and those clear communication skills have carried over across all of my roles at JPMorgan Chase."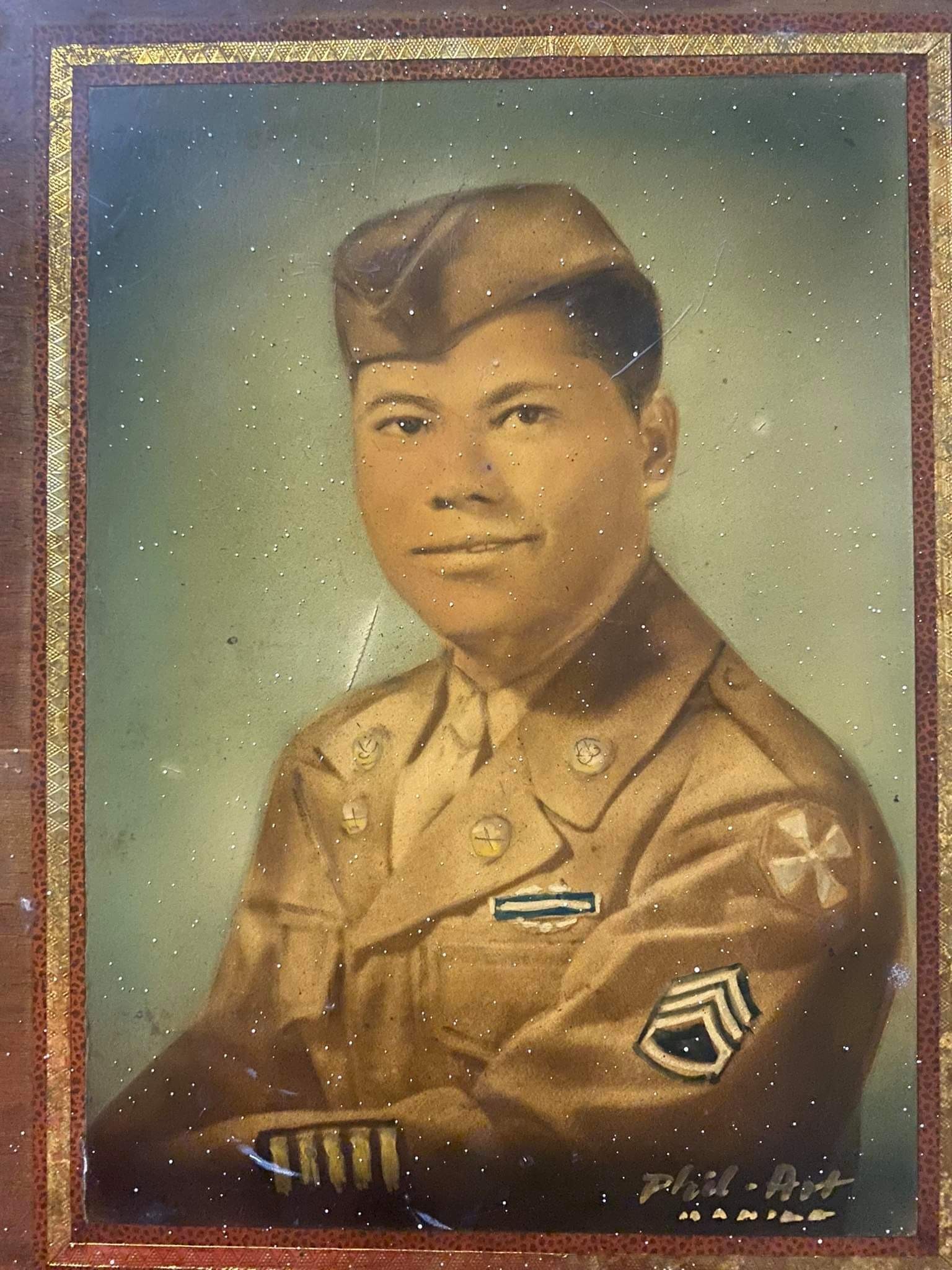 A portrait of Ramos's great-grandfather in uniform
A Family Legacy
Former U.S. Marine Krystle Ramos has an inspiring legacy of military service in her family. While based in the Philippines, both her paternal great-uncle and maternal great-grandfather fought for the United States in World War II. They were later able to immigrate to the U.S. with their families because of their service.
Similarly, Ramos's maternal grandfather fought in the Vietnam War as a MASH doctor while finishing his residency at George Washington University, and as a result was awarded citizenship and was later able to immigrate to the U.S. with his family.
Ramos is proud to have continued their legacy of service through her time in the Marines.
A Commitment to Veterans
Ramos is one of over 16,000 veterans hired at JPMorgan Chase since 2011. That number isn't accidental—the company has a longstanding commitment to hiring veterans.
"The military is a great place to find talent," says Jamie Dimon, JPMorgan Chase & Co. Chairman and Chief Executive Officer. "In the military, they learn how to show up. How to be a team. How to respond. If they don't do their job, someone could be seriously injured. They learn logistics, communication, sharing ideas, analyzing reports, cybersecurity."
JPMorgan Chase is one of the founding members of the Veteran Jobs Mission, a coalition of more than 250 leading American companies that are committed to hiring one million veterans. Members report on veteran hires on a quarterly basis, attend meetings and share best practices relating to their veteran employment programs. The initiative has already had a stunning impact: collectively, its members have hired more than 750,000 veterans since its launch in 2011.
Beyond their ongoing search for top military talent, Veteran Jobs Mission members also focus on retention and career development for veterans in the private sector. JPMorgan Chase offers a variety of resources to veterans—including mentorship and a business resource group tailored to the military community—to assist in the transition from the military to a civilian job and to support advancement throughout the course of their career.
A Community for All
Ramos, who works in Delaware, leads the local veteran employee group within her department. "The group is not just a place for employees who have served, but also for people who want to learn about veterans so that our colleagues can gain a better understanding of the military," she explains. "For example, we are about to offer a series on the different branches of the military for people who may not know the basics."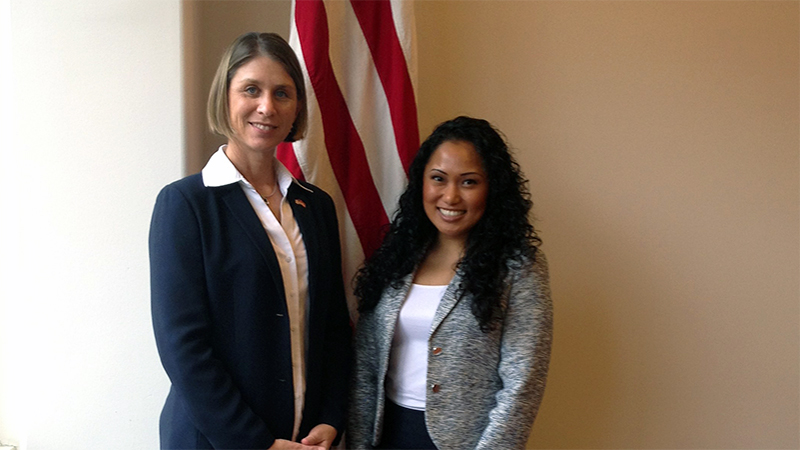 Ramos (right) with Carri Belle, a JPMorgan Chase colleague who was one of her drill instructors at boot camp
She adds, "It's an amazing community. We have veterans who transitioned out of the military recently, and those that served 20 years ago, all here for each other."
The group, Ramos says, also reflects the firm's commitment to its veteran employees. "At every aspect of my career walk, from when I was interviewing for my job to now—more than nine years after joining the company—there have been resources to support me as a veteran," she says. "It's always been clear to me working here that my time serving is considered an asset, and that's a great feeling."