Over the past decade, TFI has matched more than 350 high school Fellows in New York, Chicago, Dallas and Los Angeles, with JPMorgan Chase employees, who serve as mentors, to receive coaching, academic support and leadership development that prepares them for college and career success.
Moving forward, TFI will triple the number of young people it serves to more than 1,000 across several U.S. cities, building on the firm's commitment to preparing youth for the future of work.
Expanding our Commitment
10
---
more years of JPMorgan Chase's commitment to TFI, expanding into new cities across the U.S.
7
---
major U.S. cities with TFI programs, including New York, Los Angeles, Chicago and Dallas, with more to come.
1000+
---
more students of color to join TFI through 2030.
Meet the Graduating Fellows & Mentors
My Experience as a Fellow: Throughout high school, TFI has taught me how to deal with challenges using an open mind. Seeing my peers and family achieve peace and succeed in whatever path they choose to walk in life makes me proud.
What's Next: Attending college, reaching a higher level of independence, and building healthy habits.
---
Nathaniel, Dallas
My Message to the Graduates: In the last 2+ years of mentoring Nikai, it's been an honour to watch him grow to be the successful young man he is today, with the brightest future ahead. Celebrate your accomplishments and prepare for what's ahead. Be open to and embrace new experiences – you don't know what's going to come your way or who you will meet, and where it will lead. Enjoy every moment, the next few years will be some of the best years of your life.

---
Ami Kotecha, Vice President & TFI Mentor
My Experience as a Fellow: My mentor has impacted my experience in TFI immensely. Ami has become more than my mentor, but a close friend, and someone who has been asset in my life from the minute she entered it in February 2018. Without her, this path of success I'm on would like insanely different. 
What's Next: Attending St. Bonaventure University, where I will be studying broadcast journalism. I have dreams of becoming a news anchor. 
---
Nikai, New York
My Message to the Graduates: Take the time to appreciate the tremendous growth, maturity, and knowledge base you've developed over the last few years; and be ready to apply that and much more to what the future brings. 
---
Derrell Carroll, Vice President & TFI Mentor
My Experience as a Fellow: When I joined TFI, I was pretty shy and not very outspoken. TFI has helped me to be the person that I am today – motivated and confident. I feel like if put my mind to something, I can accomplish it. 
What's Next: Attending Purdue University and majoring in engineering. I definitely want to give back and invest in young men of color and who are less fortunate. If I can help one young man and see him succeed, I will be super excited.
---
Chandler, Chicago
My Message to the Graduates: Spend the next four years learning how to learn, follow, lead, and serve in your local community. I hope that the past few months have shown you that you can't take anything for granted. Seek challenges and seek responsibly.  Find ways to get outside of your comfort zone so that you can build personal resiliency and be there for the people you love when it counts.
---
Dominic Pitrone, Vice President & TFI Mentor
My Experience as a Fellow: During my time with TFI, I was able to overcome many obstacles both academically and emotionally. As a man of color, I was taught not to verbalize my emotions and to keep things bottled up, otherwise I'll be seen as weak. However, with the help of my TFI brothers and mentors, I was able to normalize voicing my emotions and seek help when I needed it.

What's Next: Attending Oberlin College, and one day running for office, getting my PhD in Public Policy and Urban Education, and going to Law School.
---
Brendan, Chicago
My Message to the Graduates: No road is long when there is strong ambition! Continue to look for opportunity to add value to yourself in order to add value to your organization. 
---
Joseph Ajala, Vice President & TFI Mentor
My Experience as a Fellow: My TFI mentor is someone who I can trust, and also have as a support in my process. The best part is knowing that he was always going to be there, giving me time and attention, so I didn't feel like I just shy away from my dream. I look forward to having a good network of people who I know can help me achieve my goals.    
---
Rueben, New York
My Experience as a Fellow: Coming from a Guyanese background, I was always taught to stay in my place and hold my tongue. TFI taught me to stand up, speak out, be who you are, and fight for what you want. The program helped me improve my public speaking skills and helped me learn how to give a great first impression to anyone that comes my way.
What's Next: Attending Ithaca College, then I want to go into the field of fitness, and be a trainer to make sure student athletes like myself are staying healthy. 
---
Winston, New York
My Message to the Graduates: My Fellow Rahmel is my hero, which is one of the reasons I am wearing my Captain America shirt. He is physically, mentally and spiritually relentless, focused, dedicated and driven. To Rahmel – I would say "use the superpowers bestowed upon you."
---
Michael Keden, Managing Director & TFI Mentor
My Experience as a Fellow: I feel proud when creating a positive impact around my community, a trait that coincided with TFI's values, which I had the opportunity to experience through community mural painting, beach cleanups, and an amazing trip to Costa Rica.
What's Next: Attending Princeton University, with a goal to become an entrepreneur in the medical field.
---
Julian, Los Angeles
My Message to the Graduates: The habits you build in your 20s are what you will live by for the rest of your life. Stick to a workout routine and eating healthy like your life depends on it, because it does. If you're the smartest one in the room, change rooms. Don't waste time defending yourself and your ideas to those that can't dream as big as you.
---
Muhammad Bilal, Associate & TFI Mentor
My Experience as a Fellow: TFI has helped me better myself by getting me ready for the real world, and allowed me to overcome many of my doubts. My mentor, Cam, has really helped me by giving me so many amazing opportunities, being a guide for me, encouraging me, and serving as a great role model for me.
What's Next: My goal is to be a great doctor to help those all in need. I can't wait to begin a new chapter of my life, helping my community and further educating myself.
---
Beco, Los Angeles
My Message to the Graduates: Take the next five to ten years of your life (which will move faster than you can imagine now!) to find out who you are— apart from the expectations of others.  Then, be driven and intentional about actualizing that person at the highest level.  It's the surest way to have a great life and have an impact.
---
Nicole Williams, Vice President & TFI Mentor
My Message to the Graduates: In my first Saturday Session with the TFI Fellows, I was blown away by the maturity level and perspective of these young men! They were clear about why they were there, what life choices they were contemplating, and leaned on each other and their mentors for guidance.  If it's true that character determines our resiliency and path in life, then the sky is the limit for our TFI Fellows!

---
Joseph Skarda, Managing Director & TFI Mentor
My Experience as a Fellow: Being in TFI has not only given me a plethora of opportunities to give back to people from similar struggles, but also an awareness of the world that every boy needs in his transition into manhood. It makes me proud knowing that I am someone my parents can respect and the love I show others comes from a genuine place.
What's Next: Graduating with a bachelor's degree in cyber security, and to build the best version of myself one brick at a time. 

---
Arthur, Chicago
My Message to the Graduates: You are about to embark on one of the most significant chapters of your life. A chapter that is defined by opportunity and self-discovery, but also presents an array of challenges which have only been compounded by the current global pandemic. But if this time has shown us anything it's our adaptability to unpredictable change. And there's no better quality to have as you take this next step in your life. Be open to change, discover your passion, build your network, be a contributor to your community, and embrace the unknown.
---
Sarina Strickland, Analyst & TFI Mentor
My Message to the Graduates: Technology is going to shape your college experience in unimaginable ways. Make it work for you! Do not compare yourself to others. Their journey may have been different. Always look for common ground among people and do not hesitate to reach out to others who may look different.
---
Raj Shiva, Vice President & TFI Mentor
My Message to the Graduates: Over the last 10 years, I've watched TFI make a profound impact on the lives of hundreds of young men of color and their families. TFI has been truly life-changing for everyone involved.  My life has been transformed and uplifted as I watch these young men succeed over the years – it has been nothing short of awesome and inspiring.
---
Larry Holodak, Managing Director & TFI Mentor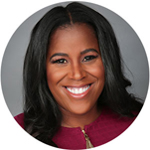 "I know firsthand how having access to a support system can influence your life. It is why I'm so passionate about programs like The Fellowship Initiative – they are so critical to breaking down barriers to opportunity at a critical juncture in the lives of these young, talented men and enabling them to reach their full potential."
_______
Thasunda Brown Duckett, CEO, Chase Consumer Banking, JPMorgan Chase

Advice to the 2020 Graduates
Your power rests in your whole identity. Your skin is the color of pride. Your family's story, however the chapters are written, is a testament to your greatness. Your community, the nest of experiences that make you who you are, is yours. When you own who you are power radiates. Grab hold of that power, carry it into every space you go, and you'll never even have a chance to lose yourself.
Byron Sanders, President and CEO, Big Thought
Congratulations to The Fellowship Initiative Class of 2020. As a partner with the Los Angeles team, I want to encourage you to bet on yourself...take risks. You are your own best asset. No one can do you better than you – whether you live as an entrepreneur, search for your dream job or travel around the world. You are more powerful than you know and regardless of the mistakes you make, be committed to the idea that you will never lose when you trust in yourself.
D'Artagnan Scorza, PhD., Executive Director, Social Justice Learning Institute
Handle your business first – as you've done in TFI – and you'll enjoy all your other experiences so much more. If you give maximum effort, you will be comfortable with any outcome because you gave your all. Go change the world!
David Clunie, Executive Director, Black Economic Alliance
Congratulations to TFI graduating class of 2020! You are history-makers. You all are part of the first graduating class of a new decade and your graduation coincides with the 10-year anniversary of TFI. I am honored to offer a few words of wisdom that I've acquired since my HS graduation 40 years ago. New beginnings, require new mind-sets. Tomorrow is not guaranteed, so stop stalling on your calling and just jump in! Work harder on yourself than you do on your job.
Shawn Dove, Campaign for Black Male Achievement
You've achieved something profound, and it's proof that you have the talent and drive to create whatever life you want. As accomplished young men of color, eres nuestro futuro. Step confidently into that reality. And endeavor to do things that are most worth your energy and effort. Pa'lante!
Steve Colón, CEO, Bottom Line
Make sure that you check in with yourself to see you're doing okay, because sometimes you can get caught up with being so busy. Your mental health is very important and it can affect your learning. You are going to get busy with school, studying, work and learning how to adjust is important! 
Carlos Garcia Jr. 2017 TFI Alum