The Fellowship Initiative
TFI is part of the firm's broader ongoing efforts to provide adults and young people with the education, skills and resources that contribute to greater economic mobility.
To date, more than 350 JPMorgan Chase employees have worked with TFI Fellows as Mentors, coaches, role models, speakers, or volunteers in various capacities. Since its launch in 2010, the program has been expanded and will recruit new classes of Fellows in Chicago, Dallas, Los Angeles and New York.
Our Comprehensive Solution
Professional & Leadership Development
High School & College Success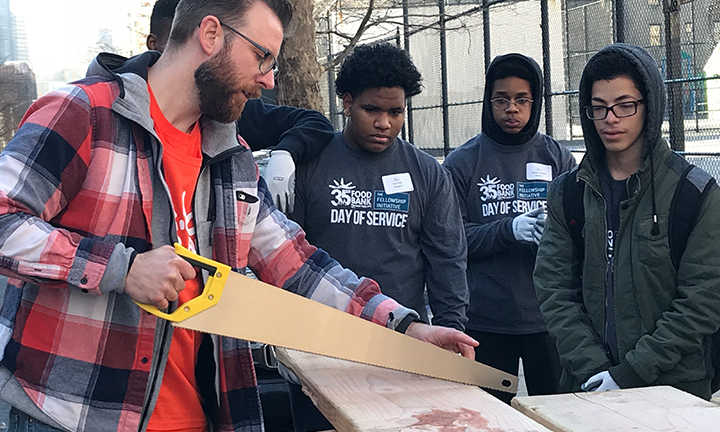 Since 2010, TFI has prepared young men of color for the future of work
We're reflecting on these past 10 years of helping increase access to mentorship, college preparedness and career readiness – and expanding our commitment for the future.
Fellows in Action
100%
---
High school graduation rate

350+
---
High school student participants, receiving mentorship from 350 JPMorgan Chase employees
The Fellowship Initiative has been more than just a program to me. It's been a family, a brotherhood and a challenge.
Tafari John-King, TFI Fellow and Harvard University, Class of 2017
Helping young black and Latino men overcome the obstacles they face is an urgent challenge that has been too long ignored. In New York City, we created a public-private partnership called the Young Men's Initiative to confront the challenge head-on. We need more civic-minded companies and organizations to step up join this work, and I congratulate JPMorgan Chase for being a leader in this effort and for making a real difference in the lives of young men of color in our city.
Michael Bloomberg, Former Mayor of New York City
In Chicago our goal is 100% college-ready, 100% college-bound for every child, and that is what the Fellowship Initiative achieves for these young men who participate. Having a mentor that unlocks their potential and unleashes their talents in a constructive safe environment is the strongest tool there is for transforming lives. These opportunities not only benefit the young people who take advantage of them, they benefit our whole society, because when one young person succeeds in life, it is a win for our country.
Rahm Emanuel, Former Mayor of Chicago
As the largest school district in the nation, we know that programs like the JPMorgan Chase Fellowship Initiative provide invaluable academic and social supports to our young men of color. I'm thrilled that The Fellowship Initiative is expanding in New York City giving additional students a chance to reach their individual potential.
Bill de Blasio, Mayor of New York City
I'm pleased that JPMorgan Chase's Fellowship Initiative will help young men of color in Los Angeles create opportunities for personal and economic success. I'm confident the academic support and leadership training offered to these students will help them prepare for college and get the skills they need to start rewarding careers.
Eric Garcetti, Mayor of Los Angeles
News and Resources