Advancing Black Pathways Advisory Council
JPMorgan Chase has established an Advisory Council, which will offer unique expertise and substantive input that informs Advancing Black Pathways' approach to driving inclusive growth in communities. The Council consists of the following civic and business leaders:
James Bell
James A. Bell is a retired executive and former President of The Boeing Company.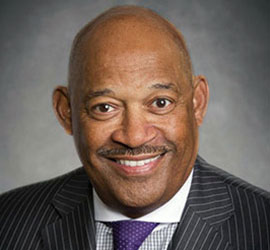 James Bell
James A. Bell is a retired executive and former President of The Boeing Company.
James A. Bell was an Executive Vice President of The Boeing Company, an aerospace company and manufacturer of commercial jetliners and military aircraft, from 2003 until his retirement in 2012. He was Corporate President from 2008 until 2012 and Chief Financial Officer from 2003 until 2012.
Before being named Chief Financial Officer, Mr. Bell was Senior Vice President of Finance and Corporate Controller. In this position he served as Boeing's principal interface with the board's Audit Committee. He was Vice President of contracts and pricing for Boeing Space and Communications from 1996 to 2000, and before that served as director of business management of the Space Station Electric Power System at the Boeing Rocketdyne unit.
Mr. Bell has been a director of Dow Chemical Company since 2005 and of CDW Corporation and Apple Inc. since 2015. He is a member of the Board of Trustees at Rush University Medical Center.
Mr. Bell graduated from California State University at Los Angeles.
James Bell
James A. Bell is Retired CFO and Corporate President of The Boeing Company
Kevin Hart
Kevin Hart is an award-winning stand-up comedian, actor and producer.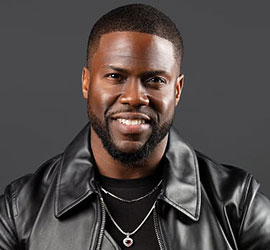 Kevin Hart
Kevin Hart is an award-winning stand-up comedian, actor and producer.
"Our community has historically been limited or even denied access to the tools and resources needed to thrive in education, careers, and wealth. Advancing Black Pathways is much more than a Black movement, it's a mission for humanity. For us to be a thriving society, we all need to have the same opportunities – not just to set big goals, but also the resources to achieve them."
Kevin Hart has made a name for himself as one of the foremost comedians, entertainers, authors and businessmen in the industry today.
After an electrifying performance at amateur night in a Philadelphia comedy club, Kevin quit his shoe salesman job and began performing full time at venues such as The Boston Comedy Club, Caroline's, Stand-Up NY, The Laugh Factory, and The Comedy Store in Los Angeles. However, it was his first appearance at the Montreal Just for Laughs Comedy Festival that led Kevin into roles in feature films.
Hart's next feature film is STX Entertainment's The Upside alongside Bryan Cranston and Nicole Kidman that will release in January 11, 2019. Hart recently starred in Night School for Universal, a film in which he co-wrote, produces and stars in - all under the Hartbeat Production banner. The comedy follows a group of misfits who are forced to attend adult classes in the long shot chance they'll pass the GED exam. Grossing $28 Million, Night School has had the highest opening weekend in comedy of 2018.
Going into 2019, Hart will begin production for the Untitled Jumanji sequel alongside Dwayne Johnson, Jack Black, Danny DeVito, Karen Gillian, and Awkwafina that will be released in December. Hart is currently on the road finishing up his stand-up with his newest hour of material titled the "Irresponsible Tour". This tour has taken Hart all around the world and will wrap early this year.
2017 was a banner year for Hart, his memoir I Can't Make This Up: Life Lessons debuted at Number One on the New York Times Bestseller list and remained on the list for ten consecutive weeks. The book also toped records on the Audible platform, selling over 100,000 copies in the first five weeks. Earlier in the year Hart voiced a title character in Captain Underpants: The First Epic Movie. To close 2017, Kevin appeared in the Sony reboot of the classic film Jumanji alongside Dwayne Johnson and Jack Black. Jumanji has been Kevin's highest grossing box office release to date, the movie has made over $900 Million Worldwide.
Hart's newest business venture is his digital platform the LOL NETWORK - Laugh Out Loud, the comedy brand and multi-platform network founded by Hart in partnership global content leader Lionsgate. The streaming video service will launch on August 3rd featuring a slate of original scripted and unscripted comedy series, stand-up specials, licensed programming, and live broadcasts. Laugh Out Loud combines Hart's unparalleled social media savvy that earned him 100+ million followers with his vision for the future of comedy - social, mobile, multicultural, and seriously funny. Hart handpicked the boldest comedic voices to create, produce and star in content exclusive to the service. These include digital superstar comedy talents GloZell, King Bach, Emmanuel Hudson, DC Young Fly, Draya Michelle, David So, Timothy DeLaGhetto and Anjelah Johnson (MADtv, viral sensation Bon Qui Qui) - among others - who have amassed tens of millions of fans across social media. The Laugh Out Loud service will also feature up and coming comedians curated by Hart through LOL showcases at events, including a partnership with the world's top comedy festival "Just for Laughs."
Hart's recent movie projects include the animated film The Secret Life of Pets (Illumination Entertainment) and the biggest grossing live action comedy Central Intelligence (New Line Cinema and Universal Pictures), Universal's Ride Along 2, which grossed over $100 million worldwide, Screen Gems' The Wedding Ringer, and Warner Brothers' Get Hard. The consummate worker, Hart is also a force in television, executive producing the show, Real Husbands of Hollywood which is currently in Season 5. In addition, Comedy Central will launch 2 stand-up comedy series' Kevin Hart Presents: Hart of the City and Untitled Kevin Hart Stand-Up Series.
In addition, Hart embarked on the multi-city domestic and international WHAT NOW comedy tour. Domestically, he sold out 8 tristate area arenas, including Madison Square Garden, Barclays, Prudential Center and Jones Beach, selling over 100,000 tickets in the NY market. He was also the first comedian to sell out an NFL stadium, selling over 50,000 tickets in one show. Internationally, he sold out over a dozen arenas in the European market, selling over 150,000 tickets, and sold out arenas across Australia, selling 100,000 tickets. Hart's hit comedy tour grossed over $100 million worldwide.
To round out 2016, Hart wrapped production on Sony Pictures' continuation of the classic Jumanji, alongside Dwayne Johnson and Jack Black, and Universal Pictures released the feature version of his comedy tour WHAT NOW in October.
In 2012, Hart was tapped to host the 2012 MTV VMA's, garnering much industry praise for his appearance, before his next comedy tour, Let Me Explain took him to 90 American cities along with Europe and Africa - resulting in him becoming the second American in history to sell out London's O2 Arena. Kevin spent the fall of 2012 filming two movies back to back: Screen Gems' remake of the film, About Last Night, and Universal's buddy Cop movie Ride Along, opposite Ice Cube. Kevin continued his incredible run with a starring role in Screen Gems' Think Like A Man, a comedy based on Steve Harvey's bestselling book, which grossed $95 Million worldwide, and had a supporting role in the Universal / Nick Stoller comedy, Five Year Engagement, produced by Judd Apatow.
In September, 2011 Hart released Laugh At My Pain the feature film version of his comedy tour (under the same name). The movie grossed over $7 million, and was 2011's most successful film of those released in less than 300 theaters. The LAMP tour was so successful, it catapulted Hart to 2011's number one comedian on Ticketmaster, and in February, 2011, he sold out the Nokia Theater for two nights in a row, breaking the record previously set by Eddie Murphy. This lead to the LAMP DVD hitting double platinum in February 2012, after being on sale for only a month.
Other film credits include Little Fockers with Robert DeNiro and Ben Stiller, Death at a Funeral, Fool's Gold and The 40 Year-Old Virgin.
In 2009, Hart's one-hour Comedy Central special I'm A Grown Little Man became one of the highest rated specials for the network, and in 2010, Hart's DVD Seriously...Funny was one of the fastest selling DVDs, going triple Platinum, aided by the Comedy Central special of the same name, which was the highest rated comedy special of 2010.
Hart's other television credits include, hosting BET's classic stand-up comedy series Comic View: One Mic Stand, ABC's The Big House, which he also executive produced and wrote, and recurring roles on Love, Inc, Barbershop, and Undeclared. He will soon begin production on Night School, the first comedic piece he wrote, which will be produced by HartBeat.
Hart currently resides in Los Angeles.
Kevin Hart
Kevin Hart is an award-winning actor, comedian, author, investor, and Chairman of both HartBeat Productions and LOL Network
Mellody Hobson
Mellody Hobson is a businesswoman and president of Ariel Investments.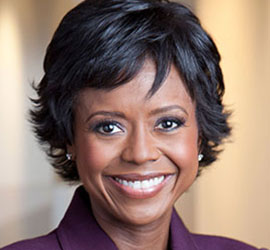 Mellody Hobson
Mellody Hobson is a businesswoman and president of Ariel Investments.
Mellody Hobson has served as the President of Ariel Investments, LLC, an investment management firm, since 2000. She is also the President and a Director of Ariel Investments' governing member, Ariel Capital Management Holdings Inc. In addition, she serves as the President and Chairman of the Board of Trustees of the Ariel Investment Trust, a registered investment company advised by Ariel Investments.
Ms. Hobson has been a director of Starbucks Corporation and The Estée Lauder Companies Inc. since 2005. She served as a director of DreamWorks Animation SKG, Inc. from 2004 to 2016 and as a director of Groupon Inc. from 2011 until 2014.
Ms. Hobson works with a number of civic, non-profit and professional organizations, acting as a Director of the Chicago Public Education Fund; Chairman of After School Matters, which provides Chicago teens with high quality out-of-school time programs; Director of the Economic Club of Chicago; Board member of the George Lucas Education Foundation, and many other organizations.
Ms. Hobson graduated from the Woodrow Wilson School of International Relations and Public Policy at Princeton University.
Mellody Hobson
Mellody Hobson is Co-CEO and President of Ariel Investments
Andrea Hoffman
Andrea Hoffman is an adviser, strategist, speaker and author and CEO of Culture Shift Labs.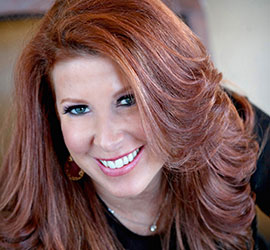 Andrea Hoffman
Andrea Hoffman is an adviser, strategist, speaker and author and CEO of Culture Shift Labs.
"It's a privilege to be part of Advancing Black Pathways to accelerate the success of Black executives and entrepreneurs and ensure they have equal access to board, c-suite and technology investment opportunities as well as access to capital. This is also a meaningful platform to raise the profile of the vast number of Black leaders who are already successful."
Andrea Hoffman is an advisor, dealmaker, strategist, speaker, author and the founder and CEO of boutique management consulting firm Culture Shift Labs (CSL). CSL advises companies, cities and philanthropists on growth and innovation through diversity, equity & inclusion (DEI). Andrea consults with C-suite executives across a wide range of industries on finding new growth opportunities. By helping clients see past long-held perceptions regarding the intersection of innovation, inclusion and diversity, she guides them to insights that unlock new business opportunities.
As a top-tier confidential advisor, strategist and dealmaker for the past two decades, she has leveraged proprietary methodologies to solve diversity issues and expand revenue for clients such as BMW, Carnegie Hall, Credit Suisse, GE Ventures, Lumina Foundation, Shutterfly, SAP, Kapor Center for Social Impact, Ford Motor Company, Verizon, Scholastic, Sony Electronics, and Time-Life, among others.
Her clients are early-adopters who believe:
DEI can have measurable impact;
DEI is a critical part of their company's future;
through DEI, their company can achieve more innovative products and services; and
by including and valuing diverse perspectives, their company can be more competitive.
Andrea aids clients to design a long-term plan that takes growth to the next level, and activates that plan by increasing diversity in: M&A, corporate venture, corporate social responsibility, and hiring highly qualified c-suite and board candidates. She connects clients to off-the-radar influencers, innovators and subject matter experts by activating her talent database, which is the largest in the U.S., with more than 4,000 accomplished African and African-Americans.
Andrea hosts and curates bespoke convenings that amplify her knowledge and network, such as Culture Shifting: A Weekend of Technology, Innovation and Social Impact. The only bi-coastal, bi-annual event of its kind, Culture Shifting Weekend unites more than 150 visionaries, technologists and social impact leaders of color and those who care about growth and innovation through inclusion. The weekend facilitates collaborations and deals while also celebrating successful leaders of color.
Andrea is on the DEI advisory board of Singularity University, a Silicon Valley think tank focusing on scientific progress and "exponential" technologies by offering educational programs and business incubation. She also leverages her knowledge and network as a Senior Fellow of Social Innovation at Babson College, a perennially top-ranked entrepreneurship business program.
Andrea Hoffman
Andrea Hoffman is an adviser, strategist, speaker, author and CEO of Culture Shift Labs
Marc Morial
Marc Morial is a political and civic leader and the current president of the National Urban League.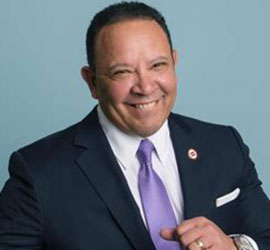 Marc Morial
Marc Morial is a political and civic leader and the current president of the National Urban League.
"I am excited and honored to be asked to work on this initiative, as the building of Black income and wealth are essential to the future of a competitive American economy."
Entrepreneur. Lawyer. Professor. Legislator. Mayor. President, U.S. Conference of Mayors. President and CEO of the National Urban League, the nation's largest historic civil rights and urban advocacy organization.
In a distinguished professional career that has spanned 25 years, Marc Morial has performed all of these roles with excellence and is one of the most accomplished servant-leaders in the nation. As President and CEO of the National Urban League since 2003, he has been the primary catalyst for an era of change -- a transformation for the 105-year old civil rights organization. His energetic and skilled leadership has expanded the League's work around an Empowerment agenda, which is redefining civil rights in the 21st century with a renewed emphasis on closing the economic gaps between whites and Blacks, as well as other communities of color, and rich and poor Americans.
During his tenure, the League had record fundraising success with a 280MM, five-year fundraising effort. He has secured the BBB nonprofit certification, which has established the NUL as a leading national nonprofit, and the coveted 4-star rating from Charity Navigator, which has placed the NUL in the top 10 percent of all U.S. charities for adhering to good governance and other best practices, as well as executing its mission in a fiscally responsible way.
Under his stewardship, the League launched a historic $100 million, five-year "Jobs Rebuild America: Educate, Employ, Empower" initiative in 2013 – a solutions-based, comprehensive approach to the nation's employment and education crisis that brings together federal government, business, and nonprofit resources to create economic opportunity in 50 cities across the country through the Urban League affiliate network.
His creativity has led to initiatives such as the Urban Youth Empowerment Program to assist young adults in securing sustainable jobs and Entrepreneurship Centers in 10 cities to help the growth of small businesses. Also, Morial helped create the Urban Empowerment Fund, which will lend to urban impact businesses, and helped create the League's New Markets Tax Credits initiative, which has resulted in $1 billion in community investment via urban impact businesses, including minority business, through both debt and equity investments.
As mayor of New Orleans, Morial was a popular chief executive with a broad multi-racial coalition who led New Orleans' 1990's renaissance and left office with a 70% approval rating.
As a lawyer, Morial won the Louisiana State Bar Association's Pro Bono Publico Award for his legal service to the poor and disadvantaged. He was also one of the youngest lawyers, at age 26, to argue and win a major case before the Louisiana Supreme Court.
As a professor, Morial served on the adjunct faculty of Xavier University in Louisiana, where he taught Constitutional Law and Business Law.
As a Louisiana state senator, Morial was named Legislative Rookie of the Year, Education Senator of the Year, and Environmental Senator of the Year, while authoring laws on a wide range of important subjects.
A graduate of the University of Pennsylvania with a degree in Economics and African American Studies, he also holds a law degree from the Georgetown University Law Center in Washington, D.C., as well as numerous honorary degrees including Xavier University and Howard University.
Under appointment by President Obama, Morial has served as Chair of the Census Advisory Committee, a member of the President's Advisory Council on Financial Capability, and on the Department of Education's Equity and Excellence Commission. He was also appointed to the Twenty-First Century Workforce Commission by President Bill Clinton.
Morial has been recognized as one of the 100 most influential Black Americans by Ebony Magazine, one of the Top 50 Nonprofit Executives by the Nonprofit Times, and one of the Top 100 Black Lawyers in America.
Marc Morial
Marc H. Morial is a civic and racial justice leader and the current President and CEO of the National Urban League
Soledad O'Brien
Soledad O'Brien is an Emmy-winning broadcast journalist and executive producer.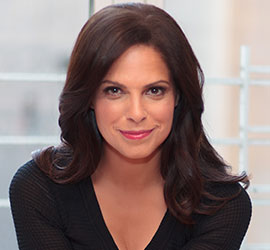 Soledad O'Brien
Soledad O'Brien is an Emmy-winning broadcast journalist and executive producer.
Broadcast journalist Soledad O'Brien was born on September 19, 1966 in Saint James, New York. Her father, Edward, was a mechanical engineering professor; her mother, Estela, a French and English teacher. O'Brien graduated from Smithtown High School East in 1984, and went on to attend Harvard University from 1984 to 1988, but did not graduate until 2000, when she received her B.A. degree in English and American literature.
In 1989, O'Brien began her career at KISS-FM in Boston, Massachusetts as a reporter for the medical talk show Second Opinion and of Health Week in Review. In 1990, she was hired as an associate producer and news writer for Boston's WBZ-TV station. O'Brien then worked at NBC News in New York City in 1991, as a field producer for Nightly News and Today, before being hired at San Francisco's NBC affiliate KRON in 1993, where she worked as a reporter and bureau chief and co-hosted the Discovery Channel's The Know Zone. Then, in 1996, O'Brien returned to New York to host MSNBC's new weekend morning show and technology program The Site. Although The Site was cancelled one year later, O'Brien continued to work as a reporter and anchor for a number of shows, including MSNBC's Morning Blend and NBC News' Weekend Today until 1999, when she was named permanent co-anchor of Weekend Today.
In 2003, O'Brien left NBC and joined CNN as the co-anchor of the network's flagship morning program, American Morning. In 2007, she moved to CNN's documentary division, where she primarily worked on Special Investigations Unit and In America. From 2007 to 2013, O'Brien hosted a number of CNN documentary shows, including the Black in America series, the Latino in America series, and numerous Special Investigations Unit episodes. From 2012 to 2013, she anchored CNN's Starting Point; and, in 2013, she established the Starfish Media Group production company, which has produced segments for CNN, HBO and Al Jazeera America. O'Brien was also hired by Al Jazeera America in 2013 as a special correspondent to the network's America Tonight.
O'Brien has authored two books: 2009's Latino in America, and the 2010 memoir, The Next Big Story: My Journey through the Land of Possibilities. In addition, she and her husband founded the Soledad O'Brien and Brad Raymond Starfish Foundation. O'Brien is a member of the board of directors of The After-School Corporation, the Harlem School of the Arts and the Foundation for the National Archives. She also served on the advisory board of Cyberangels, an internet safety organization.
O'Brien has received numerous awards, including the Emmy, the NAACP's President's Award, the George Foster Peabody Award, an Alfred I. du Pont Award, and the Gracie Allen Award. In 2008, she was the first recipient of the Soledad O'Brien Freedom's Voice Award from the Morehouse School of Medicine, and was the first recipient of The Johns Hopkins Bloomberg School of Public Health's Goodermote Humanitarian Award. O'Brien received the 2009 Medallion of Excellence for Leadership and Community Service Award from the Congressional Hispanic Caucus Institute. In 2010, she was named Journalist of the Year by the National Association of Black Journalists.
Soledad O'Brien
Soledad O'Brien is an Emmy-winning broadcast journalist and the CEO of Soledad O'Brien Productions
James Rhee
James Rhee is executive and CEO of Ashley Stewart.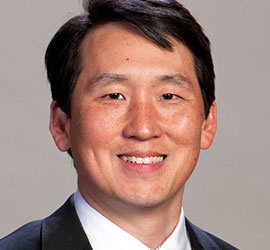 James Rhee
James Rhee is executive and CEO of Ashley Stewart.
"Purposeful investments in education and professional advancement, when further fueled with access to fairly priced capital, is the only way to create sustainable, multi-generational change."
Mr. Rhee is an impact-focused entrepreneur, investor, operator and educator. As both CEO and investment firm founder, Mr. Rhee has generated market-leading returns by creating bespoke capital and operational solutions through the contemporaneous application of algorithmic, technologic and cultural change. He has a uniquely diverse network and knowledge base spanning the private equity, retail/consumer, venture and media/technology communities. At Ashley Stewart, as Chairman and CEO, Mr. Rhee has authored and executed upon an innovative complement of CRM, digital and organizational changes that have transformed a twice bankrupt, unprofitable brick-and-mortar retailer with decades of operating losses into an industry leader founded upon a values-based, social commerce paradigm. FirePine Group, the investment firm he founded in 2009, invests the capital of some of the world's most sophisticated investors and their family offices to successfully fuel and realize transformative and impactful change in multiple enterprises, including Ashley Stewart.
Prior to this, Mr. Rhee was a senior investment professional at two leading, Boston-based investment firms, one specializing in growth and the other focused on distress. Mr. Rhee played a leadership role in some of the most successful investment platforms, including the carve-out of the Meow Mix brand from Ralston Purina, the purchase and then turnaround of Murray's Discount Auto Stores from a bank group, the growth catalyst investment in Mattress Firm and the turnaround of Ultra Diamonds. He has managed billions of dollars of capital.
Mr. Rhee is a visiting lecturer at Duke Law School and teaches his proprietary valuation, financial literacy and happiness/values class at leading educational institutions and professional organizations across the country. He is a regional winner of the E&Y Entrepreneur of the Year Award, the recipient of one of five 2016 Power Player Awards granted by the National Retail Federation, the 2017 recipient of the Black Retail Action Group Business Achievement Award, the 2018 Temple Fox School of Business Information Technology Innovator Award and the Essex County Urban League Centennial Recipient of the William M. Ashby Award for community building. He is a member of the board of the National Retail Federation and a member of JP Morgan's Advancing Black Pathways Council. His story, along with the story of Ashley Stewart, has been chronicled in the world's leading publications and media outlets, including the Good Business Issue of Bloomberg Businessweek, Harvard Business Review, Boston Globe, Washington Post, Wall Street Journal, CNN, Thrive Global, USA Today, Inc Magazine, ABC and Cheddar.
Mr. Rhee received his AB with honors from Harvard College and his JD with honors from Harvard Law School, where he was an editor of the Harvard Law Review. He lives outside Boston with his wife and three children. He is a former high school teacher.
James Rhee
James Rhee is a businessman, investor, former Chairman & CEO of Ashley Stewart, and the Johnson Chair of Entrepreneurship at Howard University
Dr. Condoleezza Rice
Condoleezza Rice is a diplomat and served as the 66th United States Secretary of State.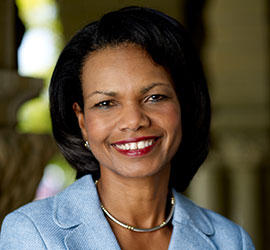 Dr. Condoleezza Rice
Condoleezza Rice is a diplomat and served as the 66th United States Secretary of State.
Condoleezza Rice is currently the Denning Professor in Global Business and the Economy at the Stanford Graduate School of Business; the Thomas and Barbara Stephenson Senior Fellow on Public Policy at the Hoover Institution; and a professor of Political Science at Stanford University. She is also a founding partner of RiceHadleyGates, LLC .
From January 2005 to 2009, Rice served as the 66th Secretary of State of the United States, the second woman and first African American woman to hold the post. Rice also served as President George W. Bush's Assistant to the President for National Security Affairs (National Security Advisor) from January 2001 to 2005, the first woman to hold the position.
Rice served as Stanford University's Provost from 1993 to 1999, during which she was the institution's chief budget and academic officer. As Provost, she was responsible for a $1.5 billion annual budget and the academic program involving 1,400 faculty members and 14,000 students. In 1997, she also served on the Federal Advisory Committee on Gender -- Integrated Training in the Military.
From 1989 through March 1991, Rice served on President George H.W. Bush's National Security Council staff. She served as Director; Senior Director of Soviet and East European Affairs; and, Special Assistant to the President for National Security Affairs. In 1986, while an international affairs fellow of the Council on Foreign Relations, Rice also served as Special Assistant to the Director of the Joint Chiefs of Staff.
As professor of Political Science, Rice has been on the Stanford faculty since 1981 and has won two of the highest teaching honors – the 1984 Walter J. Gores Award for Excellence in Teaching and the 1993 School of Humanities and Sciences Dean's Award for Distinguished Teaching.
She has authored and coauthored numerous books, including three bestsellers, Democracy: Stories from the Long Road to Freedom (2017); No Higher Honor: A Memoir of My Years in Washington (2011) ; and Extraordinary, Ordinary People: A Memoir of Family (2010). She also wrote Germany Unified and Europe Transformed: A Study in Statecraft (1995) with Philip Zelikow ; The Gorbachev Era (1986) with Alexander Dallin ; and Uncertain Allegiance: The Soviet Union and the Czechoslovak Army (1984).
In 1991, Rice cofounded the Center for a New Generation (CNG), an innovative, after-school academic enrichment program for students in East Palo Alto and East Menlo Park, California. In 1996, CNG merged with the Boys and Girls Club of the Peninsula (an affiliate club of the Boys and Girls Clubs of America). CNG has since expanded to local BGCA chapters in Birmingham, Atlanta, and Dallas. She remains an active proponent of an extended learning day through after school programs.
Since 2009, Rice has served as a founding partner at RiceHadleyGates, LLC, an international strategic consulting firm based in Silicon Valley and Washington, D.C. The firm works with senior executives of major companies to implement strategic plans and expand in emerging markets. Other partners include former National Security Advisor Stephen J. Hadley and former Secretary of Defense Robert M. Gates.
Rice currently serves on the boards of Dropbox, an online-storage technology company; C3, an energy software company; and Makena Capital, a private endowment firm. In addition, she is vice chair of the board of governors of the Boys and Girls Clubs of America; a member of the board of the Foundation for Excellence in Education; and a trustee of the Aspen Institute. Previously, Rice served on various additional boards, including those of: the George W. Bush Institute; the Commonwealth Club; KiOR, Inc.; the Chevron Corporation; the Charles Schwab Corporation; the Transamerica Corporation; the Hewlett-Packard Company; the University of Notre Dame; the John F. Kennedy Center for the Performing Arts; and, the San Francisco Symphony Board of Governors.
In 2013, Rice was appointed to the College Football Playoff Committee, formerly the Bowl Championship Series.
Born in Birmingham, Alabama, Rice earned her bachelor's degree in political science, cum laude and Phi Beta Kappa, from the University of Denver; her master's from the University of Notre Dame; and her Ph.D. from the Graduate School of International Studies at the University of Denver.
Rice is a Fellow of the American Academy of Arts and Sciences and has been awarded fifteen honorary doctorates. She currently resides in Stanford, California.
Dr. Condoleezza Rice
Condoleezza Rice served as the 66th U.S. Secretary of State and is the Director of the Hoover Institution
Michael Sorrell
Michael Sorrell is the president of Paul Quinn College.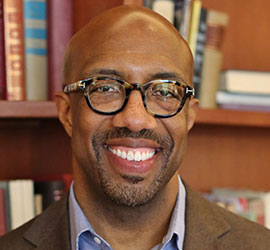 Michael Sorrell
Michael Sorrell is the president of Paul Quinn College.
"Paul Quinn College views the Advancing Black Pathways initiative as one of the most critically important and exciting steps currently being taken to address the inequities of wealth plaguing our country and our people. We are honored to lend the voice and might of the Quinnite Nation to this cause."
Dr. Michael J. Sorrell is the longest-serving President in the 146-year history of Paul Quinn College. During his almost 12 years of leadership, Paul Quinn has become something unique – a small, private minority-serving institution that by focusing on the most persistent, prevalent, and pressing problems of society, is remaking higher education and becoming a movement.
Michael received his J.D. and M.A. in Public Policy from Duke University and his Ed.D. from the University of Pennsylvania (where his dissertation defense was awarded "with Distinction"). While in law school, he was one of the founding members of the Journal of Gender Law & Policy and served as the Vice President of the Duke Bar Association. Michael was a recipient of a Sloan Foundation Graduate Fellowship, which funded his studies at both Harvard University's Kennedy School of Government (as a graduate fellow) and Duke University. He graduated from Oberlin College with a B.A. in Government, served as Secretary-Treasurer of his senior class, was a two-time captain of the men's varsity basketball team, and graduated as the school's fifth all-time leading scorer.
President Sorrell is one of the most decorated college presidents in America. He was recently named to Fortune Magazine's list of the World's 50 Greatest Leaders and is the only three-time recipient of the HBCU Male President of the Year Award in history (2018, 2016 and 2012). Time Magazine listed him as one of the "31 People Changing the South." Washington Monthly Magazine identified him as one of America's 10 Most Innovative College Presidents and Rev. Jesse Jackson, Sr. and PUSH/Excel honored him with its Education Leadership Award. Michael is the recipient of both the Dallas Bar Association's Dr. Martin Luther King, Jr. Justice Award and the City of Dallas' Father of the Year Award. In addition to being a member of the "Root 100" (a list of the top 100 emerging leaders in America) by the Root Online Magazine, Michael has received: the Distinguished Alumni Award from Duke University and the University of Pennsylvania's Graduate School of Education; the A. Kenneth Pye Award for Excellence in Education from Duke University's School of Law Alumni Association; a Distinguished Alumni Award from St. Ignatius College Prep in Chicago, Illinois; the Social Innovator Award from Babson College; Luminary Award from SMU; and the TRACS Leadership Award. The Dallas Historical Society honored Michael for Excellence in Educational Administration. He is a past recipient of the Dallas Urban League's Torch for Community Leadership and both the President's and C.B. Bunkley Awards from J.L. Turner for his outstanding contributions to the Dallas legal community. Michael also has an honorary degree from Austin College.
President Sorrell serves as a trustee or director for Duke University's School of Law, the Graduate School of Education and the Center for Minority Serving Institutions at the University of Pennsylvania, Amegy Bank, Dallas Advisory Board of Teach for America, the Dallas Foundation, the Holdsworth Center for Educational Leadership, and EarthX.
Michael is a member of the Sigma Pi Phi Fraternity and a life member of Kappa Alpha Psi Fraternity, Inc.
President Sorrell is married to the former Natalie Jenkins. Natalie is an alumna of Spelman College and the Wharton School at the University of Pennsylvania. They have two wonderful children, Michael Augustus and Sage Louise-Sinclair.
Michael Sorrell
Michael Sorrell is the president of Paul Quinn College