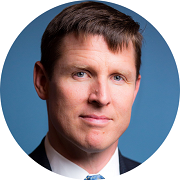 Tim Berry is the Global Head of Corporate Responsibility and Chairman of the Mid-Atlantic Region for JPMorgan Chase & Co. He oversees the firm's global government relations, sustainability, and philanthropic efforts, as well as the JPMorgan Chase Institute and PolicyCenter, which together help drive and support public policies that are good for the financial industry and the communities in which we do business. In addition, he leads the firm's business expansion in the Mid-Atlantic region spanning Philadelphia to Southern Virginia.

Tim brings a tremendous wealth of experience from both the public and private sectors to his leadership role. He spent nearly 20 years in government service, including as the Chief of Staff to two Majority Leaders of the U.S. House of Representatives, managing large teams and developing policy and legislative agendas for the House Republican Conference. He also spent five years in the private sector as Vice President for Government Relations at Time Warner and as Executive Vice President of Axios.

Tim holds a Bachelor of Arts degree in History from Middlebury College. He is a third-generation resident of the region and currently lives in Maryland with his wife, three children, and two dogs.