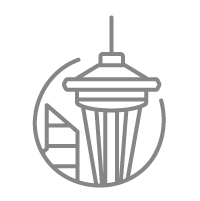 What We Are Doing
JPMorgan Chase has been serving the Seattle area for over 10 years. With 85 branches and more than 1,000 local employees, we're proud to offer award-winning service to our 818,000 customers, from Lake City to Delridge, Ballard to Bellevue. But we're working to become more than just a trusted banking partner in the region: whether through our collaboration with the University of Washington's Consulting and Business Development Center, our partnership with the Seattle Housing Authority, or our work with a host of other nonprofits throughout Seattle, we're working to build opportunity and revitalize neighborhoods, improve education and help startups. Most of all, we're joining you to build a strong, vital Seattle.
By the Numbers
85K+
---
Number of small business customers
*Throughout Washington, as of November 2016.
$5.3M+
---
Donated to charities in 2015
*Throughout Washington
116
---
Veterans hired since January 2011.
*Throughout Washington, as of November 2016.
Our Commitment to Seattle