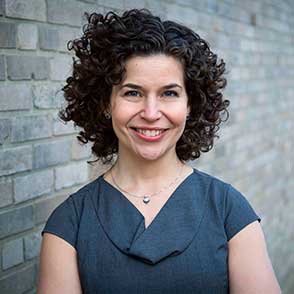 By Janis Bowdler, President of the JPMorgan Chase Foundation
Barriers to economic opportunity are not an abstract theory for me. I experienced them firsthand. Growing up in a working-class home outside Cleveland, Ohio, I lived four blocks from the dividing line between two school districts. The discrepancy between the high school I attended — which served mostly lower-income kids like me — and the one I would have gone to had I lived just a few blocks to the east was stark. An understanding of how much neighborhoods matter motivated me to work hard to overcome the obstacles I faced. And, ultimately was the driving force that shaped my career, including my formative years in community development in Cleveland's East side neighborhoods, the ten years I spent advocating on behalf of Latinx families at UnidosUS (formerly National Council of La Raza) and now in my role at JPMorgan Chase.
This idea is also behind our firm's push to expand opportunity in cities, where we are working to make sure a person's ZIP code does not predetermine his or her economic and social success. We are focused on cities because today, more than ever, cities are seeing the biggest global challenges land on their doorsteps, from income disparity and climate change to gun violence and homelessness. At the same time, it is in cities that we are seeing the public, private and nonprofit sectors best flexing their collaboration muscles and pragmatically tackling tough problems.
By virtue of what our firm does, we have a unique vantage point into what is working in cities.
Around the world, we provide financial services that businesses, residents and governments depend on.
We are also a large employer in many cities, states and countries. We have unrivaled data and expertise about the economy. And we have strong partnerships with community leaders and local organizations.
All of this has provided us with a host of insights into the conditions that must exist for a city to meaningfully expand opportunity for its residents — as well as the traits of cities that are most effectively doing so. We call these "advancing cities."
The traits that follow reflect key insights we have gained from our work in cities, along with the perspectives of our deeply knowledgeable partners. They showcase real-world examples that demonstrate progress is possible when people embrace a "we're in it together" pragmatism. And we believe these contain powerful lessons that can be put into practice by others working to create cities and communities where my story is not the exception; rather, all residents have the opportunity to share in the rewards of a growing economy.