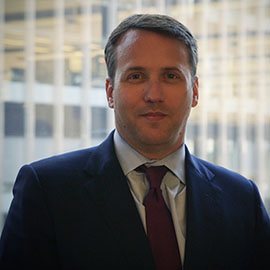 Troy Rohrbaugh is the head of Global Markets for J.P. Morgan, the industry's largest trading franchise, and a leader in both Equities and Fixed Income. He is a member of the firm's Operating Committee and CIB Management Team.
Prior to his current role, Troy was the head of Macro Markets, which includes the Rates, Foreign Exchange, Emerging Markets and Commodities businesses.
Troy has worked in the financial industry for more than 25 years and has managed businesses in New York, London and Asia. During his career, he has taken active roles in key industry organizations, including as the Chair of the New York Federal Reserve Foreign Exchange Committee. He has also served as the chair of the Global Financial Markets Association's (GFMA) Foreign Exchange Group and as a member of the Bank of England's Joint Standing Committee.
Troy joined J.P. Morgan in 2005 as a managing director and global head of Foreign Exchange Derivatives. He began his career on the Philadelphia Stock Exchange, trading options for CooperNeff, a specialist firm acquired by Banque Nationale in 1995. He led Banque Nationale's Asia Foreign Exchange Options business before joining Goldman Sachs, where he managed the North American Foreign Exchange Options business.
Troy graduated from Johns Hopkins University in 1992 with a B.A. in Political Science. He is a member of the Johns Hopkins University Krieger School of Arts and Sciences Advisory Board, a member of the Board of Trustees of the Gilman School and a Founding member and Advisory Board member of The Frannie Foundation. Troy lives in New York with his wife and their two sons.