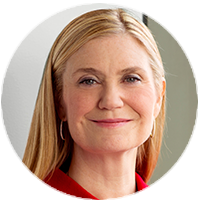 Marianne Lake is Co-CEO of Consumer & Community Banking (CCB) and a member of the JPMorgan Chase Operating Committee. She is jointly responsible for all of CCB, a business that serves more than 60 million households and 4 million small businesses in the United States.
On a day-to-day basis, Lake leads Payments, Lending and Commerce, including three industry-leading lending businesses: Card Services, Home Lending and Auto Finance.
Lake has been with firm for 20 years and was previously the Chief Executive Officer of Consumer Lending from 2019 to April, 2021. Prior to this, she was Chief Financial Officer for the firm from 2013 to 2019. As CFO, she was responsible for Finance and Business Management, Investor Relations, Chief Investment Office, Chief Data Office and the Chief Administrative Office.
During her first 12 years at the firm, Lake held roles in the finance organization including Chief Financial Officer of Consumer & Community Banking from 2009 to 2012, and Global Controller for the Investment Bank from 2007 to 2009. She also managed global financial infrastructure and control programs as part of the Corporate Finance group from 2004 to 2007.
Prior to this, she worked at both Chase and J.P. Morgan in London. At Chase, she was the Senior Financial Officer in the United Kingdom, and at J.P. Morgan, she was the Chief Financial Officer for the Credit Trading business. Lake started her career as a chartered accountant at PricewaterhouseCoopers in their London and Sydney offices.
Lake is the co-founder of the Women on the Move initiative and the Operating Committee sponsor of the Women on the Move Interactive Network, the largest employee Business Resource Group at the company. She has a Bachelor of Science in Physics from Reading University in the United Kingdom.