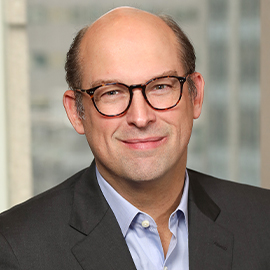 Jeremy Barnum is the Chief Financial Officer of JPMorgan Chase & Co. and a member of the firm's Operating Committee. As CFO, Jeremy is responsible for Finance and Business Management, the Chief Investment Office, and the Chief Administrative Office.
Previously, Jeremy served as head of Global Research for J.P. Morgan's Corporate & Investment Bank (CIB) and, prior to that, was Chief Financial Officer and Chief of Staff for the CIB. He was CFO of the CIB from 2013 through the beginning of 2021, leading the traditional finance functions as well as teams that provide leverage to the execution of business priorities and the management of operational risk. As Chief of Staff, Jeremy worked closely with the CEO on the management of the CIB division and the execution of both short and long-term objectives.
Jeremy joined J.P. Morgan in 1994 and has since held a number of roles including Chief Financial Officer for CIB Markets and co-head of North American Credit Trading among other trading roles. Jeremy also spent two years at Blue Mountain Capital Management, a credit-oriented hedge fund, where he was a partner and head of the London office.
Jeremy graduated from Harvard College with a degree in chemistry. He lives in New York with his wife and two daughters.