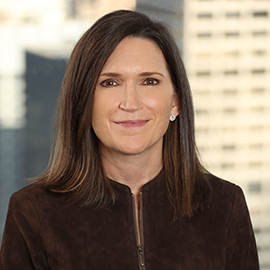 Jennifer Piepszak is Co-CEO of Consumer & Community Banking (CCB) and a member of the JPMorgan Chase Operating Committee. She is jointly responsible for all of CCB, a business that serves nearly 80 million consumers and 5.7 million small businesses in the United States.
On a day-to-day basis, Piepszak leads Banking and Wealth Management, including the industry-leading Consumer and Business Banking businesses. In addition, she is the Operating Committee sponsor for both Advancing Black Pathways and the Black Organization for Leadership Development (BOLD), a business resource group.
Piepszak has been with JPMorgan Chase for 29 years. From May 2019 to May 2021, she was Chief Financial Officer of the firm, responsible for Finance and Business Management, Investor Relations, the Chief Investment Office and Chief Administrative Office. Prior to being CFO, Piepszak spent eight years in CCB, serving as CEO of Card Services, CEO of Business Banking and CFO for Mortgage Banking.
During her first 17 years at the firm, Piepszak held progressively responsible roles in the Corporate & Investment Bank serving as Controller for Global Equities and Prime Services, CFO and Controller for the Proprietary Positioning Business and Principal Investments Management, and CFO for the Investment Bank Credit Portfolio, as well as several Fixed Income markets businesses.
Piepszak holds a Bachelor of Science degree from Fairfield University and is on the board of directors for the United Way of New York City and the American Bankers Association. She and her husband have three children and live in New Jersey.