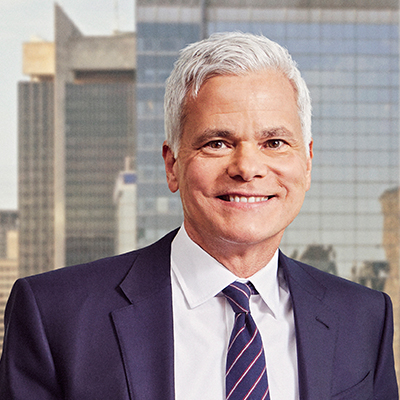 Doug Petno is the Chief Executive Officer of Commercial Banking, one of the firm's four lines of business. He reports to Jamie Dimon, Chairman and CEO, and is a member of the firm's Operating Committee.
CB has more than 12,000 professionals located in 140 locations across the U.S. and 30 major international cities. CB delivers industry leading capabilities and comprehensive financial solutions, including investment banking, treasury services, merchant services, and commercial lending. The business serves more than 18,000 clients, including mid-sized businesses and corporations, government entities and not-for-profit organizations and more than 33,000 real estate investors/owners.
Petno has more than 30 years of experience at the firm. Prior to his current role, Doug was Global Head of J.P. Morgan's Natural Resources Investment Banking Group. He joined Commercial Banking in 2010 as Chief Operating Officer and then became the Chief Executive Officer in 2012.

Petno is a member of The Nature Conservancy Global Board of Directors and is Chairman of NatureVest, an initiative to advance impact investing in conservation. He received an A.B. degree in Biology from Wabash College and holds a Master of Business Administration from the University of Rochester's Simon School of Business.