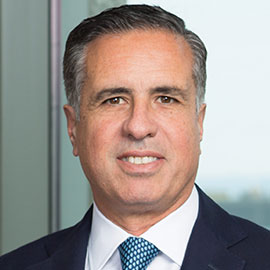 Daniel Pinto is President and Chief Operating Officer of JPMorgan Chase and a member of its Operating Committee. He is also CEO of its Corporate & Investment Bank, an industry leader in investment banking, trading markets, wholesale payments and securities services.
Daniel has spent his career at JPMorgan Chase and its predecessor companies. He began as a financial analyst and foreign exchange trader at Manufacturers Hanover in 1983 in Buenos Aires. In 1992, he was appointed head of Sales for Chemical Bank, responsible for clients in Argentina, Uruguay and Paraguay. Shortly after, he became head trader and Treasurer of Chemical Bank in Mexico. Daniel moved to London in 1996 to oversee local markets in Eastern Europe, the Middle East, Africa and Asia for Chase Manhattan, later taking charge of the markets side of the firm's emerging-market business.

In early 2006, Daniel was made global head of Emerging Markets. He was given added responsibility for the Global Credit Trading & Syndicate business in early 2008. In 2009, he was made co-head of Global Fixed Income for the Investment Bank before becoming sole head of the group in 2012. He was also made co-CEO of the Corporate & Investment Bank in 2012, and became sole CEO in 2014. In January 2018, he was named Co-President and Chief Operating Officer of JPMorgan Chase, to work closely with the CEO and the Board to identify and pursue critical firmwide opportunities. He became sole President and COO in January 2022.
Daniel holds a bachelor's degree in Public Accounting and Business Administration from Universidad Nacional de Lomas de Zamora in Buenos Aires. He is a member of the Board of Directors of the Institute of International Finance.