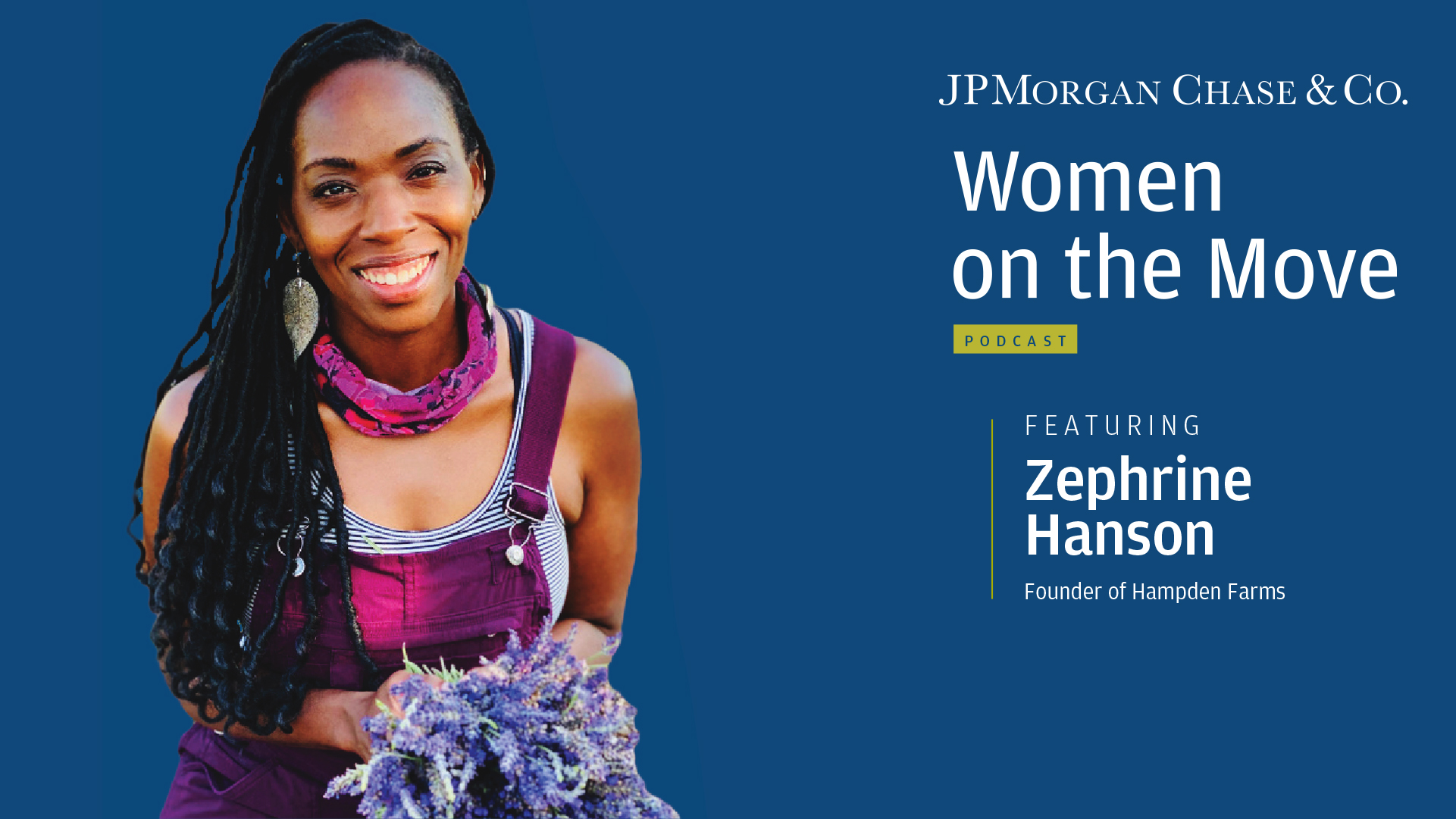 Stories
Sustainable Farming Entrepreneur Talks Career Path and Autism Awareness
Zephrine Hanson's journey from Air Force photojournalist to small-scale farming entrepreneur in Colorado has been shaped by her time in the service and her role as a mother to three children on the autism spectrum. During Autism Awareness Month, Women on the Move host Sam Saperstein talks with Zephrine about those experiences and her mission to make small-scale farming profitable.


Military experience paves the way
Wanting both a path to college and a chance to see the world, Zephrine joined the Air Force soon after graduating from high school in southern California. She spent eight years as a photojournalist and although she ultimately left the military, she says she learned invaluable skills including the ability to both plan and be able to think on the fly, as well as how to compromise with others. "Sometimes I'd have to photograph someone who didn't really want to be on camera, but we both had been voluntold to do this," she explains. "And so [I learned] a little bit of the art of negotiation."
But it was after leaving the military that Zephrine experienced some of the biggest benefits of her service: veterans' organizations. She's participated in more than four programs, which helped connect her to entrepreneurial support. "Every veteran program I went to has allowed me to just even be here to speak with you," she tells Sam. "I learned from them how to have my transition, have this second opportunity at life."


Transition to sustainable farming
As a veteran facing health issues, Zephrine found herself immersed in wellness. She explored "every kind of spiritual religion," yoga, healthy eating, and other wellness practices. Feeling healthier, she and her husband embarked on parenthood: first a son and then, 15 months later, twin daughters. "I wasn't ready" she tells Sam. "There was no part of me that was ready for that." She and her husband dealt with the stress by moving to Denver—a place where they knew nobody but figured they could build their future.
In Denver, Zephrine connected with a veteran organization that had a relationship with the Denver Botanic Gardens. The program connected her lifelong interests in farming and entrepreneurship with the community connectedness she had discovered as a Black woman in veteran programs.
Soon she founded Hampden Farms, a suburban farming project offering sustainable farming solutions and small-batch artisanal products made from organic ingredients. "The mission of Hampden farms is to make small scale farming profitable," she says. "I get to be a farm business owner and work with other growers and farmers who are creating these systems to really change the farm system." Along with several other farmers, she created the East Denver Food Hub, who collaborate on marketing and distribution. Their goals is to make local food accessible to everyone. That includes people who have traditional barriers to fresh food, including families with special needs kids.


A family affair
Zephrine's family has been central to her journey as a businesswoman and advocate. Her three children had received diagnoses of autism, and when she and her husband took the opportunity to move to Denver, they decided to homeschool their children, and soon discovered an organization called Teaching the Autism Community Trades. Knowing that statistics show 90 percent of people with an autism diagnosis will never be hired, Zephrine and her husband embraced teaching skills to their children. Farming, and the development of Hampden Farms, fit that bill perfectly.
During the Covid-19 pandemic, Zephrine took the opportunity to launch Farm in a Box, a virtual interactive experience where customers can curate a box of local produce. The idea was partly inspired by her husband, faced with the reality of the family being stuck at home due to the pandemic. He built a backyard farm where their children could participate in skilled farm work. Meanwhile Zephrine, inspired by activity boxes her children received during the pandemic, hatched the idea of Farm in a Box. She applied for and received grant funding from a Denver organization. She's working with the food hub, whose farmers make money by delivering the boxes clients create. That circles back to her original mission for Hampden Farms: making small-scale farming profitable.

Sustainable Farming Entrepreneur Talks Career Path and Autism Awareness
Zephrine Hanson, Founder of Hampden Farms
Subscribe