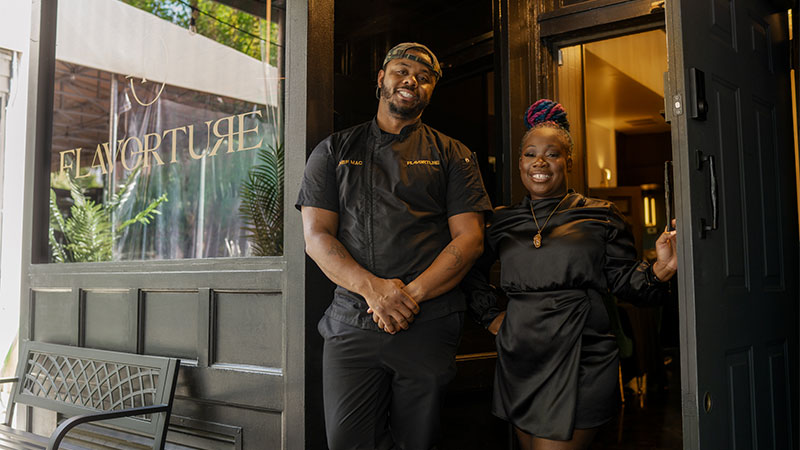 Stories
Entrepreneurs Expand Access to Healthy Food in D.C.
JPMorgan Chase Helps Local Entrepreneur Expand Her Business, Bringing Healthy Food Options to Ward 7
When D.C. entrepreneur Pinkey Reddick, a 33-year resident of Deanwood–a tight-knit community in Ward 7–noticed her community had limited access to full-service grocery stores and healthy food options, she wanted to do something about it.
In 2016, Reddick opened Pinke's E.A.T.S, a family-run catering and food delivery service, to provide healthy, fresh food options to the nearly 80,000 residents in her Ward 7 community.
"The only options we've always had were fast food spaces," she says.
JPMorgan Chase supports entrepreneurs like Reddick in their efforts to help grow and scale businesses and build stronger communities. The bank has served the Greater Washington region for more than 50 years, partnering with local organizations and making philanthropic investments to help power a stronger local economy. In 2018, it committed more than $700,000 to the Coalition for Nonprofit Housing and Economic Development (CNHED), an organization dedicated to increasing the rate at which universities and hospitals hire and contract minority-owned businesses, like Pinke's E.A.T.S. In 2022, the bank made a $1.95 million, three-year commitment to CNHED to help Black, Hispanic and Latino residents build wealth through homeownership.
With the support and visibility created by CNHED, Pinke's E.A.T.S has become a fixture in the community, serving food across the district to clients in a variety of venues, from pop-ups at the Pentagon to school lunches in Dupont Park, Georgetown University, Sibley Memorial Hospital, and more.
Support for an Expanded Vision
Now, Reddick is paying it forward. She has acquired a 6,500-square foot space for the business where she plans to support other chef entrepreneurs in honing their culinary craft and opening their own food businesses. Reddick and her colleague, Llewellyn McAlister, also opened Woodley Park's first Black-owned restaurant and caterer, Flavorture, an elevated soul food concept. Reddick's expansive vision highlights the ripple effect of seed capital and serial entrepreneurship. Nonetheless, she still strives first and foremost to directly serve her community.
"I wouldn't have a business without the support of my community. That's who I'm selling the food to and for. And that's who I employ, too!," Reddick says. "I think one of the biggest ways that we give back is by hiring within the community. We hire people who look like us and mothers who don't have the time to work eight hours and need flexibility."
Learn more about how JPMorgan Chase supports small business growth.
Learn more about how JPMorgan Chase supports the economic growth of Greater Washington.
Any mentions of third-party trademarks, brand names, products and services are for referential purposes only and any mention thereof is not meant to imply any sponsorship, endorsement, or affiliation unless otherwise noted. Participants compensated.