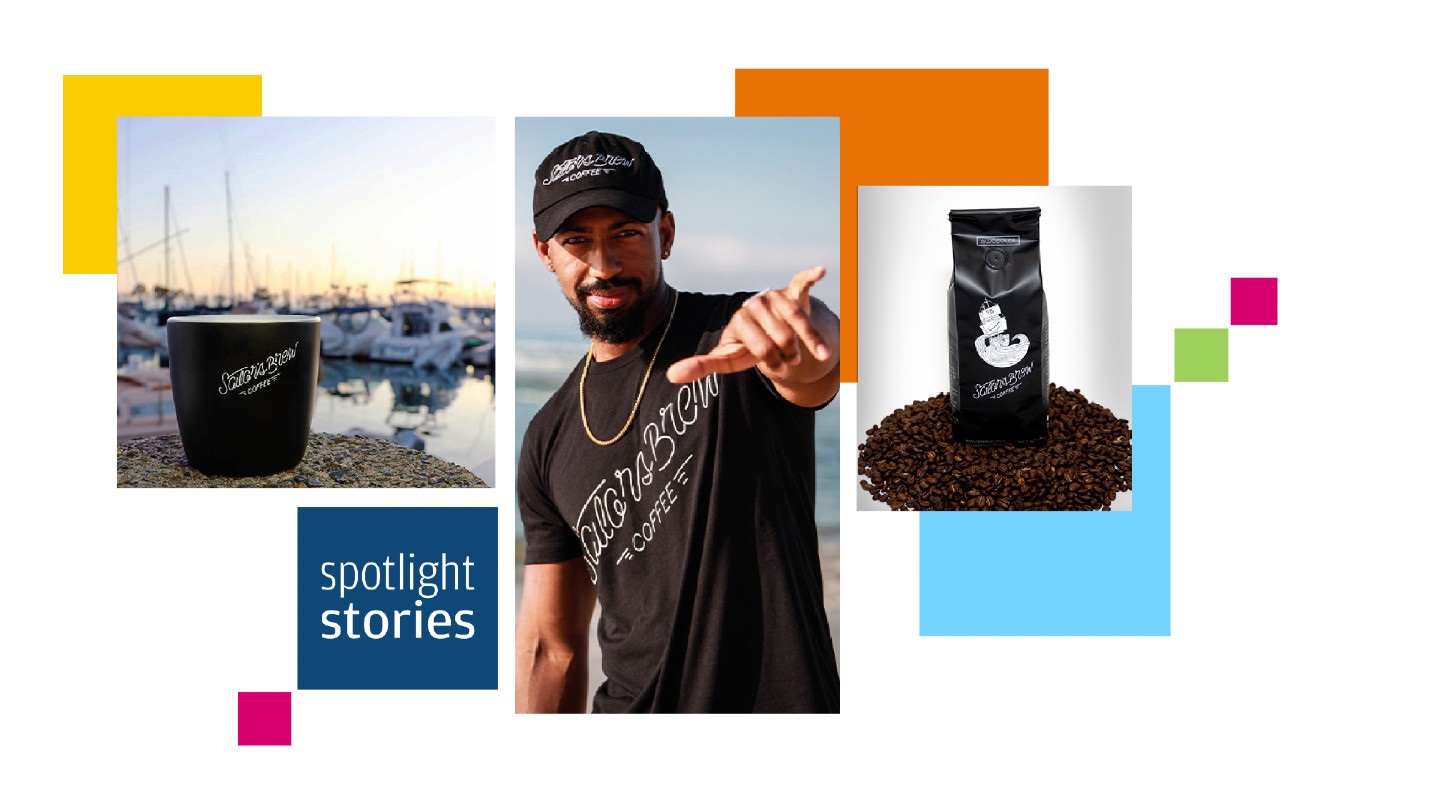 Stories
Brewing Up Generational Wealth with Coffee
Even before Army veteran and Black business owner Trévon Sailor began building his coffee brand, he knew he wanted to use his company to help others. His time in the military taught him the importance of service and community and built his passion for good cup of black coffee. Once he got out, he decided he needed to find a way to put them all together.
In 2018, after a business trip in Colombia to expand his knowledge of the coffee industry, Trévon and his younger brothers Travis and Tevin opened an online shop called Sailor's Brew Coffee. However, Trévon struggled to find adequate funding, visibility, mentorship and support for his business.
"Whether it's looking at small businesses or minority Black-owned small businesses in particular, there's not a lot of wide opportunity," said Trévon. "There's a lot of businesses that start off locally in the community, which is great. But again, due to a lack of people supporting them, and a lack of other business opportunities, they just stay stagnant, or they're barely making it at all."
Elevating the Black Economy
Because of his struggles finding support, Trévon committed to helping other Black businesses and decided to source his coffee directly from Black coffee farmers in Ethiopia and Jamaica.
"We need to get our dollars in circulation and rotation so we can elevate our own economy within our local communities," he said. "It's a thing we practiced way back when, but we have strayed away from that."
Trévon turned to JPMorgan Chase for help. He met Mikal Quarles, Executive Director of Chase for Business who focuses on empowering minority entrepreneurs, who introduced him to Lisa Dixon-Stevens, Senior Business Consultant of Chase for Business—also focused on minority entrepreneurs. Together, they provided mentorship and guidance that Trévon was looking for all along, extending far beyond opening his business account.
Through JPMorgan Chase's $30B commitment to close the racial wealth gap, Black entrepreneurs now have access to more expanded mentorship resources than ever.
"This is about leveling the playing field. As a firm, we have a responsibility to be a leader in advancing racial equality," said Mikal.
Lisa agreed. "Through our mentorship program, we're able to identify challenges and create opportunities," she explained. "Once I met Mr. Sailor, I understood his passion to succeed and his willingness to do the work needed – yet, the path needed guidance."
JPMorgan Chase provided support in a myriad of ways, purchasing large amounts of coffee from Sailor's Brew for their Juneteenth event and featuring Trévon locally on the bank's ATM screens during small business awareness month in May.
"Aside from servicing our banking needs and providing mentorship, they also support us as entrepreneurs, which a lot of times you won't see with other financial institutions," said Trévon.
Building Generational Wealth
With the financial tools and guidance Trévon received to run his business, he's now equipped and determined to pass on that business knowledge and financial literacy to his two brothers down the line.
"I believe once they get older and they end up taking my place, they will also have those same principles to make sure this business operates at that same level," he said.
With the support of his brothers, Trévon is committed to growing his business, providing quality products and inspiring others to continue on life's voyage.
His mantra is, "Life is like the ocean: sometimes breezy with beautiful skies, other times rough and choppy, with stormy skies."
"It's about riding those waves while staying true to your path, no matter what confronts you," said Trévon.
Spotlight Stories: Celebrating the stories of those who rise to the challenge and inspire us every day. See how a female-owned small business supplied masks for Chase branches throughout the country.
JPMorgan Chase is not responsible for views expressed other than our own.