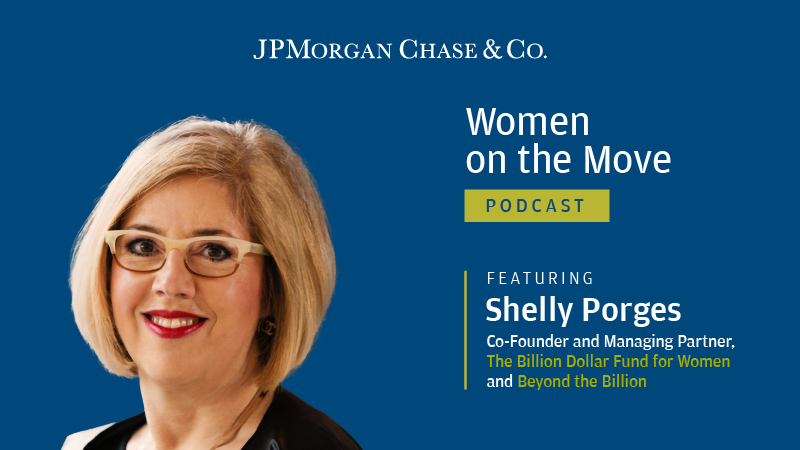 Beyond the Billion founder talks the importance of funding female entrepreneurs
When Shelly Porges learned in 2017 that women were only receiving 2.7 percent of global venture capital, she started thinking about what she could do to change that. By 2018, she had co-founded the Billion Dollar Fund for Women (now Beyond the Billion), and within a year more than $1 billion was committed from over 80 funds globally. In this episode of Women on the Move, Shelly sits down with host Sam Saperstein to discuss her multisector background, why she's so passionate about connecting funders with women, and how Beyond the Billion achieved success beyond her expectations.
Multisector experience
Shelly tells Sam that her varied experience across the corporate, government, and entrepreneurial sectors has been invaluable. "Each sector has its own rewards and its own challenges, things that you learned that you wouldn't have learned maybe doing the last thing you did," she says.
Starting out in the corporate sector, Shelly worked 10 years at American Express before spending three years at Bank of America as Chief Marketing Officer during an historic turnaround. She went on to found not one but six companies in the Bay Area. By 2005, she had moved to Washington, DC and become involved with Hillary Clinton's campaigns. "I wasn't doing it for money," she tells Sam. I was doing it because I really believed in her as a candidate and her as a leader. And then I had the opportunity to join her at the state department as her senior advisor for global entrepreneurship."
Shelly is now working in her fifth sector, venture capital, having launched the Billion Dollar Fund for Women in 2018.
Raising a billion for women
Shelly says the inspiration for the Billion Dollar Fund for Women was the many female founders she worked with over the years at the Cartier Women's Initiative, the largest women's business plan competition in the world. "I would see women from all over the world, innovating amazing technology or tech-enabled businesses that were helping people in the healthcare sector or any number of things, saving lives, educating more and more young people," she says. "And then afterwards I would try to help get them funded. And so I knew those companies intimately and not being able to find them funding would drive me nuts."
Back in the private sector after the 2016 election, Shelly knew she wanted to focus on helping women entrepreneurs raise money. She found her path forward when a friend, a prominent Asian businesswoman, told her the World Bank was holding its annual meetings in Bali in 2018. The friend was working to mobilize a blended finance forum around the 17 UN sustainable development goals—but she couldn't find a project partner for Goal #5: Gender Equality.
"I said, well, send me your parameters and I'll see what I can do," Shelly recalls. "I know a lot of people. And meanwhile I started getting obsessed with this notion. What if I offered to promote these venture funds to limited partner investors who would invest in them in exchange for which they would make a pledge to invest more into female founders? And that's where it all started."
"So now she had a project partner for number five and we were up and running," she tells Sam. "By the time we got to the World Bank meetings, we had over $460 million pledged from initially at 23 funds. So [it was] the beginning of what we call our global consortium of funds; in under nine months we achieved and then surpassed the billion dollars."
Getting results
Since then, Beyond the Billion has continued to exceed expectations. Shelly says that's partly a reflection of the untapped value of women entrepreneurs; data shows that women are consistently getting better results than men. As far as advice to female entrepreneurs, Shelly is straightforward: "Do your homework, know who you're reaching out to," she says. By doing your research upfront you can find the subset of funds that might be a good match for you in terms of stage, geography, mission, and other criteria, she notes


Shelly Porges
Co-Founder and Managing Partner, The Billion Dollar Fund for Women and Beyond the Billion
Subscribe