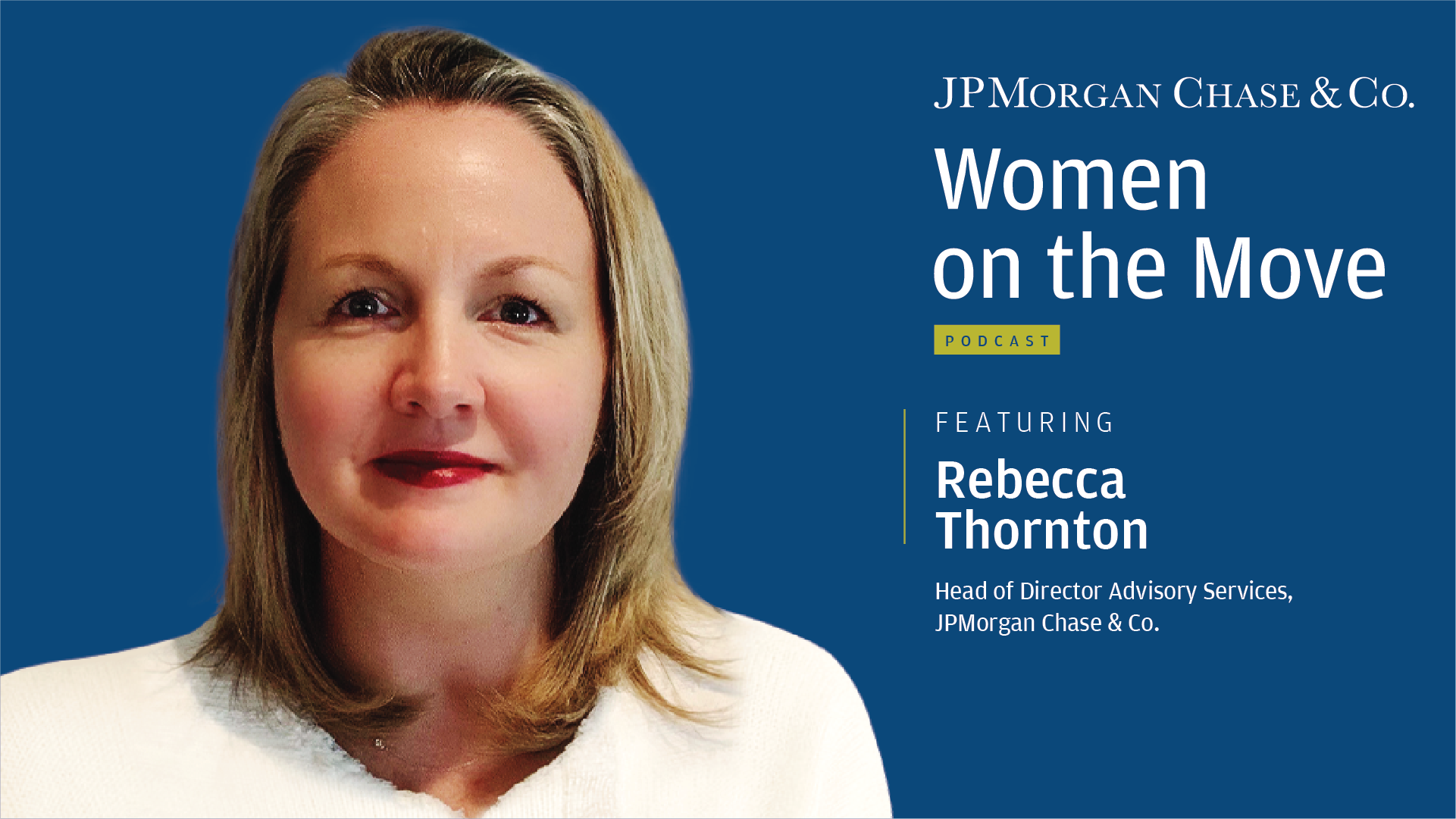 Stories
Driven by the mission of placing more women on executive boards
Diversifying a board of directors is easier said than done, but Rebecca Thornton, head of Director Advisory Services at JPMorgan Chase & Co., has some great advice about creating a well-rounded board. She sits down with Women on the Move host Sam Saperstein to discuss how her team identifies diverse board candidates—and her advice for women aspiring to sever on a board.

The art and science of matching candidates to board positions
Rebecca describes how JPMorgan Chase & Co.'s Director Advisory Services was formed in 2016 by Jamie Dimon. It was a time when senior bankers at the firm were increasingly being contacted as sources for board searches. "And Jamie knew who he knew and the banker down the hall knew who she knew, but there was no real central clearing house for all the great talent our bankers knew to be board interested," she explains. "And on the other side, we had clients coming to us saying, We need an audit chair. Do you know anybody with emerging markets experience? It'd be great if they were also diverse."
Rebecca's team now acts as that central clearinghouse with a mission of creating a more robust list of candidates. They now have a network of 4,000 people, and about 60 percent of their "actively looking network" are women or other underrepresented individuals.
Creating the list is when art and science meet, according to Rebecca. "The science is where they match the criteria," she says. "So you're looking for a qualified financial expert who can step into an audit chair role who has emerging markets experience [and the client would love it] if they've also had operations experience out of a consumer-facing business, and this has to be a female or underrepresented person." Rebecca's team goes through their network and identifies people who meet the science. "The art is where the special sauce is because you have to make sure that beyond the paper that the person is going to fit," she describes. "And that's where you really do need to understand a little bit of the culture of the organization."
Advice for aspiring board members
Rebecca acknowledges that there's a catch-22 for people seeking their first board positions: boards want individuals with board experience, so how do you get the experience? Her advice: be really good at what you do, and make sure that people are aware of your skills. With about 70 percent of board vacancies filled through relationships, Rebecca maintains that building your brand and networking are key to getting your name out there as a potential board candidate. As a resource for aspiring board members, she recommends checking out the local chapter of the National Association of Corporate Directors (NACD).
And while she believes that the time is right for women taking more and more prominent roles on boards—most firms are fully on board with wanting to recruit women and other diverse members—there are still practical roadblocks to achieving full parity. One of them is the simple fact that board vacancies can be infrequent. She says that age remains the predominant reason for board turnover, and members typically serve until 72 or 75 years of age. "I just think there are some practical reasons why it continues to sort of lag or take time or plateau, but the good news is that I don't think there'll ever be a board search done again where there's an entire slate of white men," she adds.
Rebecca and Sam also discuss the topic of quotas on boards. And while Rebecca says that in general she doesn't like quotas for quota's sake, she does feel like we're in a place where the talent and depth is there, and quotas can help move institutions toward parity. "And if a company's doing it to satisfy a quota, I have a lot of confidence in my sisters that they show up, they do their work, and they're going to have impact," she emphasizes. "So if that voice convinces everybody else in the room that, Hey, this wasn't so bad, she was actually pretty great. Then they get a second voice and a third voice and a fourth voice and parity at some point down the road . . . you have to start somewhere."

Driven by the mission of placing more women on executive boards
Rebecca Thornton,
Head of Director Advisory Services


Subscribe