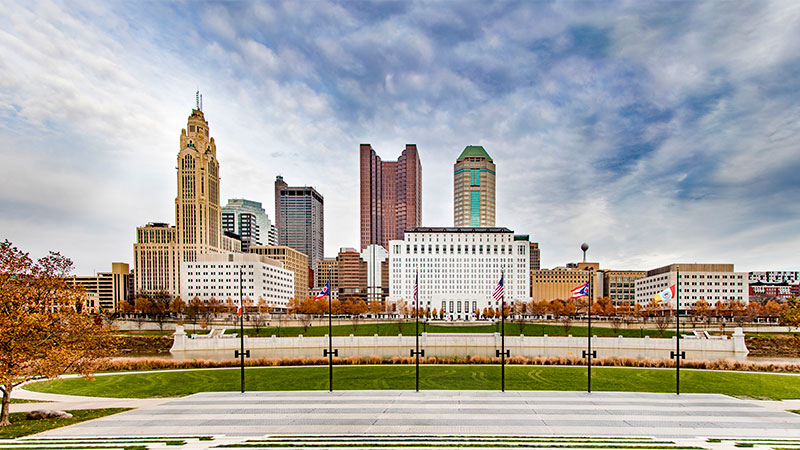 Stories
Columbus Location Leader: Our Commitment to Ohio
What do The University of Dayton and The Ohio State University have in common? They are both banked by JPMorgan Chase.
So are Cleveland's University Hospitals Health System, Columbus' Ronald McDonald House, and the City of Columbus.
Across the state, we bank nearly 50 counties, cities and school districts, and have been serving customers for more than two centuries. We do this because we know government leaders are doing important work to make Ohio's communities stronger and we're proud to work with them.
Although we have a global reach, our roots in Ohio run particularly deep. As a native Ohioan, I take great pride in the rich history of our commitment to the state, evidenced by the impact highlights featured in JPMorgan Chase Chairman and CEO Jamie Dimon's annual letter to shareholders.
We are one of the largest private sector employers in the state, employing more than 20,000 Ohioans – including more than 2,000 veterans and 500 people with a criminal background who deserve a second chance. Our employees have access to high-quality medical care, childcare, and a comprehensive benefits package that is valued at $15,000.
We are a local job creator. We've provided $120 billion in credit and capital to businesses within Ohio's manufacturing, energy, retail and auto industries and $20 billion in local banks, insurance companies, asset managers and securities firms. We also bank more than 25 of Ohio's regional, mid-sized and community banks, helping them serve local communities and accomplish their goals.
We support local small businesses, having provided over $800 million in loans to almost 5,500 small businesses across the state. In 2022 alone, JPMorgan Chase had over 160,000 small business clients, helping them to thrive and grow.
We are a local supporter of Ohio's major civic and cultural institutions, serving approximately 150 higher education, healthcare, government, and nonprofit clients throughout the state. Over the last five years, we provided nearly $9 billion in credit and capital to them.
We've met the moment by committing $45 million in philanthropic capital since 2018, including important emergency funding during the COVID-19 pandemic.
Every day, in ways big and small, we're striving to make meaningful and sustained impact and we couldn't be more proud to be at the heart of it all.