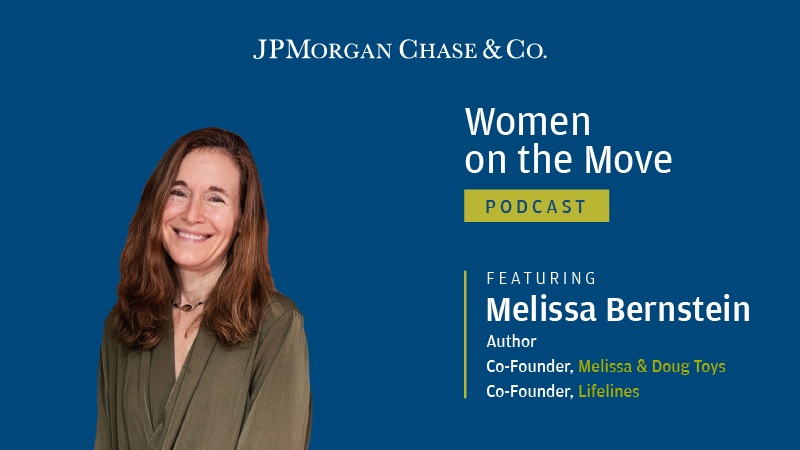 Stories
Accepting her inner truth and sparking joy, from iconic toy company co-founder Melissa Bernstein
This podcast is for informational purposes only. The content is not intended to be a substitute for professional advice, diagnosis, or treatment. Always seek the advice of your mental health professional or other qualified health provider with any questions you may have regarding your condition.
About two years ago Melissa Bernstein, co-founder of Melissa and Doug Toys, began a journey of self-discovery that eventually led her to a diagnosis of existential angst—and a commitment to uncovering her true self. In this episode of Women on the Move, the world-famous toy entrepreneur sits down with host Sam Saperstein to discuss that experience and how it led her to co-found LifeLines, her new company focused on wellbeing.
Melissa says she knew she was different—and struggled intensely with life—since she was a child. "From my earliest recollection, I struggled with asking . . . Why am I here? What is the meaning of life?" she recalls. "And when I asked those around me these deep dark questions, people didn't really want to hear that from a little child." She recalls being told that she was too deep, too emotional, and that she should go outside and play. Ultimately, her response was to bury herself in introversion, perfectionism, and creativity—three ingredients that helped create magic when she co-founded Melissa and Doug in her 20s.
Toy Story
Melissa recalls how she and her now-husband Doug, both working in finance at the time, decided that they would start a company. Both the children of educators, they initially honed in on something for children. After considering and rejecting the idea of opening an alternative school, they decided on the toy business. Melissa describes Melissa and Doug Toys as "open-ended" toys because they are aimed to be 90 percent about the child and 10 percent about the toy. In the first years of the business, Melissa says they "faced every single hurdle you could ever imagine." They persevered to establish one of the most iconic toy companies.
The success and creativity she found through the business allowed her to channel the darkness she still felt inside. "It was dark into light through Melissa and Doug in making these toys," she tells Sam. "[But] ultimately about two years ago, that cry of my own soul to be seen authentically grew so loud. It was deafening. And I started to see that even though creating toys for 33 years had been like my salvation, my lifeline, and my reason for being, it was almost [a] façade I had created."
Channeling angst into lifelines
Receiving a diagnosis of existential angst and coming to terms with her own truth was life changing. She came to realize that there's a deep connection between those who have existential angst and those who are extra creative. "Because the very qualities that lead us to ponder these deep dark realities also lead us to experience the beauty and the joy and the wonder of the world," she describes. "I always say both the beauty and the pain of the world are unbearable for me. I could vacillate between the profound highs and the devastating lows in a minute."
It was this journey of discovery that inspired Melissa to co-found LifeLines two years ago. The company is dedicated to her daily Practice, which she developed and continues to refine to help keep her grounded in the face of the extreme highs and lows she experiences.

She describes three core tenets she learned in her journey and focused LifeLines on. First, that she isn't alone anymore, after years of denying the truth of how she felt. After "coming out" with her diagnosis and her own truth, she heard from thousands who felt the same way. Her second tenet is a commitment to helping others who suffer from existential angst to unearth their unique form of self-expression or creativity to make meaning in their own lives. And third is recognizing that she needed help. The end result is accepting "that Melissa Bernstein is the full emotional spectrum from the lowest of lows . . . to the highest of highs, like unbounding limitless joy."

Melissa wraps up with one piece of advice for listeners: "We all have the ability to make meaning in our lives if we take responsibility for doing so. And that responsibility is a choice. So I think what I always want people to know is they may choose not to do it. They may choose to stay stuck and remain a victim, but it is a choice. And as long as they know that they have a choice to think differently and they have a choice to grab life by the horns and savor all there is to savor, then I feel like I've done my job."


Accepting her inner truth and sparking joy
Melissa Bernstein,
Co-Founder


Subscribe