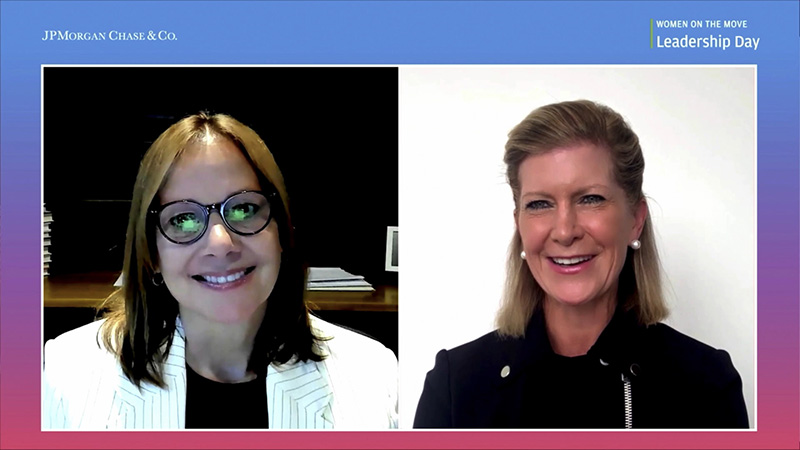 Stories
Three steps to becoming a good leader 
Becoming an efficient and agile leader is critical as you advance in your career—something Mary Barra found out early, long before she topped almost every "most influential" list as the first female CEO of GM (and the entire auto industry).
Along her journey, she discovered the keys to becoming the leader she wanted to be. And as she's had to understand the complexities of global challenges, thrive in uncertainty and proactively react to industrial disruptions, Mary also knows it's critical for leaders to focus on the soft skills, too.

During a fireside chat with J.P. Morgan Asset & Wealth Management CEO Mary Erdoes at the firm's sixth annual Women on the Move Leadership Day, she shared how she's aiming to change not just the auto industry but the world by focusing on what matters most: people.


Step 1: Empower your people
In a previous role as GM's head of HR, one of Mary's first newsworthy moves was to pare down the company's multi-page dress code policy to two words: "dress appropriately." This allowed people to decide on their own interpretation of the dress code in accordance with their job and responsibilities for the day. "People are our strength, and I knew how talented the people were at GM," Mary explained. "But…we had some cultural challenges about empowering [them]."
By trusting their employees, giving them the autonomy to dress appropriately and holding them accountable to GM's standards, Mary helped uplift employee empowerment and engagement, and create greater trust between employees and GM.


Step 2: Do the right thing, no matter what
"One of the things I learned early in my career is you've got to do the right thing, even when it's hard," Mary said. With the recent pandemic, leaders like Mary have learned it's not always easy to make the right choice, especially when the "right" choice isn't overwhelmingly clear.
In 2020, Mary and GM were tasked with helping a small business find ways to build ventilators quickly—from 250 per month to 10,000—and get them to hospitalized patients who desperately needed them during the COVID-19 pandemic. Here, she found out the challenges they were facing went beyond just execution, and into broader difficulties like mass production with limited resources. "On the first day of a challenge, you only know a little amount," she said. "You learn over the days and weeks, and sometimes you're learning hour by hour what you're really facing."
Working with cross-functional teams who were executing with clear goals in mind (sometimes against the clock), Mary has seen firsthand that these are the moments when innovative solutions are born. And as for finding that "right thing" to do? The easiest way is by focusing not on financial gain or prestige, but what's best for people.
"You sit there and you say, 'Okay, what's the right thing to do for our employees? What's the right thing to do for our customers?' and let that guide how you deal with the challenge, and you'll get clarity pretty quickly."


Step 3: Create the life you want
Investing in yourself physically, mentally and spiritually is crucial to putting work/life balance into action. Mary has learned throughout her career that this means giving yourself permission to enjoy the most important things, like friends, family and the special moments that make life worth it.
"So when you look back over a month, over a year, and you say to yourself, 'Wow, I didn't spend the time [or] I wasn't there for the important things in my life,' well then that's something you've got to adjust, and you've got to own that," she said.
Mary advised sharing those important personal goals with your manager and other leaders—many of whom will want to be accommodating and respect the boundaries you set for yourself. "They understand you've got to [leave work] because you're trying to be a good parent, or you're trying to be respectful of someone who's part of your ecosystem, they're going to want you to go," she said.
It's less important to get every moment exactly right, she said, and more important to show continued dedication, care and respect to the people who matter most to you.


Invest in yourself and your people for the future
Empowering others, doing the right thing and building a manageable work/life balance will help you create a solid foundation as a great leader, teaching people that you can invest in the well-being of others as well as yourself.
And for Mary, this started at home. She recalled her parents teaching her and her brother that they could truly do anything they wanted to do. "We were raised with this 'You can do and be anything you want to be,'" she said.
"And so, I think, as I got to the working world, I took that with me and… heard my mom in the back of my head saying, 'You can do this.' [She] just really instilled this confidence that I belonged there, and I could do anything."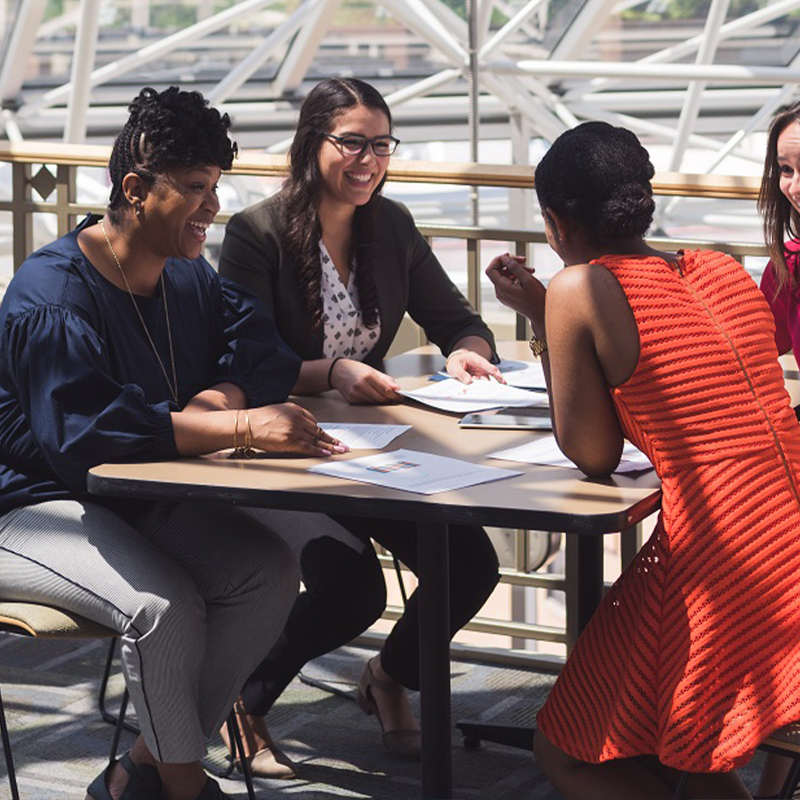 Women on the Move
Read more on how JPMorgan Chase helps fuel women's ambition and advance financial equality through Women on the Move.