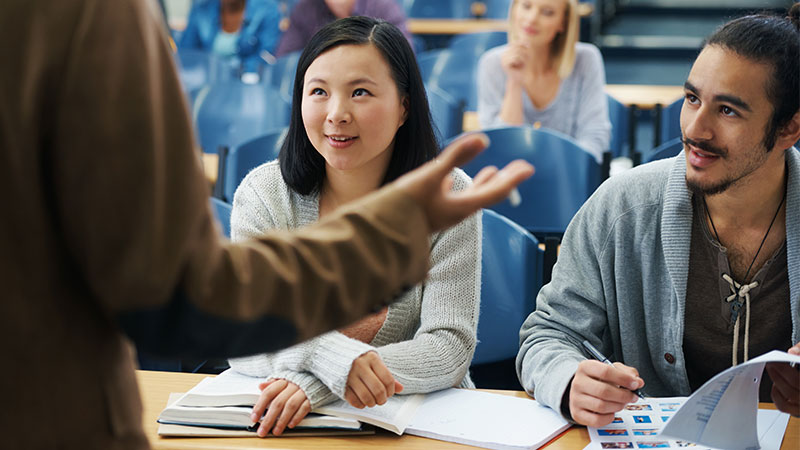 Stories
Marrying Opportunity and Talent in Dallas
Could free education targeting in-demand skills be the key to a successful future workforce?
At 18, Itzel Sanchez has already mapped out a thoughtful, practical career path. This fall, the recent high school graduate will attend El Centro College, the flagship school of the Dallas County Community College District, where she plans to spend two years working through the prerequisite classes for a nursing degree before transferring to a four-year university to finish. After that she'll decide if she wants to go to medical school to become an obstetrician-gynecologist. All while living at home and working full-time.
"It takes a lot of time and money to become a doctor. I need to start somewhere," explains Sanchez. "Nursing is a good program because as soon as I have my degree I will be able to get a good, stable job."
Sanchez and her plan are proof of what can happen when a determined student with limited financial resources is not only encouraged to dream, but also provided the tools to translate those dreams into actionable plans. That's where Dallas County Promise (the "Promise") comes in. An initiative of the Dallas County Community College District (DCCCD) Foundation and the Commit Partnership, the Promise provides a full-tuition scholarship for the first and second years of college to students in participating Dallas County Promise High Schools, regardless of grade point average or family income.
In addition to scholarships, the Promise promotes career pathway education in high schools with the goal of better aligning students' career aspirations with the needs of area employers. By doing so, the Promise sets students on the path towards high-quality, well-paid, local employment, while simultaneously building a pipeline of skilled workers for area employers. Employers specializing in healthcare and technology are particularly well positioned to benefit, as they frequently struggle to fill open positions with qualified candidates.
About 18,000 students from the class of 2010 alone have no college credential, which equates to more than $18 billion in lost lifetime income.
"What we have here is a chance to marry opportunity and talent" says Anne Motsenbocker, head of Middle Market Banking for Texas at JPMorgan Chase, which announced a $3 million New Skills for Youth investment in the Commit Partnership to run the Promise recently as part of the firm's $350 million commitment to support skill building and job training.
At its core, the Promise is about ensuring more Dallas County residents gain access to the growing North Texas economy, explains Eric Ban, Managing Director of the Dallas County Promise. "There is tremendous economic growth and opportunity in Dallas for individuals who have the credentials and skills to access it. Increasingly, students who are economically disadvantaged are excluded from these opportunities."
In fact, the Dallas region consistently ranks among the top metro areas in employment growth, yet three out of four students in Dallas County are economically disadvantaged. Companies like JPMorgan Chase recognize the challenge and are working with the Dallas community to find solutions.
Since 2014 JPMorgan Chase has committed more than $10 million to skills-related training in Dallas alone, where roughly one-in-four graduating high school seniors from 2010 completed a 2 or 4-year degree by 2016. Many students are missing a critical requirement to securing quality jobs in in-demand fields like healthcare and technology, jobs which can pay over $20 an hour and offer meaningful opportunities for career progression. About 18,000 students from the class of 2010 alone have no college credential, which equates to more than $18 billion in lost lifetime income.
"It's exciting to see the region's growth and strong economy. But, it's heartbreaking to know this growth and opportunity isn't distributed equally," says Motsenbocker. "We owe it to our young people to give them a chance to hit the ground running."
Sanchez, for one, is getting that chance. The Promise program will fully fund her tuition at El Centro College. Though she will have an hour-long commute each way, she chose the school because it is home to DCCCD's oldest nursing program and has established relationships with many of the county's best hospitals.
"That's what I want to do. Go to a really good school like El Centro and prepare before I transfer to a university," says Sanchez. "With the Promise pledge, I can do that, so when I am working I can save that money to move on to a university. Then I can become a nurse and make enough money that if I want to, I can save to go back to school to become a doctor."
---
Learn more about JPMorgan Chase's commitment to helping youth obtain high-quality training and skills.