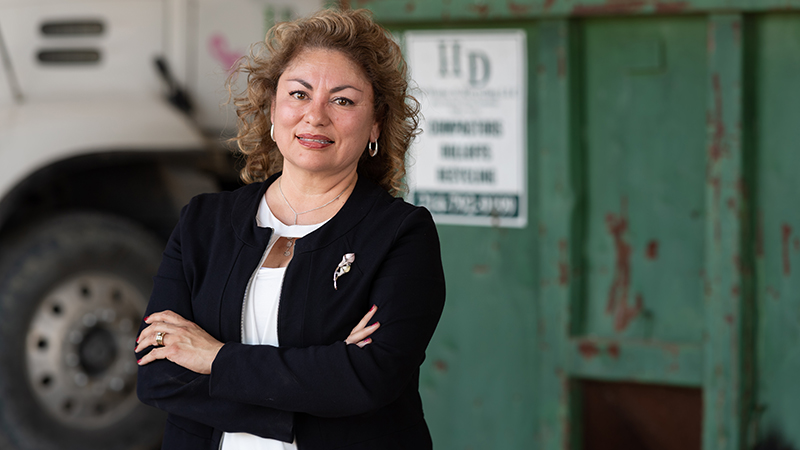 Stories
Keep Trucking: JPMorgan Chase's Support for Strivers in DFW
Diana Martinez is celebrating her 10th anniversary as a business owner in Dallas-Fort Worth this year.
Most people wouldn't respond to getting laid off by starting a company, but that's just what Diana Martinez did.
"Being a Latina, being in a male-dominated industry, I'm not afraid," she says. Martinez has been a successful business owner for a decade, despite taking that initial leap of faith in the summer of 2009— in the midst of the financial crisis. While Martinez always planned on launching her own business, her circumstances at the time demanded a steady resolve. She was laid off from her job and subsequently launched her business venture that same year.
Martinez founded HD Waste & Recycling in Dallas, TX with just two used trucks and six containers. She had 20 years of industry experience but in order to grow her business, she needed a bank that believed in her business model and would loan her the capital necessary to grow. She says she was very protective of her finances, initially only working with cash. Eventually, in 2012, she began working with a local analyst, Luis, at JPMorgan Chase. "I consider Chase to be business partners, thanks to Luis," she says. In time, Martinez was able to secure a loan to finance the equipment she needed to expand her fleet and grow the business to serve the entire Dallas-Fort Worth area.
Martinez and HD Waste & Recycling represent just a sliver of the hundreds of small businesses and striving entrepreneurs that JPMorgan Chase has been committed to supporting in Dallas-Fort Worth for nearly a century.
Recalling a visit HD Waste & Recycling received from a JPMorgan Chase regional manager, Martinez smiled, "It's good to know that they took the time to visit my office. We are a waste company—it's not corporate. We rode through the yard in the dusty cart. To me, that was great." Despite having a brother who works at another area bank, Martinez says, "My husband and I chose to stick with Chase … knowing that I have a good bank on my side. That they've seen our growth and they believe in us. It gave us the ability to grow as a company and hire employees. They want companies to succeed."
When speaking of her business, Martinez says, "It keeps me here. It keeps me well-grounded." Having moved into the Dallas-Fort Worth community in the 1990s, she acknowledges that the "Dallas metroplex is growing; it's a huge market, and we want to be a part of it."
---
Learn more about JPMorgan Chase's commitment to Dallas-Fort Worth.