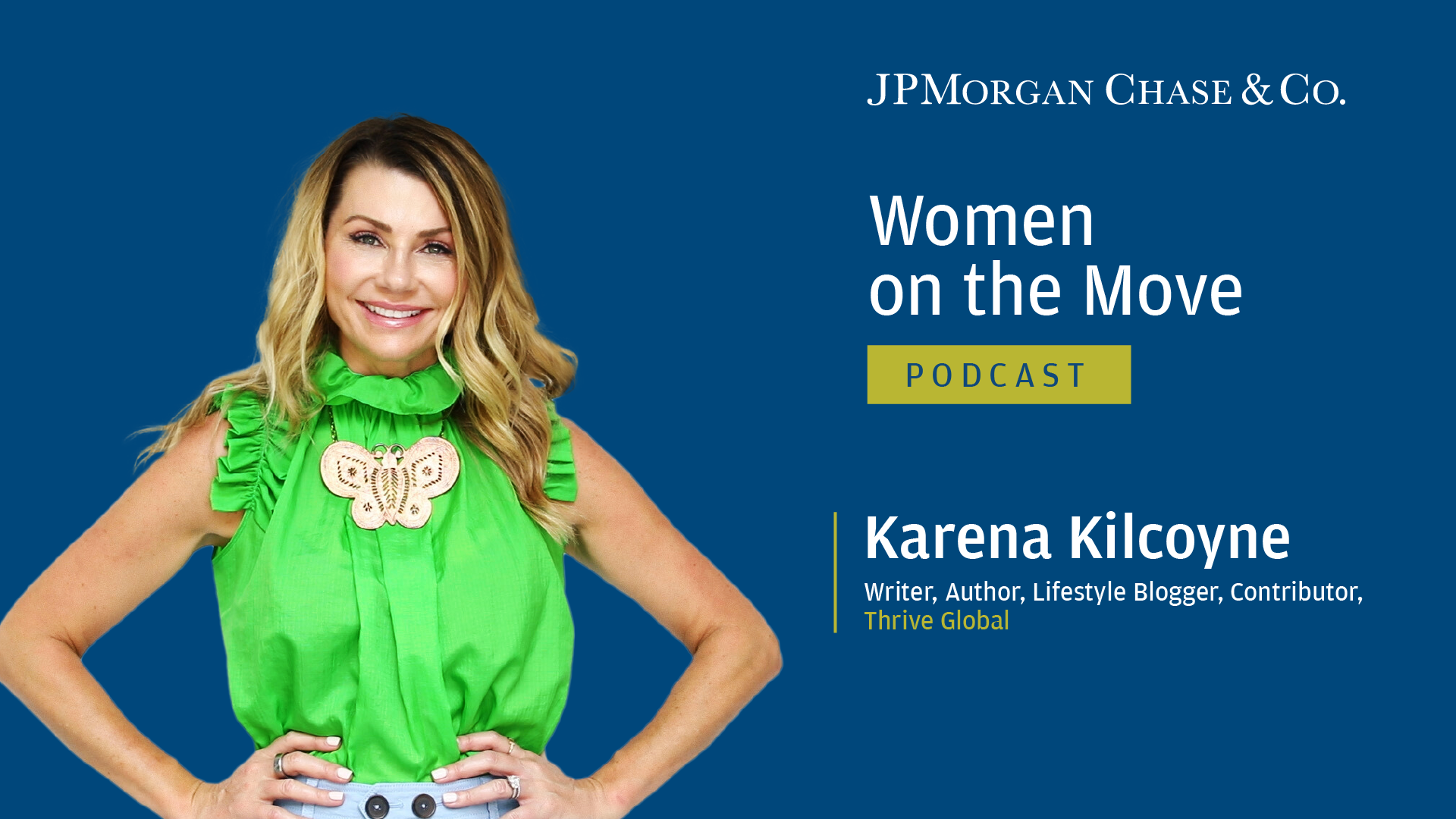 Stories
Reframing our personal narratives, with Rise Above the Story founder Karena Kilcoyne
Rise Above the Story founder Karena Kilcoyne talks reframing our personal narratives
Taking control of your own narrative, with writer and Rise Above the Story founder
Rise Above the Story founder and author Karena Kilcoyne experienced more tumultuousness in her childhood and early adulthood than most experience in a lifetime. But rather than get trapped by her story, she forged a path to rise above it. Here she sits down with Women on the Move host Sam Saperstein to discuss the progression of her career from criminal defense lawyer to author and how she's using her own experiences to help others reframe their personal narratives.

A tumultuous beginning
Karena describes the challenges of her early years with clarity: a childhood spent finding solace in books, her father convicted of mail fraud and sent to a federal penitentiary when she was 12, and teen years spent taking care of younger siblings as her mother struggled with debilitating depression and anxiety. "I put myself through school with scholarships and working," she says, "and I put myself through college and law school. I ended up practicing law for many years, and these days I say that I am a recovering lawyer because I have stopped practicing law and I am focused back on my childhood dream, which was writing books."
Karena tells Sam that she originally chose to go into law partly because she was so familiar with the world of criminal law from her father's experience, and partly because she needed a stable career at age 24 when her mother died and she adopted her nine-year-old brother. "And there was also this call in me that I wanted to help other families that were going through what I went through," she explains. She started as a criminal defense lawyer and later switched gears to take on the challenging role of in-house council for a $6 billion publicly traded company.

Changing her narrative
Although she found success as a lawyer, Karena tells Sam that she found herself searching for fulfilment. She was successful—but she still had that childhood dream of being a writer, or a storyteller of some sort.
Making the shift form lawyer to writer was scary, Karena recalls, but she took the plunge. To ease into it and begin her learning curve, she started a lifestyle blog. "I figured just some way to get me writing multiple times a week and to make me feel more comfortable with it," she tells Sam. The blog, Carousing.com, was flirty and fun, and, she says, definitely ignited her passions.
"But what was really interesting was that when I would write deeper, when I would get vulnerable and I would share some of these life stories, I would get such a great response from that," she recalls. "My whole life, I had kind of shunned where I came from and shunned who I was, and I was ashamed of that. I started to really excavate who I was and what I was willing to show people, and it got really interesting as I started to write more of that."
Just as she was exploring this new passion, Karena says, her beloved dog was diagnosed with cancer, and she spent two months nursing him before his death—coincidentally, the same two calendar months she had spent 20 years earlier caring for her mother as she died of cancer. After a "watershed of grief" caused her to reprocess much of her earlier trauma, she ended up writing a memoir.
It was an empowering experience. "I suddenly started to realize that if I could do what I did and rise above that story, there are so many people out there that could benefit from that," she explains. It was the beginning of her journey with Rise Above the Story.

Rising above the story
"Rising above the story is understanding and acknowledging your story and then figuring out how you're going to change that story, rewrite that story so that you can rise above it and get out of those limitations," Karena says. Today she spreads the word via her website, writings, podcasts, videos, and a special Rise Above The Story Acknowledgment Guide.
Karena tells Sam that she has big plans for 2022. "The biggest thing, my biggest dream of all is that I have this Rise Above the Story book written, Making My Dream a Reality, and I'm really, really proud of the book, the brand, the site," she shares. She's also focused on continuing to spread her message of empowerment through her social platforms, her website, and her newsletters.

Karena Kilcoyne
Writer, Author, Lifestyle Blogger, Contributor,
Thrive Global


Subscribe