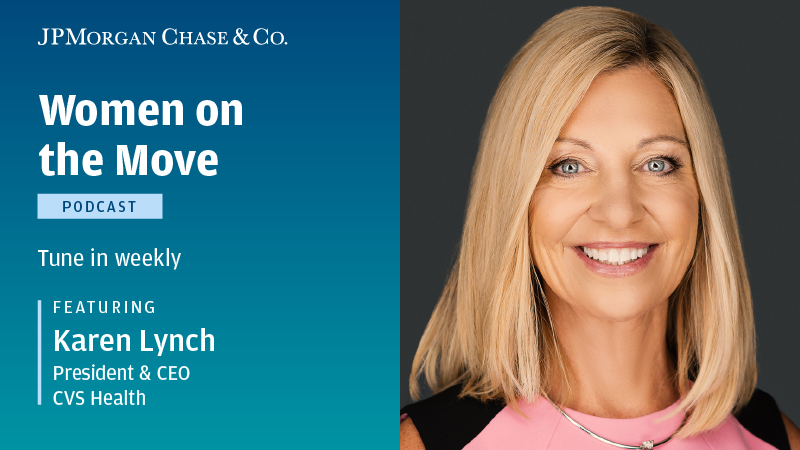 Taking CVS Health from corner drug to national healthcare giant, with CEO & President, Karen Lynch
In this special episode from JPMorgan Chase's seventh Annual Leadership Day, Anu Aiyengar, J.P. Morgan's global co-head of mergers and acquisitions, sits down with the highest-ranking female CEO ever in the Fortune 500, CVS Health CEO & President, Karen Lynch. Karen discusses how her commitment to mental and physical health in her own life has carried over to the work she's doing at CVS Health.
Personal commitment to mental and physical health
Karen tells Anu that she had an early traumatic experience with healthcare when, at age 12, she lost her mother to suicide. She and her siblings were then raised by an aunt, who also died early—when Karen was in her 20s. She says that her mother didn't know how or where to get the support she needed, and years later, sitting in her aunt's hospital room, Karen realized she didn't know the questions to ask or how to get the help she needed either.
"And both of those experiences sort of have fueled my passion around healthcare and really being able to make a difference so that people are educated about healthcare, that people have access to healthcare, that people understand the options that are available to them in healthcare," she says. "So that's really the passion I get up with every single day, from a very young age."
Karen notes that it wasn't just her passion that got her to where she is today: she's had help from many, including relatives, a high-school teacher, and mentors and sponsors throughout her career. From her aunt she learned the importance of being decisive and making decisions based on whatever information was available. "That was an important lesson because as leaders, as people managers, people are always, always looking at you and watching whether or not you're making those decisions," she says.
Another key lesson Karen learned early was about the importance of taking care of your own mental and physical health. Today, she says, she does that through early morning workouts as well as end-of-the-day Duolingo lessons. "I think it's important for all of us to make sure we're taking care of our own selves because if you can't take care of yourself, you can't take care of others," she notes.
Keeping the customer as the north star
Leading CVS Health through the unprecedented challenge of the pandemic allowed Karen to put her leadership and priorities to the test. The last several years have seen huge changes in both mental and physical healthcare. "Before the pandemic we had 10,000 virtual visits for Telepsychiatry," she says. "Last year we had 10 million. And so that just gives you a sense for the change and the ease that people have had with using virtual care."
To thrive in the midst of all that change, Karen says she had to lean into focusing on her employees first, and then, most significantly, the customers and their evolving healthcare needs. "And we set sort of guideposts that we were focused on health and safety. We were focusing on our colleagues' safety, focusing on the importance of getting Americans vaccinated and then looking around the corner," she recalls. "So we had to tactically make sure that operationally we could do all the things that we had to do, but at the same time, we had to set a sort of a north star because everything in the world was changing around us and consumers expectations in healthcare were changing dramatically."
In the end, Karen oversaw the shift in CVS Health "from kind of a corner drug store to this broad national healthcare company." Today the company is focused on being in the community—meeting people's growing interest in accessing care online. How does she do it all? "I think it's all about setting your own goal, setting your expectations, defining who you are and what you want to be and getting comfortable in your own skin," she tells Anu. "And for women, sometimes that's hard. We just have to keep working at it. And I always say, there's always going to be those little voices in your head saying, You can't do this or questioning it. And you've just got to push beyond those voices and say, Yes, I can."


Karen Lynch
President & CEO
CVS Health

Subscribe