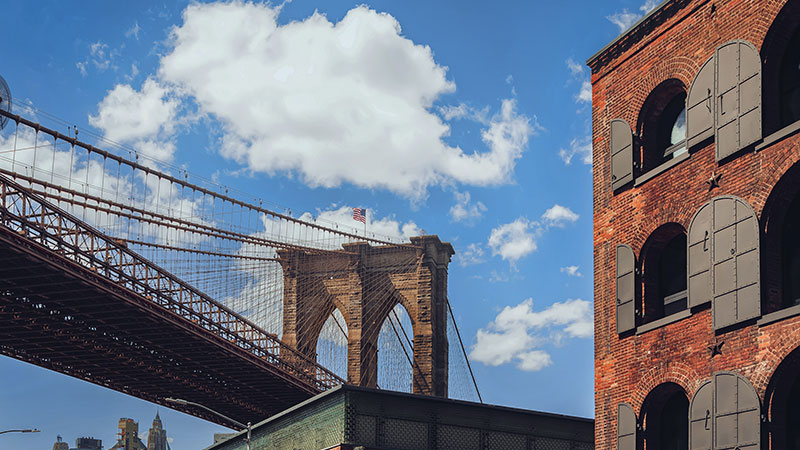 Stories
Keeping the U.S. Connected for More Than 200 Years
JPMorgan Chase supports the development of American communities through financing infrastructure that helps connect the world and powers the global economy.
From coast to coast, our projects with federal, state and local governments help bridge access to employment, education, and housing. Here are just three examples of projects we've supported throughout our history.
Brooklyn Bridge – Brooklyn, New York: Completed in 1883, the bridge was the largest infrastructure project and longest suspension bridge of its time. Over ten JPMorgan Chase predecessor firms helped finance the construction of this famed fixture of the New York City skyline. Today, the Brooklyn Bridge still carries roughly 150,000 vehicles and pedestrians between Brooklyn and Manhattan every day.
Houston Ship Channel – Houston, Texas: In the early 1900s, the Houston Ship Channel—one of the busiest seaports in the world and known as the "Port that built a city"—was built to link the land-locked city with Galveston Bay. In 1911, three JPMorgan Chase predecessor banks–Union National Bank, South Texas National Bank and Commercial National Bank–helped finance the construction of the 50-mile-long channel that links the port of Houston with the Gulf of Mexico.
Ronald Reagan National Airport – Washington, D.C.: A new concourse for regional jets was built at the Ronald Reagan National Airport for a more comfortable and efficient passenger experience. With financing raised by JPMorgan Chase, all gates in the new concourse now have jet bridges, helping accommodate the nearly 24 million people that passed through its gates in 2022.
Learn more about how JPMorgan Chase is powering economic growth and our history as one of the world's oldest financial institutions.