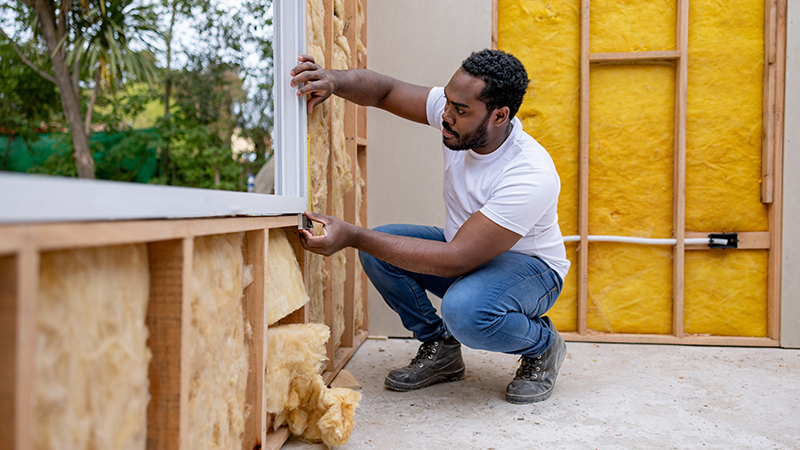 Stories
Building Tools and Homes with Houston Habitat for Humanity
When Habitat for Humanity Houston needed help putting people into their first homes, they reached out to JPMorgan Chase Force for Good
According to Anissa Cordova, Development Director at Houston Habitat for Humanity, when people think about the nonprofit—which operates in all 50 states and 70 countries around the world—they often assume that it gives away homes for free. "That is not what we do," she explains. "We help low-income families by guiding them to purchase an affordable, energy efficient, Houston Habitat home. Most of our families never thought owning a home was possible and have found financial stability as homeowners." She adds that the organization also offers other services, like job training and disaster repair assistance, to low-income residents.
Given the breadth of its work—and the needs of its clients—Houston Habitat for Humanity has to juggle a constant flow of applicants, donors, volunteers, and financial information. The task was further complicated by the group's outdated technology, Cordova notes. "In our homebuyer program, all the applications were distributed and submitted to us on paper!"
To make matters worse, the group's information has historically been decentralized, with data on donors aggregated in one application, information about volunteers stored in another, and mortgage servicing data in a third, none of which could communicate with the others.
"We needed a more integrated, centralized system, but we didn't have the money to hire software developers," Cordova says. For help, she reached out to Force for Good, a JPMorgan Chase initiative that helps under-resourced nonprofits solve technology problems by pairing them with the bank's technology employees. The employees then use part of their work time to design and build technology solutions for the nonprofits.
Reaching Out
"I had just joined JPMorgan Chase when I heard about Force for Good. I immediately knew I wanted to do it," says Julie Schlabach, an engineer at JPMorgan Chase. "It seemed like a great way not only to volunteer in my community, but also to get to meet my new colleagues and network in the company."
The volunteer team began by researching Houston Habitat for Humanity's needs. "We needed to ensure that we created something—within the allotted time period—that would be easy for the nonprofit to run and maintain independently," Schlabach explains.
After talking with Houston Habitat for Humanity about its needs, the Force for Good team decided to start by overhauling the nonprofit's homeownership services, since those were still being done manually. The team also decided that, rather than build a new system from scratch, it would be better to work with an established platform that could immediately manage the homeownership services and had the capacity to absorb additional databases and programs down the line.
The Force for Good team set up the site, customized it for Houston Habitat for Humanity, set up the dashboards, and began training the non-profit's staff. "There was a formal handover process that we followed to make sure that the organization had the right handover documents and information so that they could run and maintain the software," says Schlabach.
A Better Pipeline to Security
The new technology has transformed Houston Habitat for Humanity's operations, Cordova says, noting that it's now much easier for the organization to manage its homeownership services and all the documentation that entails. "Now we have an online form that someone can easily fill out and submit," she explains. "Afterward, they can safely and privately upload all the important documents we need to consider them for a mortgage."
By making it possible to apply online, the technology has also increased the number of Habitat for Humanity Houston's applicants. "Since moving our process on-line, we have received over 500 applications, whereas normally we would receive about 100 to 150 during the same period," says Cordova.
On the other end, the digitized system also makes it easier for the nonprofit to manage its applicant pipeline. "Now we can track applications through the process and see how many people have applied and where they are in the approval process," Cordova explains. "We can also capture a lot of demographic data, which helps us to understand who we are already reaching and where we need to focus our outreach."
Adds Cordova, "And now we have the foundation for a data base that we can use for many years to come, and that we will be able to build on as we grow as an organization."
Schlabach is quick to point out that Houston Habitat for Humanity is not the only beneficiary of the project. "It was great to be able to channel my energy into something so positive for my community," she says. "I got to meet a bunch of different people at JPMorgan Chase across all the different lines of business across the firm. Some of them are people I never would have met otherwise. I still meet monthly with a few employees who I met through Force for Good and now mentor."