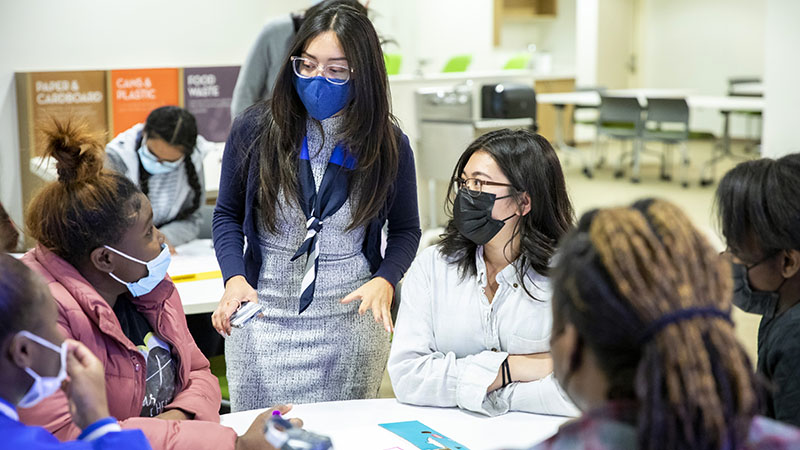 Finding a New Future at Discovery Place
Since its founding, North Carolina's Discovery Place has been a place where children can uncover the secrets of science. Now, thanks to a partnership with JPMorgan Chase, it's becoming a place where students can discover a path to their futures.
If you're involved with science-minded kids in the Carolinas, chances are you'll end up at Discovery Place. A four-museum hub in Charlotte NC, Discovery covers a wide range of sciences with a host of interactive exhibits. Unfortunately, it also charges admission, which can make it difficult for some children to take full advantage of its offerings. For Lotticia Shefferson, manager of youth development at Discovery Place, ensuring the museums are accessible to all is a critical goal; with that in mind, the museum also holds $1 admittance days.
While many exhibits are aimed at younger children, Discovery Place also works with older students to further their scientific interests. Since 1981, it has offered the STEM Corp, a volunteer program for students in grades 9-12 that enables them to give back to the community while learning valuable leadership skills as they work at Discovery Place's museums.
STEM Corp is a good opportunity, particularly for needier kids, but there was a problem: Students from under-resourced areas often found it difficult to participate. "So many students were interested in STEM Corp, but they needed a job, or transportation was a hinderance," says Shefferson. In response, Discovery Place created the STEM Pathway Program, a 14-week apprenticeship program designed for high school students who attend Title I schools or participate in community partners' programs. It's followed up with a paid internship at the museums, allowing the students to put what they've learned to work.
Each week through the fall semester, students in STEM Pathway spend two hours learning new lab activities, from anatomy to physics to engineering. There's even a session on finance. Because Shefferson also thinks soft skills are important, the kids work on communication and collaboration. In mid-spring, the students can apply what they learn through paid internships with staff mentors, working in the museums with the public and teaching the skills they've learned.
Becoming Part of the Community
In 2021-2022, STEM Pathway is conducting its third season—and the first following a shut-down due to the pandemic. When bringing it back this school year, Discovery Place wanted to offer more options to students and volunteers. For help, it reached out to JPMorgan Chase, which agreed to fund the 15 student participants, as well as provide mentors and volunteers to work with the kids.
"We've been a partner of Discovery Place for the last couple of years," says Shakeira Tennort, a local Chase Branch Manager. "It's been incredibly meaningful and we wanted to do more. We were humbled when they asked us to provide volunteers for the 2021-2022 program."
And that help has enabled the program to expand, reaching out to the students who need it most. "With the help of JPMorgan Chase, we've been able to provide the opportunity to underrepresented students, to immerse them in technology and science," says Shefferson. "We're showing them a world they've never considered entering following high school."
The program takes the students' needs into account: Whatever issue the students have that could keep them from attending—from not being able to get there to being food insecure—STEM Pathway addresses it, doing everything it can to remove participation barriers.
"If you need assistance with transportation, we will provide it. We'll provide food and the uniform," says Shefferson. "We think of all the possible barriers for students who normally wouldn't be able to participate in a program like this, and we remove them."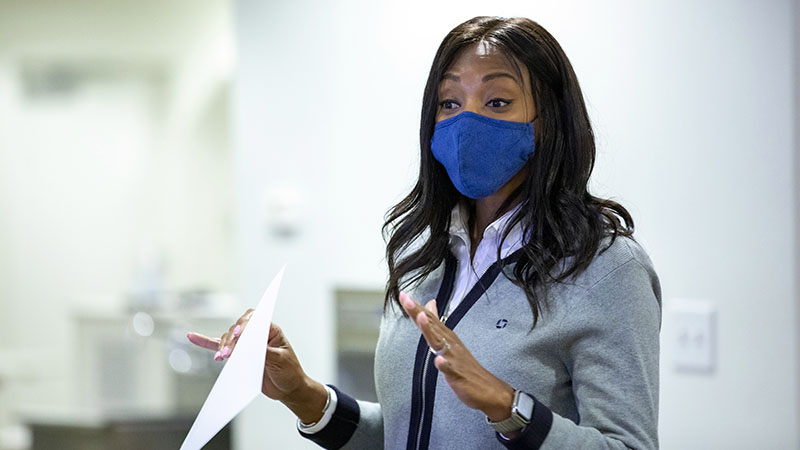 A Surprising Turn
As the JPMorgan Chase volunteers began working with the students, they had a surprising opportunity to offer their own expertise. One part of the program is a 2-hour session in which the kids discuss what they would do if they got $10,000. The students gave their answers – think new bazillion dollar shoes. But then something unexpected happened.
The students started asking questions about finances, because—for many of them—that's not something usually discussed in their world. They asked the JPMorgan Chase volunteers what they'd do, and they learned a new word: windfall. As the discussion went on, the students got more involved and the session ended up going far beyond its scheduled two hours.
For many of the students, the internship will provide their first paycheck, and—as the windfall discussion showed—many of the students were thinking about what they planned to do with the money. To help, JPMorgan Chase sent community manager Chandra Williams down from Philadelphia to meet with the families at a celebratory event at the end of the 14 weeks.
Because the kids asked for it, she's providing financial training for both the children and their families. "They hear about finance, but they don't really know what it is," Shefferson says. "They want to understand it. They point to their financial aid packages for college and say they need to understand them."
Creating a Community
Another interesting side effect has been the impact on the JPMorgan Chase volunteers. As the program has progressed, many of the volunteers have become devoted to helping the students—and the kids have noticed. These days, Shefferson says, the students now ask by name if volunteers will be there that week.
"The JPMorgan Chase volunteers have changed the students' perception of what bankers are," she says. "They're realizing people in math and sciences are just like us."
JPMorgan Chase hopes that the financial training sessions will help the students learn what they need to set themselves up for financial health success for the rest of their lives. "We want to be part of the community," says Tennort, "and in order to do that, we have to invest in the community. It's what we should be doing, it's what we are doing, because it's the right thing to do."