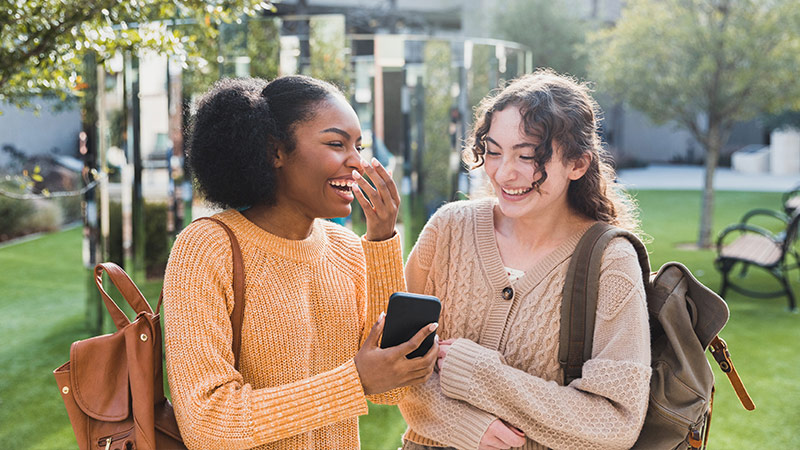 Stories
A Technologist Paves the Way for the Next Generation of Girls in STEM
How one JPMorgan Chase employee is doing her part to ease the career path for women in technology.
Janet Shea did not expect to have a career in technology...or banking, for that matter. When the Newfoundland, Canada native was in college, technology wasn't an obvious path for women. She assumed that, given her background and interests, she was probably going to end up teaching at the university level.
Then she took an entrance exam offered by another university.
The exam focused on logic, patterns, and problem-solving skills, and Shea did so well that she ended up moving to Nova Scotia to complete a post-graduate degree in applied information technology. Afterward, she was offered a job as a Java developer in the United States—a path that eventually led to a career at JPMorgan Chase. Twenty years later, she's an Executive Director in the the company's Asset Wealth Management division.
It wasn't an easy journey. "The tech industry has progressed for women; it's no longer entirely male-dominated," says Shea. "But when I started, I definitely felt like I had to work harder as a woman to prove myself and compete equally."
She credits her mentors and supervisors, who she says pushed her to get more visibility and coached her on navigating her career. Their help is one of the reasons she likes giving back where she can—as a mentor, an intern supervisor, and a volunteer with programs like JPMorgan Chase's Force for Good.
A Force to be Reckoned With
Force for Good connects teams of JPMorgan Chase employees with non-profit organizations across the globe. The teams work to build sustainable tech solutions to advance the organization's mission. "It's a great opportunity for us to give back in a way where we can bring more value than traditional volunteering opportunities," says Shea.
Projects last 5-8 months, with volunteers learning about the organization and its needs, then using their tech skills to deliver solutions that the organizations can maintain and scale on their own. "The goal is always to give the organization as much help as you can in the time you have," Shea explains. "Force for Good gives JPMorgan Chase volunteers the opportunity to learn about the needs and tech capabilities of the organizations they work with, then take a thoughtful approach to building tech solutions that are sustainable in the long term."
When she was considering nonprofits to work with, Shea's first choice was Femergy, a Columbus, Ohio group that provides women and girls with the resources, tools and skills they need to overcome gender barriers. The program the JPMorgan Chase team was helping with was designed for girls 12-18 years old. With a young daughter of her own, Femergy's mission spoke to Shea.
Providing Support in a Crisis
Prior to COVID, Femergy's events were all in-person; after the shutdown, they needed a way to share resources with the girls they were trying to help. They needed a way to know when someone was having a bad day. They needed an app.
"Meeting with Janet was so full circle for us, because Maylin Sambois, our co-founder and executive director, worked for Chase years ago, and Chase gave us our very first opportunity to bring the girls together," says Christina Vera, Femergy co-founder and director of operations.
"We came up with the framework for a mobile application," says Shea, noting that the target audience—young women—is more likely to use phones than traditional computers. "They needed a secure way for mentors to talk to the girls and their families. And it needed to also be a daily mood tracker."
As a mother of a young daughter, Shea's first concern was security. "Some of those communications could obviously be personal. They're not things you'd want public," she explains. "That was a big focus throughout the development, to always consider the target demographic and who has access to communications on the app."
Going Beyond
As the Force for Good team was developing the app, it worked with focus groups of girls to ensure that it suited the girls' needs. Along the way, the team members were also able to showcase career opportunities the girls might not have considered.
At the end of a Force for Good project, it's common to hand the project off to the client, but the JPMorgan Chase team wanted to do more than just hand over the application. Instead, they brought 35 girls and Femergy team members to the JPMorgan Chase Columbus office. In addition to giving Femergy the app, the team also worked with the girls to develop its mood tracker feature in real time.
The girls were able to suggest changes and refresh their phones to see them take effect immediately. In an effort to show the girls that they can reach for more, the team partnered with Girls Who Code, a nonprofit that works to close the gender gap in technology, as well as three JPMorgan Chase groups that support women—Take IT Forward, Women on the Move, and the Software Engineer Program.
"We had several girls leave that session inspired to learn more about technology, AI and careers they'd never heard of," says Femergy's Vera. "And now they're enrolled in coding classes because of that experience."
Shea hopes the girls learn to develop on the app and make it their own. "We branded it as 'it was developed for you, so you can now develop it,'" she says. "They can take it over, define the features, and actually do the coding so it's really their application."
Today, the app is being beta tested by a group of students working with a second cohort from Force for Good, to add some enhancements to it before they take the platform live. There's a mood tracker, a messaging component, and an area for resources. Users can create a simple profile, and messaging is locked down to members.
Shea's Force for Good experience was so positive she signed up for another round of volunteering. "Force for Good is an amazing program and opportunity," she says, "It's great that JPMorgan Chase encourages employees to give back in these ways."