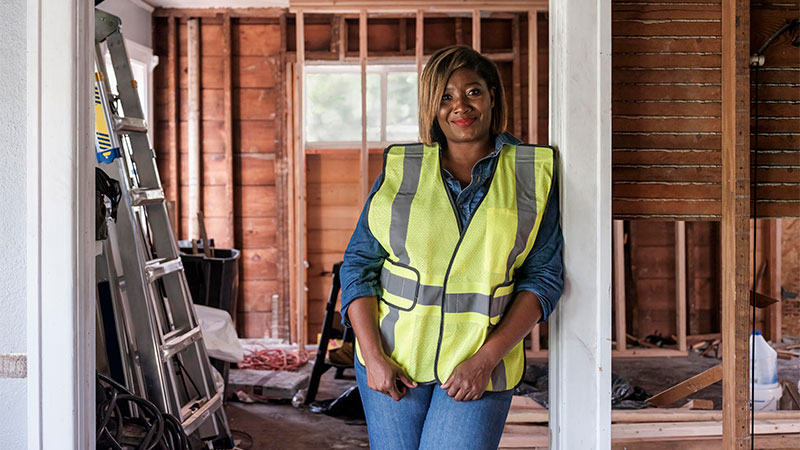 Stories
Helping 13,000 Detroit Small Business Owners Make it Happen
Meet one of Detroit's small business owners contributing to the city's revitalization and—with support from JPMorgan Chase—helping to build more resilient neighborhoods and a stronger local economy.
Deana Neely is no stranger to hard work and determination. After witnessing a need in Detroit for more contractors, she decided to take advantage of the opportunity, and start her own business. Leaning on her early-on experience of working in government alongside contractors and city officials, she studied to become a licensed contractor and eventually founded Detroit Voltage – now Detroit's fastest growing Black, woman-owned electrical contracting firm.
Neely is one of the small business owners playing a big part in revitalizing her hometown, and the impact of her business is anything but small. By providing residential and commercial electrical installation repair, remodeling, and renovation services, Neely's company works to keep the lights on in people's homes, while providing electrical services to other businesses throughout the city.
Detroit Voltage not only provides sustainable energy solutions, such as the installation of residential electric vehicle charging stations, but also strives to develop training resources that create opportunities for new employment paths in the e mobility and clean energy sectors.
"Taking part in Detroit's revitalization is a beautiful thing," shares Neely. "Because I'm a born and raised Detroiter, I'm proud to serve the community that raised me. We're providing safe, quality, efficient services to the community, so we can watch homes come back to life and businesses be rebuilt."
For small business owners like Deana Neely, starting and growing a business is not without its hurdles. Small businesses are the backbone of local economies, and their success fosters stronger communities by creating new jobs, driving local economic growth, and offering residents options and opportunities. Despite this, small businesses often lack access to traditional banking systems and the capital and technical assistance needed to grow and scale.
JPMorgan Chase is providing support to Detroit's small businesses, banking 110,000 across Greater Detroit. Over the last 10 years, it has committed $200 million to the city's economic recovery. "There's no shortage of determination, creativity or grit among Detroit's entrepreneurs," says Peter Scher, Vice Chairman of JPMorgan Chase who led the firm's investment in Detroit. "But unfortunately, access to opportunity and capital still aren't equally distributed. We're letting a lot of innovation slip through the cracks, which is why we stepped up our support for local entrepreneurs."
According to the Federal Reserve Bank of Chicago, as of 2021 almost 80 percent of Detroit's businesses were Black-owned, and minority businesses are two times as likely to report that access to capital is prohibitive to business growth. Through collaboration between Community Development Financial Institutions (CDFIs) and community organizations like Detroit Development Fund and ProsperUs Detroit, JPMorgan Chase provides resources to help business owners overcome major obstacles, such as access to capital, mentorship, and other critical resources.
This includes the first Entrepreneurs of Color Fund (EOCF), created with the Detroit Development Fund to support the growth of Detroit-based businesses, particularly those owned and operated by people of color, with technical assistance, coaching, and capital. In many cases, due to systemic barriers, Black, Hispanic and Latino entrepreneurs are not able to access the capital needed for success.
In Detroit, EOCF has given 190 loans to Black and BIPOC entrepreneurs—47 percent of which went to Black women-owned businesses—and has provided more than $18 million in loans since its inception, which has helped create nearly 2,000 jobs have been created in the city, with an additional 1,000 retained. Deana Neely was one of the EOCF recipients in Detroit.
"The continued growth and vitality of the city will hinge on its ability to help more entrepreneurs – especially Black and underserved entrepreneurs – start and scale their ideas, said Scher. "New business formation in Detroit is up more than 60 percent from pre-pandemic levels, but we have to create more opportunities for small business owners to break into traditional sources of financing."
Initiatives like EOCF are crucial for providing capital to underserved entrepreneurs who are frequently considered ineligible for lending by traditional financial institutions. Since EOCF was created, JPMorgan Chase has taken this program to many other communities across the U.S.
EOCF was only the beginning of Neely's relationship with JPMorgan Chase as an entrepreneur. In taking her son to one of the youth financial health workshops at the bank's Corktown Community Branch, Neely met community manager, Gail Taylor. Impressed with the classes her son was receiving, Deana asked about the types of opportunities the branch offered for small business owners like herself. That's how she learned about the Chase Minority Business Entrepreneurs Program.
"After going through unexpected circumstances, my creditworthiness changed. Simply put, I couldn't be approved for traditional lending," says Neely. Taylor connected Neely with a colleague who could help her improve their financial health and secure the resources needed to scale her business.
Neely is now able to reach for bigger commercial projects. "JPMorgan Chase's support enabled me to secure a contractor's line of credit, which boosted my business significantly, allowing me to generate an additional six figures in just one year," says Neely.
And the opportunities have continued to multiply outward. "After receiving funding, we've been able to create opportunities for others, bringing on new contractors and new employees," says Neely. "The more opportunity we have to grow, the more we are able to do for our communities."
The success in Detroit, along with the continued support from JPMorgan Chase and partnerships with CDFIs across the country, has led to EOCF's expansion across the country. In cities such as the Bay Area, Los Angeles, Atlanta, New York, Chicago, Washington, D.C., and Newark, the EOCF – operated by the Local Initiatives Support Corporation (LISC) – has provided more than 5,700 loans nationally and deployed more than $284 million in capital to Black, Latino, and other underserved entrepreneurs.
In Detroit, JPMorgan Chase's $200M commitment has helped more than 13,000 small businesses receive capital or technical assistance between 2016-2022. "It's a testament to how access to alternative financing options can truly transform a small business's growth and success," says Neely.
Learn more about how JPMorgan Chase is helping to strengthen Detroit's local economy and revitalize communities.


For 90 years, JPMorgan Chase has helped make lasting impact for Detroiters. See how in a video featuring local Detroit poet Joel Greene.
Participants Compensated.
©2023 JPMorgan Chase & Co. All rights reserved.