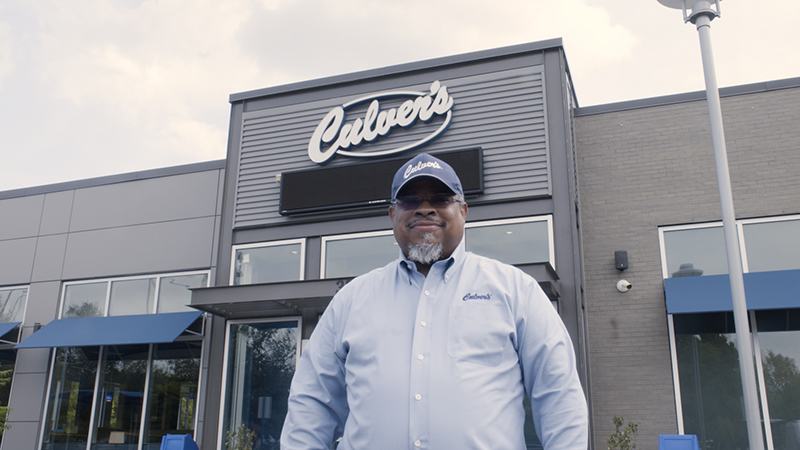 Community Development
Serving Up Jobs and Burgers on Chicago's South Side
In the 1880s, Pullman, Illinois was a booming neighborhood on Chicago's South Side, home to one of the largest Black employers in the world—Pullman Palace Car Company, which built train sleeper cars for the railways that were beginning to course across the U.S.
The Pullman neighborhood thrived until the 1950s ushered in the rise of automobile and airline travel.

The Pullman Car Company ultimately closed in the 1960s and the shuttering of local steel mills continued into the early 21st century, which collectively cost the area tens of thousands of jobs. Today, the economically underserved Pullman neighborhood is experiencing a revitalization and finding new life as a historic district.

"Pullman is an historic neighborhood that experienced disinvestment until recently," says restauranteur Baron Waller. "But now, new economic development is creating jobs and helping to transform the community. I believe the best way to change and positively impact neglected neighborhoods, is to become a part of the community and to bring jobs."
Hoping to make a difference, Baron decided to try to help bring opportunities to the area by building one of his Culver's franchise restaurants. He hopes that, in doing so, he'll be able to provide jobs and the first casual sit-down restaurant the community has had in years—a comfortable place for residents and visitors to eat.
After all, it's the good service that first inspired Baron to become a franchise owner of the restaurant chain known for its ButterBurgers and frozen custard. While encouraging his employees to provide a welcoming atmosphere and comfortable dining experience for everyone who walks through the door, Baron is showing members of the local neighborhood the value of treating everyone with the same level of respect.
It's not the first time he's done this. "I have another restaurant that's in a similar community in Bronzeville and we see the impact that we make in the neighborhood," he says. "That's really what motivated me to do this in Pullman. You see what it does. It brings jobs to the neighborhood, and it improves the area in which you bring that restaurant."
​A Partnership to Build a Community
To bring Culver's to Pullman, Baron needed help. He reached out to Chicago Neighborhood Initiatives (CNI), a community development organization working alongside local leaders and residents in driving Pullman's revitalization efforts. CNI, in turn, connected him to JPMorgan Chase. The firm invests in vital community institutions and services, and recently committed an additional $100 million in New Markets Tax Credit (NMTC) investments with a focus on Black-owned and/or -led projects.
The JPMorgan Chase NMTC Racial Equity program incentivizes community development projects in underserved and low-income communities through tax credits that attract private investment.
NMTCs provide gap financing to projects that are otherwise limited in the amount of capital they can borrow. In this case, Baron was able to borrow funds from Chicago Community Loan Fund, a local CDFI, and JPMorgan Chase closed the financing gap with its NMTC allocation and tax credit investment. This makes NMTC a powerful tool for bolstering growth in communities where it can be tough to attract financing, transforming more challenging projects into attractive investment opportunities for lenders.
"Not only are we able to support the development of Culver's in a neighborhood where we have a presence, but the tax credits help provide access to lending for development projects that really revitalize communities," said En Jung Kim, Executive Director of New Markets Tax Credit at JPMorgan Chase. "We are extremely proud to be involved in the project and have the opportunity to support Baron with partners like Chicago Community Loan Fund and Chicago Neighborhood Initiatives."
This program is part of JPMorgan Chase's $30 billion commitment to help address the racial wealth gap through business changes, new investments and supporting policies that addresses challenges and help break down barriers of systemic racism.
Baron will open his restaurant in the fall of 2021 on the South Side of Chicago adjacent to the recently opened Pullman National Monument, where he hopes he can contribute to the resurgence and economic growth of this once booming neighborhood.
"We're going to bring a positive experience because they're going to say, 'Hey, this restaurant is also black owned,'" he says. "Historically, people in these communities don't believe that is possible. I think us being there shows that it's possible."
In the case of two of his locations, Baron co-owns the restaurants with longtime employees as part of a mentorship program to help successful managers become franchisees. He sees it as an opportunity to have owners who represent the neighborhoods where the restaurants are located.
Visit www.chase.com/cdb to learn more about New Markets Tax Credit.