Stories
A Celebration of Art Builds a Financial Future for Philadelphians
Mural Arts Philadelphia, the nation's largest public arts program, is bringing jobs and security to some of Philadelphia's neediest citizens. And JPMorgan Chase is there to help.
Philadelphia is known for a lot of things, including Rocky, the Liberty Bell, and cheesesteaks. But one of its most impressive contributions across the centuries has been its public art—a tradition that continues today with its stunning (and ever-growing) collection of street murals.
"The murals are so much a part of Philadelphia," says Chandra Williams, a JPMorgan Chase community manager, who was born and raised in the city. "They're embedded in our neighborhoods. It brings a sense of pride to have such beautiful, community-inspired works of art in our daily lives."
It's a legacy that continues today through the efforts of Mural Arts Philadelphia, the nation's largest public art program. Based in the idea that art ignites change, the organization installs 75 murals a year throughout Philadelphia.
And walls around the city aren't the only place where Mural Arts is igniting change. The organization also runs The Guild, which grew out of efforts to work with graffiti artists, offers paid apprenticeships for individuals recently released from prison.
"When JPMorgan Chase entered the Philadelphia market, we sought out the 'best in class' non-profits that the community rallies around," says Lisl Stanton, Vice President for Community Sponsorships at JPMorgan Chase. "Mural Arts Philadelphia was always one of the first organizations people talked about, so we approached them, asking how we could help."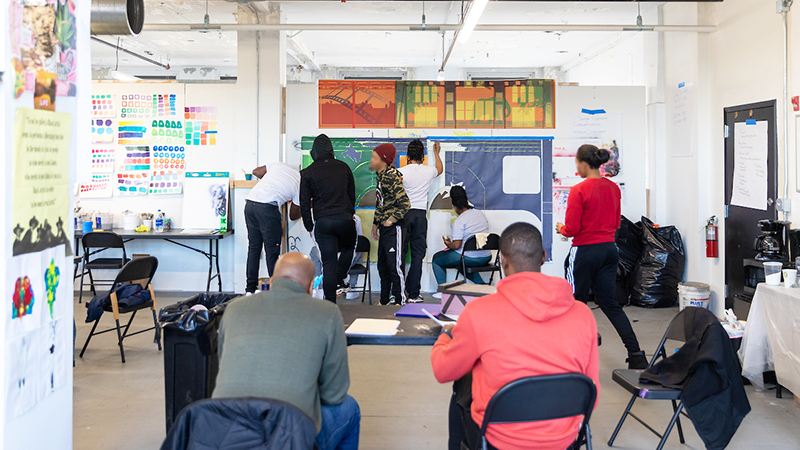 A Partnership from the Streets to the City's Walls
The answer was simple: Mural Arts wanted to create a mobile art studio that would bring art classes to the underserved communities within the city. Partnering with Philadelphia Parks and Rec, teaching artists offer three-week sessions at a rec center, bringing with them everything needed for community members to make art that represents themselves and their community. The program also brings activity kits to children throughout the city through Playstreets—designated streets that are closed for play. Designed to help Philadelphia's kids create art on their own, the traveling studio serves over one thousand children annually.
The mobile art studio and children's activity kits were just the beginning of the bank's partnership with Mural Arts Philadelphia. JPMorgan Chase funded the Art Ignites Change podcast, and provided coloring books and art kits for children stuck at home during the pandemic. The relationship continued in October 2021, when JPMorgan Chase sponsored Mural Arts Month, a month-long celebration of public art in Philadelphia.
"We couldn't do our work without great corporate sponsors like JPMorgan Chase," says Jane Golden, executive director of Mural Arts Philadelphia. "Through our murals, we're able to connect Philadelphians throughout the city, showing them their lives count, their voices matter. Chase is a part of that."


A Month of Celebration
Mural Arts Month 2021 was especially important this year: In 2020, the event was canceled due to the pandemic. The city needed art—as well as a reminder of the strength of its citizens. With that in mind, Mural Arts Philadelphia chose the theme Resilience, to celebrate the strength Philadelphians showed during the pandemic.
As part of Mural Arts Month, the organization hosted 30 events throughout Philadelphia. In addition to three mural dedications, there were zoom panel discussions, an exhibit of artwork from their 2021 fellowship, and mural tours. Mural Arts even held some fall festivals in neighborhoods around the city.
In addition to sponsoring the event, Chase also commissioned a mural for its branch in Exton, PA. The work, We're Everywhere Part 2, by artist Marian Bailey, is a continuation of a piece at the Philadelphia International Airport, and shows black women in uncommon situations: Skydiving, space, scuba diving, and even relaxing in the sun. Before designing the mural, Bailey immersed herself in the area to ensure she captured the heart and soul of the neighborhood. "The mural depicts the fact that black folks have been, and will always be, everywhere," she said.
On October 28, Chandra Williams attended the dedication of Declaration, a mural conceived by artists Dwayne Reginald Betts and Titus Kaphar. Some of the painters involved with the project were members of the Guild program. A juxtaposition of the promise of Philadelphia's colonial history and the racial struggles that have followed throughout America's history, the mural balances the Declaration of Independence's bold claim that "All men are created equal" against the three-fifths compromise, which determined that African American slaves would be counted as 3/5 of a person to determine population for representation in the House of Representatives.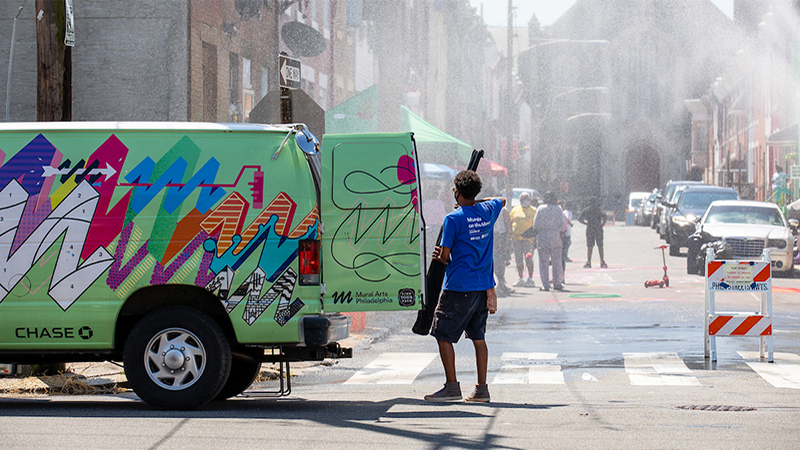 Providing Financial Outreach
Williams estimates there were up to 75 people at the events she attended, and she was honored to participate in the events. "Philadelphia is a grass roots city," she says. "When we support local organizations, JPMorgan Chase becomes part of the local economy, and we have the opportunity to become a community bank instead of a 'big bank.'"
Partnering with Mural Arts has also given Williams the chance to work with Morris Home, a residential recovery program offering comprehensive services for trans- and gender-nonconforming individuals. The group works with Mural Arts Philadelphia through the Porch Light program, which focuses on health and wellbeing for those dealing with mental health issues or trauma.
As part of Williams' job, she also provides financial workshops to groups she partners with. In this case, she's working with the Restorative Justice program through Mural Arts Philadelphia, and also with Morris House.
"We're delivering financial health to them," Williams says. "We're teaching them about savings, credit 101, and that it's important that when they receive their checks, they're financially healthy as well."