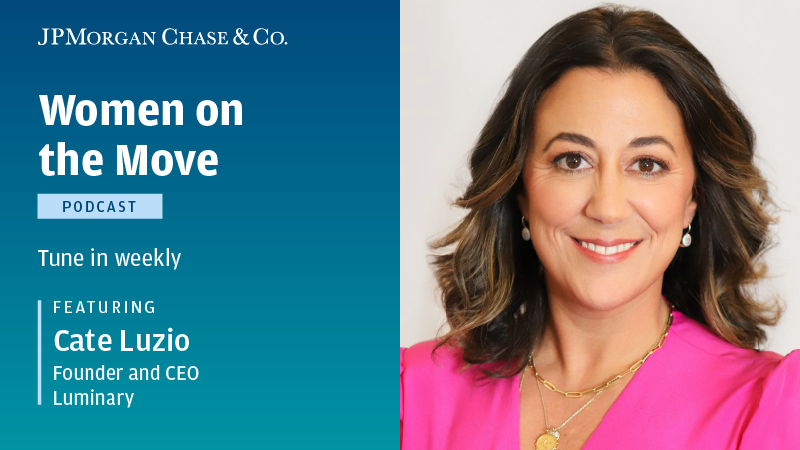 Helping women define and achieve success, with Luminary founder and CEO
Luminary CEO talks capacity constraints and other hurdles she wants to help women overcome
From banking to entrepreneurship—with a focus on women
After two decades as a successful banking executive, Cate Luzio realized she wanted to do something with bigger impact. She quit her job and self-funded Luminary, a membership-based career and personal growth platform with the mission of uplifting and supporting women through all phases of their professional journey. In this episode she sits down with Women on the Move host Sam Saperstein to discuss her journey as an entrepreneur, how she pivoted and thrived during the pandemic, and what she's learned about the issues professional women across the country are facing.
Jumping into entrepreneurship—and meeting a pandemic
In 2018, after stints in high-level roles at Bank of America, JP Morgan Chase, and HSBC, Cate says she realized she had been involved in a lot of initiatives around investing in women and talent development, but "I just wasn't seeing the numbers and the needle move fast enough." Knowing she wanted to focus on those issues, she quit her job without even knowing what exactly she would do.
With the encouragement of a mentor from JP Morgan, Cate took the time to step back and think about what she really wanted to do. Soon she had a business plan that she was able to self-finance by leveraging her lifelong savings, and she launched Luminary in early 2019.
Luminary was initially conceived as an in-person meeting space to help advance women in the workforce. But less than a year after the space opened in New York City, the pandemic brought in-person events to a screeching halt. Knowing she had to be ready for anything, Cate and her team set about examining expenses, contacting vendors, and re-defining their plans. "I look back at my original business plan, and there was not even a word of digital or virtual. It really was about that physical connection," Cate recalls. "But what I realized pretty early on in the pandemic was it wasn't about physical, it was about connection."
Involving men in the gender equality journey
In the end, the pandemic and resulting switch to online experiences didn't stop Luminary's growth. Cate says they've done more than 2,000 events, workshops, and programs since March of 2020, and have over 1,500 hours of content from all of these sessions. "We're working with thousands of women around the world and now male allies," she tells Sam. "So that's the model. And then we work with great corporate members like JP Morgan Chase and many others to really invest in the women internally and get them access to, yes, bigger networks, but [also] additional learning outside of what they're getting within their company."
From the beginning, Cate knew she didn't want to exclude men from Luminary. "The future of women in the workforce cannot evolve, progress, change without the support and assistance of men," she notes. "And so I wanted to create a really inclusive environment, and that's why we don't have an application process. I want people to walk in physically or virtually and feel like this is a space where they can be themselves, thrive, learn, connect, develop."
Capacity constraints, defining success, and other top women's issues
Cate says one of the top issues facing women today is what she calls "capacity constraints." By that, she means the common barriers such as time, transportation, and childcare, but also the ongoing tension between the messages that women get about success. "Women in particular are constantly being told, do a great job . . . that's how you're going to get promoted," she says. "But at the same time, you better find mentors, you need to have a bigger network, you need to invest in your skills." And the growth of remote and hybrid work has meant that there are even fewer boundaries between work and personal life. In the end, she says, it comes down to women not being able to "fit it all in."
A related issue Cate discusses is the ongoing pressure for women to be leaders, and to aspire to the c-suite. She'd like to see more of an emphasis on women defining their own vision of success. "[We] absolutely need more women in the c-level," she tells Sam. "But not everybody should be at that level, and nor do they want to be. You can still have a phenomenal career and still invest in your skills and still get paid and still do well at your definition of success."
"Most women that I know are very driven and ambitious," she continues. "They want to feel valued, they want to be acknowledged, they want to be recognized, they want to be paid, and they want to be able to have opportunities. And I think we have this incredible sense of guilt if we're not meeting everyone else's standards."


Cate Luzio
Founder and CEO, Luminary
Subscribe