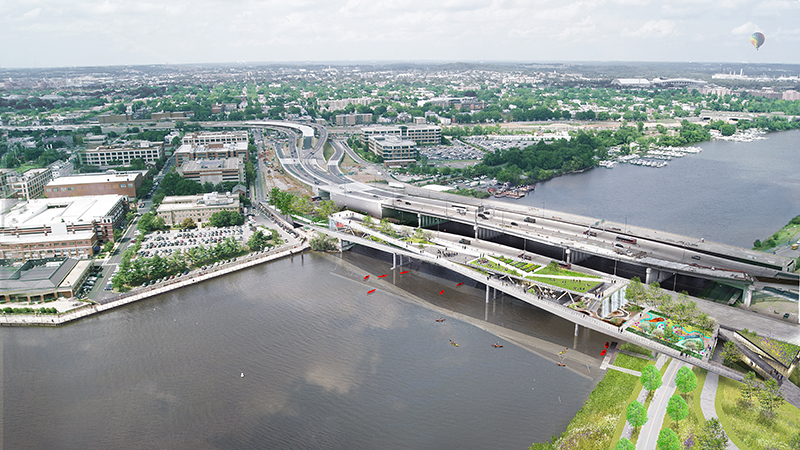 Stories
Bridging the Divide in Washington D.C.
Can an elevated park unite Capitol Hill and Anacostia?
Washington, D.C. is one of the nation's fastest growing cities, with a population that is increasing by more than a thousand people per month thanks to the city's bevy of political and professional jobs. As the city has grown, so too has its economic inequality, which breaks down along racial lines. In Washington, D.C., white households have a net worth 81 times greater than their black counterparts, as displayed among the communities along the Anacostia River, a narrow waterway that has come to serve as both a physical and metaphorical dividing line between the city's haves and have-nots.
To the west of the river sits the Capitol Building, the epicenter of American politics, surrounded by affluent neighborhoods where less than a quarter of the residents are black, household annual incomes average about $140,000, and around half of the residents are homeowners, despite the high median home price of $777,000. Not surprisingly, unemployment is low in these neighborhoods, as are rates of childhood poverty.1
Compare that to the Anacostia neighborhood east of the river. There, 92 percent of the residents are black, annual incomes average $48,000, and less than one-fourth of the residents are homeowners despite a more affordable median home price of $329,500. In Anacostia and surrounding communities, roughly 16 percent of residents are unemployed, and 50 percent of children live in poverty.2
As the city continues to grow, newcomers who cannot afford to live west of the river are heading east, bringing with them a wave of gentrification that increased home prices in Anacostia by 70 percent from 2010 to 2015. In response, more than two dozen new real estate developments are slated to come online east of the river in the next few years, raising concerns that residents who have lived in Wards 7 and 8 for generations will be priced out of their homes.
"It's important that the residents who have helped shaped this place from the beginning can thrive in place," says Scott Kratz, director of the 11th Street Bridge Park, a project of the east of the river nonprofit Building Bridges Across the River (BBAR). The Bridge Park is an elevated park that will connect communities on either side of the river. It will be owned by the District of Columbia and operated by BBAR, which has lead an extensive campaign to ensure that the Bridge Park both addresses the needs of residents living east of the river and that those residents can share equally in the economic opportunities the bridge will likely create.
"Before we engaged an architect, an engineer, or anyone like that, we spent two years going out and talking to the community," says Kratz. "We had more than 200 meetings with faith leaders, community leaders, local business owners and government officials to make sure we understood the residents' needs. We wanted to make sure we addressed those needs before we start building instead of trying to insert it later as an afterthought." The result is the 11th Street Bridge Park Equitable Development Plan, a 30-page strategy for preventing resident displacement, improving neighborhood conditions and promoting resident-owned small businesses.
"Bridge Park's Equitable Development Plan places equity and the inclusion of lower-income households at the center of this transformative 11th Street Bridge Park," says Oramenta Newsome, program vice president at Local Initiatives Support Corporation (LISC), a national nonprofit that has worked in Ward 8 for decades. "The planning process has created realistic strategies that increase the likelihood that residents surrounding the park have opportunities to benefit from this development. It is our hope that Bridge Park's planning process and its explicit emphasis on inclusion will serve as a model for future public-private developments in our city and beyond."
JPMorgan Chase is investing $25 million over three years in Greater Washington, which will significantly impact Anacostia and other parts of Wards 7 and 8. Of that, $5 million has been awarded to a Washington, D.C.-based collaborative of Community Development Financial Institutions (CDFIs) to implement portions of the plan, including BBAR, Washington Area Community Investment Fund, Inc. and City First Enterprise. The funds will support access to capital and technical assistance for minority- and locally-owned small businesses, construction training to local residents for work on Bridge Park and other forthcoming developments and the preservation of affordable housing through the establishment of the Douglass Community Land Trust.
The investment is part of the company's 5-year, $125 million Partnerships for Raising Opportunity in Neighborhoods (PRO Neighborhoods) a competition, which empowers community development organizations to partner as a way to pool resources and increase impact in cities across the country. This new investment builds on lessons learned from successful PRO Neighborhoods partnerships in a variety of cities. According to research on the Impact of the PRO Neighborhoods Model for Collaboration by researchers at Harvard University, the winners of the first three competitions leveraged the company's support to raise an additional $713 million in outside capital, make nearly 21,000 loans to low- to moderate-income customers and create or preserve almost 3,000 affordable housing units and 11,000 quality jobs.
"What we have seen time and again is that collaborative partnerships are a really effective way to leverage community investments," says Dekonti Mends-Cole, vice president of global philanthropy at JPMorgan Chase. "It's clichéd, and yet also true, that they can create a sum so much greater than the whole of the parts."
"When you think about what it takes to stabilize a community, you realize how important it is to take a multisector approach," says Harold Pettigrew, the director of the Washington Area Community Investment Fund, a nonprofit that supports the city's low-income and minority entrepreneurs and is a member of the PRO Neighborhoods collaborative in Washington, D.C.
"You can't offer someone a path to entrepreneurship if they don't have housing, can't build savings and can't pay their bills. That's what's great about the collaborative. It brings together organizations that may not have worked together previously, but have a shared vision and can amplify each other's impact through complimentary work."
For JPMorgan Chase, PRO Neighborhoods is not only a tool for promoting thoughtful, equitable development but also a call to action. "While we are proud of our work, we recognize that we can't do it alone," says Mends-Cole. "We have a lot of great partners across the private, public and philanthropic sectors. But there's always a need for more. These are big, complicated issues. We need targeted, innovative solutions that lean on collaboration to get things done."