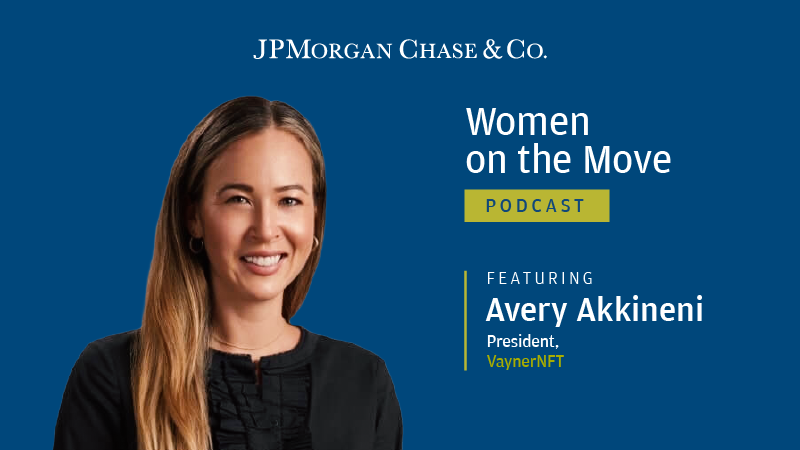 Crypto, NFTs, and the wave of the future, from a marketing pioneer 
Avery Akkineni wants you to know: It's not too late, and you didn't miss the boat. As president of VaynerNFT, Avery is a leader in the emerging NFT space. In this conversation with Women on the Move host Sam Saperstein, she breaks down the NFT market, Web 3, and the ongoing opportunity for consumers and brands to participate in this fast-moving space.
A marketing pioneer with a mission to bring other women along
Avery began her career right out of college at Target Corp., but within a year or so she moved to Google, still a relatively new company in 2012. At Google she worked on products including AdWords, YouTube, Hardware Products, and Double Click, and she also learned about Vayner Media when Gary Vaynerchuk gave a motivational talk to her team. "I was incredibly impressed with how different Gary's perspective was, and about his passion around social media," she recalled. "At the time, I didn't know too much about social media. So, I thought I'm going to learn all about social from the guys who know it best at Vayner."
She joined Vayner in 2018 as a Vice President on the media team—her first experience of the agency side of marketing. "So, it was a totally new experience of learning a different side of the marketing coin," she tells Sam. "And I learned a lot really quickly. Had the opportunity to help build out some teams. I then had the opportunity to actually go and start Vayner Media's presence in the Asia Pacific region."
By 2019, she moved to Singapore to start Vayner Media there. She soon opened offices in Tokyo, Bangkok, Sydney, and Hong Kong as well—all during the pandemic. "It was a very different type of working environment, where we were all pretty much remote and working across borders digitally," she recalled.
One benefit of working through the height of the pandemic was that she got to explore new ways of building teams, as well as new ways of thinking about technology. "We thought something very interesting might be happening in this world of NFTs," she says. "At the time, I didn't even know what that meant, what it was." By July of 2021, she was heading up the new VaynerNFT, which she describes as "a Web 3 consultancy focused on helping enterprises navigate all things Web 3 and NFT."
Immersed in this new world, on thing struck Avery: Her colleagues and Web 3 leaders were mostly male. "Right now the community who's super active is very heavily men," she tells Sam. "And I'm super passionate about helping to bring women into this space."
Breaking down NFTs for the uninitiated
As an early leader in the world of NFTs and related Web 3 activities, Avery is skilled at de-mystifying the concept for others. She breaks it down for listeners: "What NFTs, non-fungible tokens, represent is really digital asset ownership. It can be a piece of art. It can be a ticket. It can be a utility. But fundamentally, that represents a digital asset that you own that is provable on the blockchain."
And while there's currently a small community of people who are active in the NFT world, Avery says she believes there's a place for everyone. She encourages small business owners and individuals—especially women—to get involved. And she offers three pieces of advice for those interested.
First, she says, get started by jumping in in a hands-on way. "Get yourself a Discord and Twitter, and understand what's happening," she advises. "I think really spending the time to shape your own perspective is incredibly important."
Next, she advises all business owners to figure out how they can develop something that would be interesting to their existing consumers. "I would maybe look into loyalty as an NFT mechanism, and finding a way to reward people who already come to your dry cleaner, or to your daycare, or whatever it is," she offers.
Her third piece of advice is to consider expanding your business's payment options to include accepting crypto. "I think as a small business, you actually can move much quicker and navigate this world of Web 3 in a really cool way," she adds. "And being able to operate without a ton of bureaucracies can be a huge advantage."
As for her goals for VaynerNFT, she's looking forward to continuing work that's game-changing, interesting, and long term: "I think our goals are really to help enterprises enter this Web 3 world in an authentic way that builds value for their communities and builds value for them."


Avery Akkineni
president,VaynerNFT
Subscribe