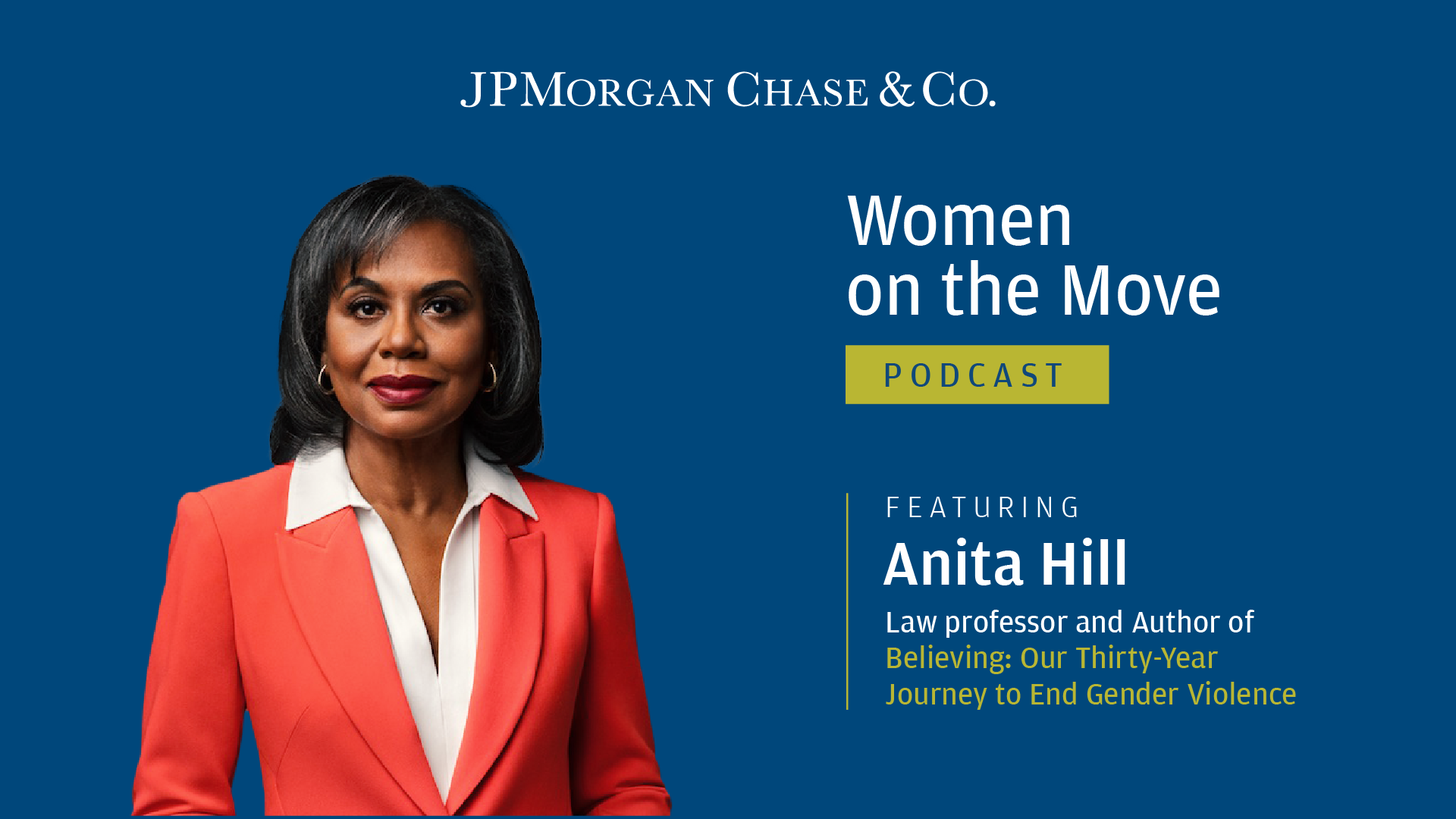 Stories
Anita Hill on combating gender violence and her hope for the future
More than 30 years after she became a national figure during the 1991 Clarence Thomas Supreme Court nomination hearings, Anita Hill is now one the nation's fiercest activists for the eradication of gender-based violence. In this episode of the Women on the Move Podcast, Anita talks with Natalie Williams, General Counsel for card services at JPMorgan Chase & Co., for a special Women's History Month event. The two discuss Anita's activism journey and her new book, Believing: Our Thirty-Year Journey to End Gender Violence.
Answering a call
Anita tells Natalie that folding activism into her ongoing work as a lawyer, professor, and author was a natural choice. She describes it as a decision to not ignore the reality she was faced with. After the hearings ended and Thomas was confirmed despite Anita's accusations of sexual harassment, she received many thousands of letters of support. She says she felt a sense of responsibility to not let those supporters down.
Growing up black in the 1950s and 1960s with 10 older siblings who attended segregated schools, Anita says she also keenly appreciated that she benefitted from the civil rights movement and had the opportunity to go to law school. "It was my responsibility, but also it was something that I had the opportunity [and] the chance to do, to make a difference in the world that people had already changed for me," she tells Natalie.
Addressing the structural institution of gender violence
Once she made the decision to lean into her role as a voice against gender-based violence, Anita says she found support from her friends, her family, her students, and complete strangers. Her work often focuses on what she calls "mini manifestations of gender violence", and the many ways that our institutions, including schools and workplaces, enable that violence. She describes how, from a young age, girls and women are told that small acts of harassment or violence are not important, and that they should be able to brush them off.
"We've been given stories that tell us that either the problem isn't as big as people think it is, or they tell us that, oh, it's the victim's fault, or they tell us that, you know, it's not so bad," she says. "And those have been part of our thinking for all of our lives." Anita says this type of minimizing, or saying the problem isn't as big as some people make it out to be, was part of the resistance to her testimony in 1991.
And although resistance and minimizing starts as early as grade school, it continues into universities and workplaces. One of the reasons that sexual harassment continues to be widespread despite more media attention in recent years is because of the way institutions and workplaces operate, she says. They tend to develop policies and procedures focused on compliance rather than culture, and until the culture of minimizing harassment is changed, gender violence will continue to grow. Anita calls it institutional denial that begins with leadership. "And what I say in the book is that if it's going to change, the leadership attitude has to be changed and it has to be intentional and vocal," she tells Natalie.
Support and hope for the future
In recent years, Anita has focused on combating gender violence in the entertainment industry, leading the Commission on Sexual Harassment and Advancing Equality in the Workplace. She describes how that experience has changed some of her thinking on how to best combat gender violence. Where she had once been focused on the structural impediments of protecting people, she came to see that in Hollywood and the largely unregulated entertainment industry, it's the informal structures that perpetuate violence.
"In Hollywood, you're not just talking about one individual in one workplace, you're usually talking about multiple workplaces," she says. "And when it comes to serial abuse, you have people moving around from location to location and doing the same bad deeds, and you don't have any way of tracking it. And we're developing a platform to identify who those people are, by allowing people to come in and be empowered to file complaints."
Anita and Natalie discuss other recent events that Anita says give her hope for the future, including the Supreme court nomination of Ketanji Brown Jackson and President Biden's support for strengthening the Violence Against Women Act. In terms of looking forward, Anita says she draws big inspiration from her students: "It is a blessing to be a teacher because every day I get to look at the possibility for the future. And so I don't lose hope because I'm seeing my students and what they can do and what they want to do and how they see the world."


Anita Hill
Law Professor and Author of Believing: Our Thirty-Year Journey to End Gender Violence
Subscribe