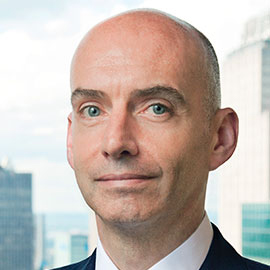 Ashley Bacon is the Chief Risk Officer of JPMorgan Chase & Co. and a member of the firm's Operating Committee. He is responsible for the Risk Management and Compliance organization across the Corporate & Investment Bank, Consumer & Community Banking, Asset & Wealth Management, Commercial Banking and the firm's corporate activities. Bacon reports to Chairman and CEO Jamie Dimon and the Risk Committee of the Board.
Bacon provides oversight of the firm's spectrum of risk-taking activities encompassing economic risks including credit, market, liquidity, principal, capital and country, as well as other core risks including operational, model, compliance, conduct, legal, capital and reputation risk, with controls and governance established for each area as appropriate.
He joined the Risk organization in 2006. Over the course of his career with the firm, he also worked in the firm's Tokyo, Singapore and London offices in a variety of trading roles in bonds, swaps, financing, options and exotics within Rate Markets, including leading those regional businesses for the firm.
Before joining J.P. Morgan in 1993, he traded international government bonds for Daiwa Securities.
Bacon holds a degree in Monetary Economics from the London School of Economics.