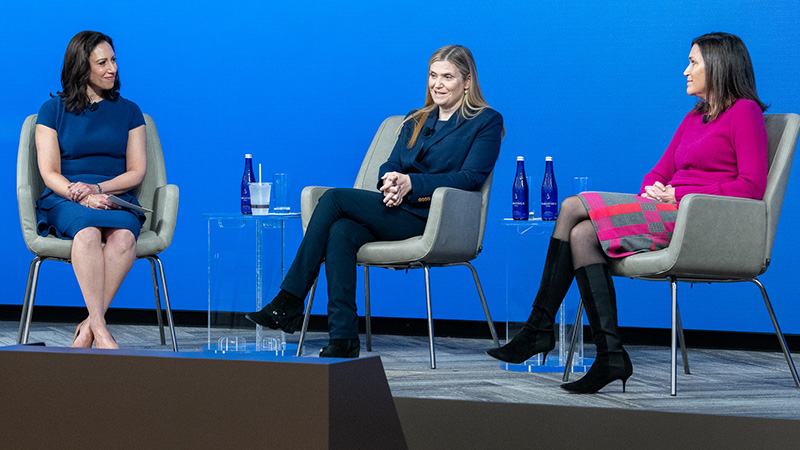 Stories
Lessons from Chase's Co-CEOs
In May 2021, Marianne Lake and Jenn Piepszak were named co-CEOs of Chase's Consumer & Community Banking, a business that serves more than 60 million U.S. households and 4 million small businesses. They spoke recently with Sam Saperstein, Head of Women on the Move at JPMorgan Chase, during the sixth annual Women on the Move Leadership Day. The conversation included leadership lessons and observations relevant for women – and men – in today's workforce.
Execute excellence
"The facts will set you free," Marianne said. "Analyze, rinse, repeat. You are what you measure. We must make sure we show the true facts and make data-driven decisions that people will understand," she said.
Next, she said, make sure you clearly communicate those decisions with your teams. If you can show the "who, what, why and how" of your thought process, people will recognize that your decision-making is driven by your customers and how to satisfy them, rather than just what competitors are doing.
By sharing data, being obsessed with your customers' needs and helping your teams rally around your idea, you'll have the support you need to successfully finish a project—or, as Marianne puts it, execute excellence.
Lead with empathy and by example
Throughout the pandemic, women have been helping others find ways to push through and navigate challenges at home and at work. According to McKinsey, women managers have consistently provided more emotional and social support to their teams than their male counterparts.1
The last two years have changed how many people think about office culture, flexibility and maintaining a work-life balance that actually works. "We've learned that we must lead with a significant amount of humanity," Marianne said. "Understand that the people on your team are dealing with all sorts of things. Knowing you're expecting people to show up and bring their best selves means you have to understand where people are coming from."
Many companies haven't finalized what their long-term plans will be for remote and flexible work arrangements—JPMorgan Chase is still testing and learning about the ideal model. "I think it was extraordinary what we were able to do in a weekend, really—turn our entire workforce into a remote workforce," Jenn said.
But while flexibility remains an important factor for many women in the workforce, limiting the ability to cultivate relationships to only digital interaction could create challenges in the long run. "We have yet to prove that you can build a culture in a remote environment," she continued. "Having an office-based culture is incredibly important to this company for a very, very good reason."
"When it comes to carrying the culture, you need to lead by example," Marianne said.

Marianne and Jenn have worked together to build an empathic, inclusive and flexible culture, helping their teams sustain both professional and personal relationships. By testing remote and hybrid work options, they said, leaders can better understand what their teams really need in terms of organizational support and social connection.
Build partnerships and trust
As an innovator in banking and investments, JPMorgan Chase isn't new to change. Since being named co-CEOs, Marianne and Jenn said they've used the partnership and trust they'd already built to create a smoother transition for their teams and, by extension, their customers. "We've known each other for a very long time, and we have a foundation of trust, respect and friendship," Jenn said. Creating strong partnerships built on trust can help give leaders the confidence they need to envision a better future for their business, and then lead their teams there.
"The investment we're making in building partnerships is super critical," Marianne said. "The relationships you're able to build in the good times, and the informal interactions that you have allow you to lean on those relationships when things are more challenging."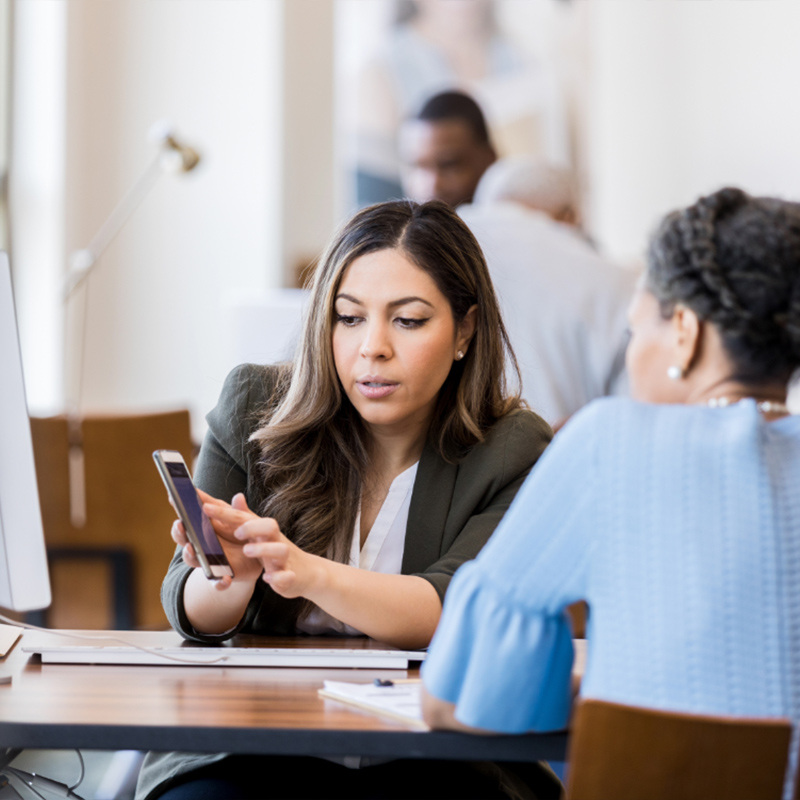 Women on the Move
Read more on how JPMorgan Chase helps fuel women's ambition and advance financial equality through Women on the Move.