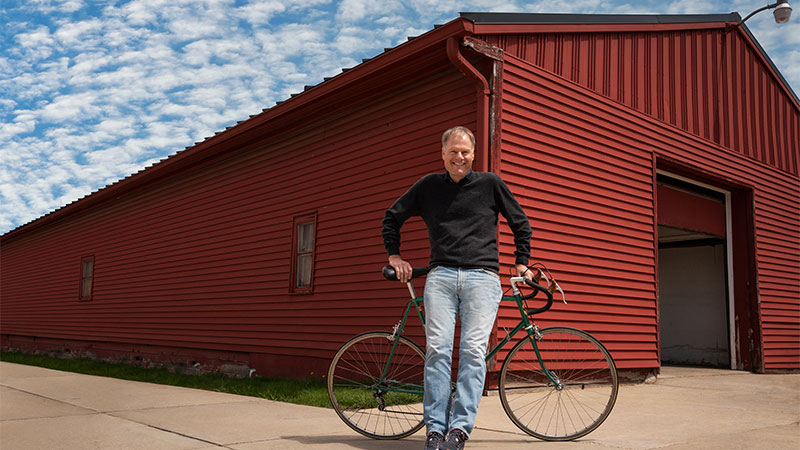 Stories
Local Wisconsin Business Expands to the World
Trek Bicycles has grown from a small business in a barn to become one of the world's top bicycle brands. Here's how a clear vision—and help from JPMorgan Chase—made that journey possible.

For many, "Work hard, play hard" is a trope. But at Trek, one of the largest producers of high-end bicycles in the world, those words have guided the company from its origin as a small, Midwest family business to a billion-dollar global enterprise.
Those words are evident, for example, in how often Trek president John Burke braved the Alps during France's L'Étape du Tour. They're evident in the way Trek employees will hop onto a bike and hit the trails to break up a workday. The words are part of the culture that Burke's father, Richard, set in motion in 1976 in a barn in Waterloo, Wisconsin where the company's first five employees began hand-building steel touring bicycles using proprietary cast lugs, adding an American flare to a European brazing style.
"Waterloo plays a big part in Trek's identity, and the red barn plays an even bigger part," explains John Burke, who started working for the company in sales and service right out of college in 1983. He became president in 1997, when the company had expanded well outside the U.S.
"And I think that's because of the humility that my father had, and my mother still has," he continues. "I think that's just the Wisconsin roots. We focus on other people and not on ourselves. And we're always trying to earn people's business and take care of our customers."
In Tandem from the Beginning
In 1980, Trek built its first factory down the road from the little red barn and soon broke into the mountain bike business. Several years later, a distributor in Switzerland ordered a container of bikes. Much to Trek's delight, the same distributor called back to order several more containers in short order. That was when Burke and his team realized the immense opportunity outside the U.S and the global appeal of Trek bicycles. When the company intentionally put a strategy in place to serve the international audience, it quickly gained market share from Japanese and European competitors.
This growth, however, came with new challenges, like navigating a global supply chain and distribution requirements. At each step of the way, the company has looked to JPMorgan Chase both for capital and guidance about how to expand into new markets. "It was JPMorgan Chase that helped get us to the next level," says Trek CFO Chad Brown.
"We've had a relationship with them [Trek] since the beginning," adds Tony Maggiore, Midwest & Canada Segment Head, Middle Market Banking & Specialized Industries, JPMorgan Chase. "We've helped them explore international growth in countries where it can be hard to do business, but our expertise in those countries makes it much easier. We have world-class solutions, both in the U.S. and overseas, that we deliver to clients on a local basis. It's a strategic advantage and we know that companies like Trek really value it."
Trek has grown to become a truly global business producing millions of bicycles every year. Today, more than 60 percent of the company's revenue comes from outside the U.S. Its custom road bikes are still assembled and painted in the U.S. The first part of the company's mission, "Build only products we love," is a legacy that Burke wears with pride.
"We make decisions from a global perspective but the values and humility that the company lives by are what have made those decisions successful. Remaining close to our foundation in Waterloo, Wisconsin, has been very beneficial for us to build upon who we are as a company and the positive impact we can have," said Burke.
"I've inherited this jewel. I need to pass it on in better shape than I inherited it."
Learn more about how JPMorgan Chase helps small businesses grow and scale.
The testimonials on this page are the sole opinions, findings or experiences of the speakers and not those of JPMorgan Chase Bank, N.A. or any of its affiliates. These opinions, findings or experiences may not be representative of what all customers may achieve. JPMorgan Chase Bank, N.A. or any of its affiliates aren't liable for decisions made or actions taken in reliance on any of the testimonial information provided. JPMorgan Chase Bank, N.A. is not affiliated with nor responsible for Trek, and does not provide or endorse third party products, services or other content.