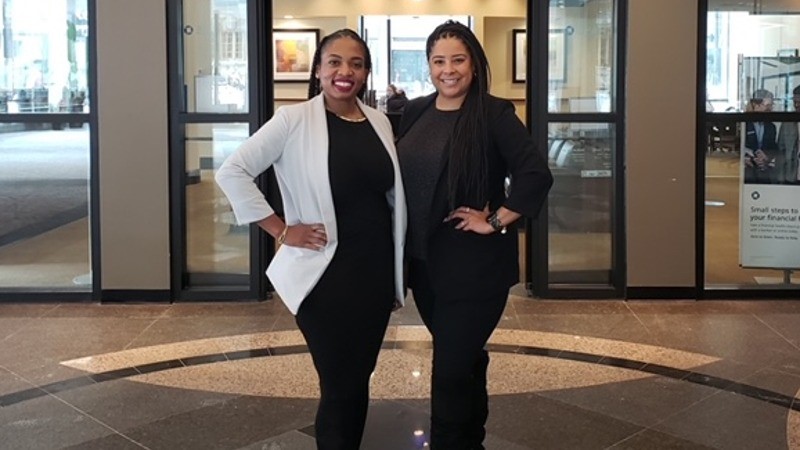 Meet the Women Helping Columbus Residents Build Stronger Financial Futures 
For Alicia Jones and Erica Wicks, becoming Chase Community Managers has been the perfect way for them to blend their personal passions with their professional work.
"This position allows me to marry my personal mission and professional passion of supporting the community in which I live be a place where families and business owners can flourish and build generational wealth with my career," said Alicia Jones, Vice President, Community Manager in Columbus.
In Columbus, Ohio – where Jones and Wicks both live and work – financial resources often break down along racial lines. For instance, 33% of Black households and 31% of Hispanic households have zero net wealth, while only 17% of White households have zero net wealth.
As Chase Community Managers, Jones and Wicks are working to break down these systemic barriers by helping people gain access to financial services ranging from opening a bank account or line of credit to exploring mortgage financing options and small business loans. They work directly with local residents, community leaders, nonprofits, and small businesses—no matter their financial history—to increase awareness and access to resources, financial tools, and services to help them forge a strong financial future.
They recently sat down with us to talk about their work and how it helps Columbus residents — and communities.
Alicia Jones, Vice President, Community Manager
What the job entails: "The word 'quarterback' is used quite frequently to describe us, and it fits. I basically act as a connecting piece, pulling people together. My goal is to be the trusted person who people can be open with when it comes to their financial goals and journey. People in the community want someone they can relate to, and going to a large financial institution can be intimidating at times. It's important to have someone who can raise awareness of the resources available to the community to educate them and make connections. This can be life changing for our clients and our community."
The moment she felt the impact of her work: "Rewarding things happen every day, to be honest. That may sound like a cliché, but when you're doing something that you're passionate about and you're doing something that matters, it's really a remarkable feeling. We're helping families get into homes, helping entrepreneurs open small business, and providing the tools and resources needed to help people build generational wealth and reach their financial goals. That's significant and impactful to me."
Why this job is a good fit for her: "I was already doing a lot of work around diversity, equity, and inclusion efforts as well as community efforts both inside and outside of the firm. I was immediately intrigued by the Community Manager role, and when it was announced in the Columbus Market people kind of tapped me on the shoulder to say, 'You'd be great at this.' They saw my dedication to the community and to helping people, especially people of color, children, women, and minority businesses."
Erica Wicks, Vice President, Community Manager
What the job entails: "An important aspect of our job is to be that connector, the bridge —We create connections and develop relationships between our communities, our customers, and local businesses. The long-term goal is to help build generational wealth and an important way to do this is to raise awareness and access to financial health tools, products, and services."
The moment she felt the impact of her work: "Not long ago, I talked to a person at a financial health event who was having challenges getting into traditional banking. And so I connected him to someone in our local branch to help put him on the path to achieving his financial goals including starting a business. Seeing that happen was that moment of: 'Yep. This is it. We're doing the work, impactful work.'"
Why this job is a good fit for her: "My background is heavy in community development, from the building strategic partnerships side to the volunteer side. I've also worked with a lot of nonprofits, served on advisory boards, and leadership committees here in Columbus. So I understand how important it is to create strong partnerships, develop deep relationships and to build trust."
Stop by your local Chase branch to take advantage of the services Community Managers like Jones and Wicks have to offer for a brighter financial future.