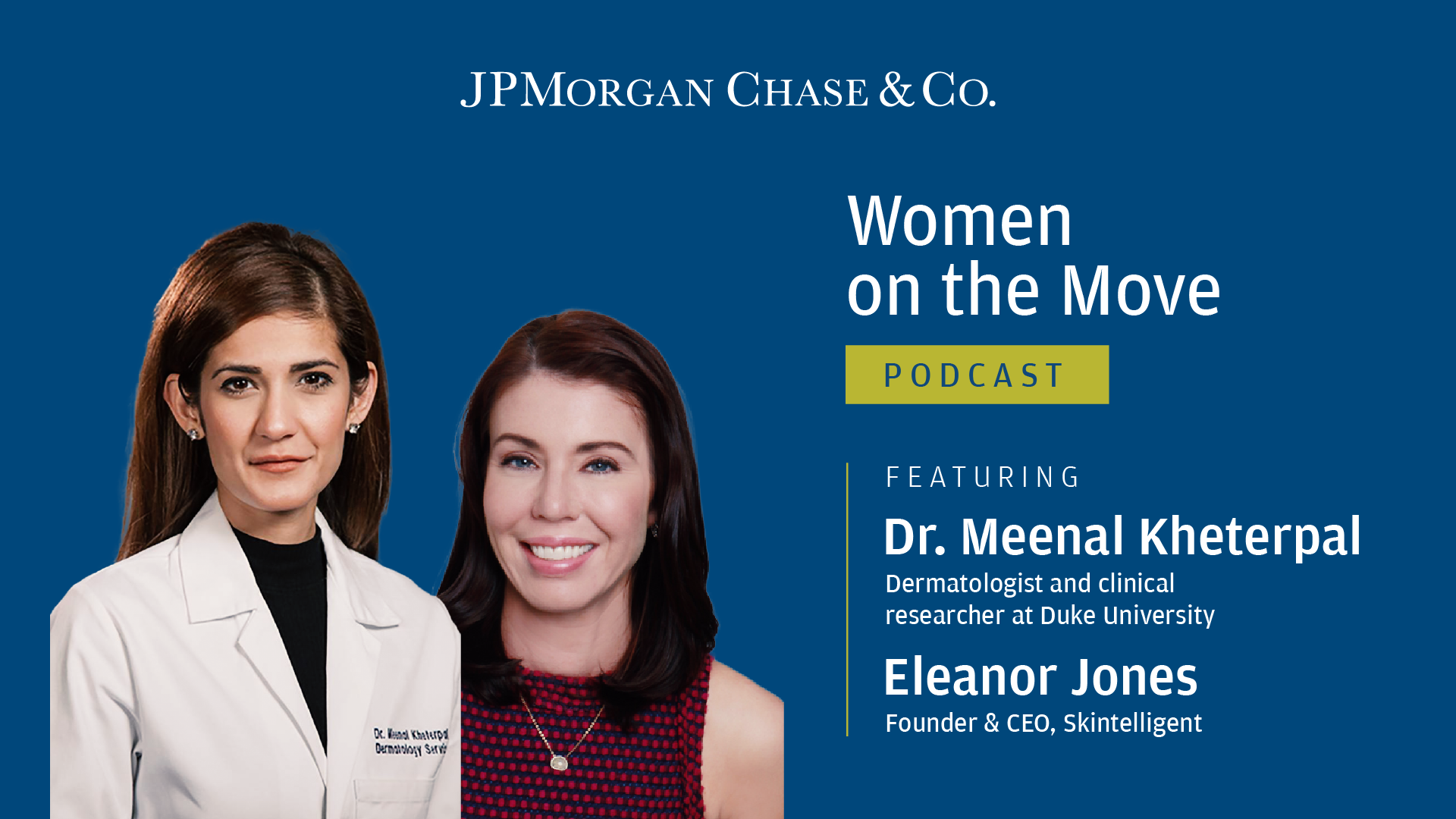 Stories
Improved skincare through AI, with Skintelligent founder and researcher
Skintelligent leaders talk AI's potential to change the face of skincare
Talking AI innovations in skincare, with a CEO and a dermatologist

Can artificial intelligence and deep learning improve both cosmetic and medical skincare? Absolutely, say two women immersed in the effort. Women on the Move host Sam Saperstein learns more as she sits down with Eleanor Jones, CEO and Founder of Skintelligent, and Dr. Meenal Kheterpal, dermatologist and scientific advisor for the company. Sam, Eleanor, and Dr. Kheterpal discuss their background and motivations, how they believe AI will drive innovation in skincare, and how new technology must address equitable health outcomes for all.

Uniting an interest in skincare, a business background, and medical expertise
Skintelligent, the skincare company that Eleanor founded in 2019, aims to be the global leader in developing intelligent AI skin health solutions. Meeting that goal requires expertise in business, dermatology, and deep learning. As a veteran of the corporate world (she spent 10 years with the Coca-Cola Corporation), Eleanor brough plenty of business smarts to her company. She also brought a deep interest in skincare dating from her struggles with teenage acne.
As a dermatologist, Dr. Kheterpal had long been fascinated with deep learning and AI, and its implications for skin cancer diagnosis and other medical uses. Eleanor describes "chasing" Dr. Kheterpal when she was starting Skintelligent. And Dr. Kheterpal recalls feeling that the pair were a match made in heaven. "She just had this clear vision, and I felt we agreed on so many different levels as far as the potential for AI, and some of the work that she had already done was just so impressive," she says of Eleanor. "I was so impressed with Eleanor's passion, direction, and purpose."

Innovations in both cosmetic and medical skincare
Eleanor and Dr. Kheterpal agree that AI has the capacity to impact skincare in both the retail world and the healthcare world. Eleanor explains that the retail world of beauty and skincare is easier because, unlike healthcare, it's an unregulated market. Machine learning and AI can be used to give consumers information about their skin and offer interactive product recommendations. "I think within a retail space in five years [we] will be walking down the aisles of Target, Walmart, and there'll be a kiosk with a camera that allows you to take your skin and then port you over to the most suited product recommendations within that space," she predicts.
As for medical skincare, the potential is great, but so are the hurdles. Eleanor and Dr. Kheterpal agree that AI can play a huge role in assisting dermatologists by automating some of the more routine tasks they now perform. One big potential is in telehealth, giving patients the ability to get diagnosed for skin conditions remotely. "I think we see ourselves as a part of an omnichannel healthcare plan, where we could potentially play triage," Eleanor explains.

Technology as equalizer
An aspect that Eleanor and Dr. Kheterpal are particularly passionate about is the potential for reducing inequities in healthcare. One application of that is in the ability for rural and other underserved communities to access dermatology care. "There are healthcare deserts and flyover regions that are very, very underserved medically," Eleanor says. "So you can think about a teenager in rural Tennessee, where there's no dermatologists, dealing with severe acne. The idea of having either a telehealth solution or potentially AI offers an access point in a service that was not previously available to them."
Another area of great potential is in the area of racial equality. Currently, much dermatology research is based on European skin tone. "So a lot of our data that we use to train [AI] models is largely not equal," Dr. Kheterpal explains. "There is a dearth of images with patients of skin of color, or various ethnicities. And this is where I have to give Eleanor a lot of the credit. She has been able to source an incredible amount of data where we are able to source images that we use to train a lot of the models in house."

Both women agree that the future of Skintelligent, and of AI in skincare, is bright. AI is already changing the way women buy beauty and skincare products. And with legislative changes underway in terms of healthcare regulation—especially regarding state line issues—they believe AI will only come to play a bigger role in healthcare. "My dream in the next five years is if you are a North Carolina resident, and you have a lesion of concern, you should be able to get a diagnosis from any remote corner of North Carolina, with the help of virtual care and the models that we are focusing on building," Dr. Kheterpal says.

Eleanor Jones
Founder & CEO, Skintelligent


Subscribe