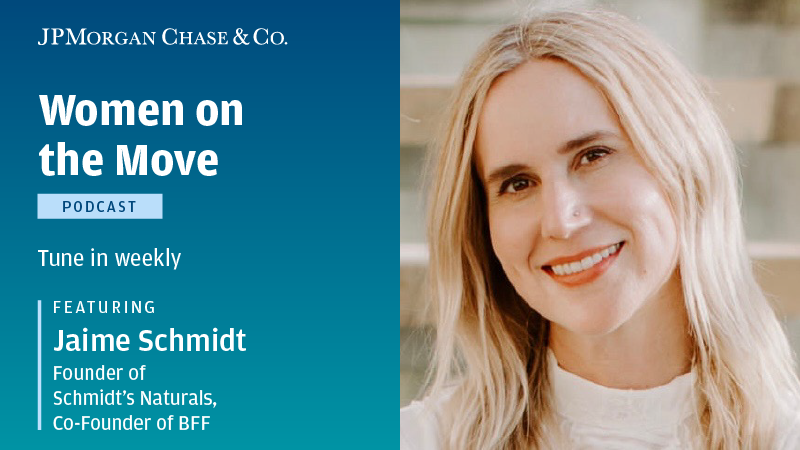 Schmidt's Naturals founder talks taking her product from kitchen sink to global brand
Jaime Schmidt began making natural care products in her kitchen, and in just seven years scaled her brand into 30,000+ stores and sold it to consumer goods giant Unilever. In this episode of Women on the Move, she sits down with host Sam Saperstein to discuss that journey as well as her newer interest in Web3 and blockchain.
From kitchen sink to multinational
Jamie says she was living in Portland and newly pregnant when she started being extra mindful of the products she was using on her skin. She was also searching for a new creative twist in her career path, but she didn't know those two interests would collide at first. "I decided to make my own [products] because it was cheap and it was the cleanest way to do it—but not quite realizing the business potential in that and what my future would hold there," she tells Sam.
She started off making lotions, sunscreens, deodorants, and shampoos and selling them at farmers' markets. "I started to get a lot of really positive feedback and realized, you know what, there's something here and I could maybe make a little money off it," she recalls. The face-to-face interactions at those markets made her feel vulnerable but also helped her learn what was working, and what she needed to change.
But Jamie had larger aspirations for her brand, Schmidt's Naturals. Flash forward a few years and she was on the shelves at Target, CVS, and Walmart, "those distribution channels where you might not expect to find a handcrafted natural deodorant made by a woman in her kitchen," she summarizes for Sam. "Those were the channels I was most excited to get into because I saw big opportunity there, because no other natural deodorant brands were going after these channels." Her vision paid off, and in 2017 she sold Schmidt's to industry giant Unilever.
Moving forward in the Web3 space
Jamie says she was thrilled to have Unilever acquire Schmidt's, but she didn't want to step away form the company; in fact she remains involved with creative decisions. "Any time a brand gets acquired, there's the biggest fear of any founders—what are they going to change?" she tells Sam. "What was important for me to maintain was just the creative energy of the brand. I was a maker at heart, and I had stayed so close to the product throughout the growth. You know, our brand had fun energy that I wanted to make sure didn't go stale."
Meanwhile, Jamie has moved on to a variety of other interests including investment funds, crypto, NFTs, and even writing book. One of her goals is to help other women succeed—in the entrepreneurial space but also in the new Web3 space. Toward that end, she co-founded Blockchain Friends Forever (BFF) with the idea of opening up this new online world of investing to women and non-binary people.
"When we had the idea to create BFF, we knew that the first thing we wanted to do was have this big kickoff, introduce people to everything we thought they needed to know on the most basic level, like what is an NFT? What is the blockchain?" she explains to Sam. They put together an introductory online event to introduce new audiences to the ideas of NFTs and blockchain, and they expected maybe 5,000 participants. When they got more than 20,000, they knew they were filling a need.
Through BFF, she's continuing to provide guidance and resources to people entering the world of Web3. "We're constantly looking at ways to keep the community engaged and to teach and to help connect and do some fun things too," she says.
"I think people need to understand what it is they want out of Web3 and this new technology," she explains. "And so that's the first step—recognizing for yourself, what are the opportunities for me and what really resonates and gets me excited?"
For more traditional emerging entrepreneurs, Jamie wrote her book Supermaker: Crafting Business on Your Own Terms. In it, she tells her story of founding Schmidt's and growing it into a global brand, and sharing tips for launching and executing a successful business plan. "There's such a holistic culture right now. And the brands that are most sustainable are the ones that truly start from a solid foundation," she says. "And then also just keeping an open mind to shifting gears when you need to, because not everything will go as you think it will."


Jamie Schmidt
Founder, Schmidt's Naturals
Co-Founder, BFF
Subscribe