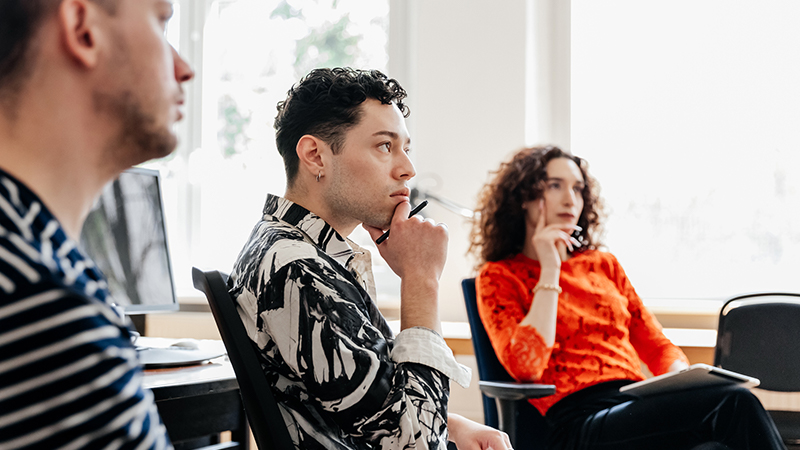 Insights
Resources to Help LGBTQ+ Businesses Grow
LGBTQ+ businesses face a unique host of hurdles. For David Barbee, helping them succeed isn't just a professional challenge...it's personal
By David Barbee, Head of LGBTQ+ Initiatives at JPMorgan Chase Commercial Banking
My passion for helping solve the pressing challenges facing LGBTQ+ business owners is motivated, in part, by my own experiences. I have dedicated my entire professional career—over 20 years!—to helping business owners succeed. What's more, as a member of the LGBTQ+ community, I know on a personal level what it feels like to be excluded and treated as "different."
LGBTQ+ business owners account for more than $1.7 trillion in national economic impact according to the National LGBT Chamber of Commerce (NGLCC). However, they are often burdened by the risk of discrimination, as well as inequitable access to capital and other important resources that aid business growth. For example, the NGLCC reports that less than 1 percent of venture capital funding goes to LGBTQ+ companies.
Today, I serve as the Head of LGBTQ+ Initiatives for JPMorgan Chase Commercial Banking, where I partner closely with JPMorgan Chase's Office of LGBTQ+ Affairs to break down barriers to important financial resources. Together, we're working to promote a safe space where LGBTQ+ business owners can develop a truly inclusive banking relationship and grow their businesses. Here are some of the top resources I often discuss with current and aspiring LGBTQ+ business owners.
Explore LGBT Business Enterprise (LGBTBE) Certification
Many LGBTQ+ owned businesses in the US—particularly B2B businesses—can benefit from becoming a certified LGBT Business Enterprise (LGBTBE) with the NGLCC. Open to any business that is at least 51 percent owned, operated, managed or controlled by a person or people identifying as LGBTQ+, this designation provides unique and potentially transformative business opportunities.
Once approved, enterprises can tap into networking opportunities with over 400 corporations, NGOs and governmental bodies that are looking to form strategic partnerships with, invest in, and do business with the LGBTQ+ community. Additionally, the NGLCC also provides opportunities for mentorships and continuing education programs to help business owners improve their skills. Getting certified is a straightforward, online process and can be accomplished within a month.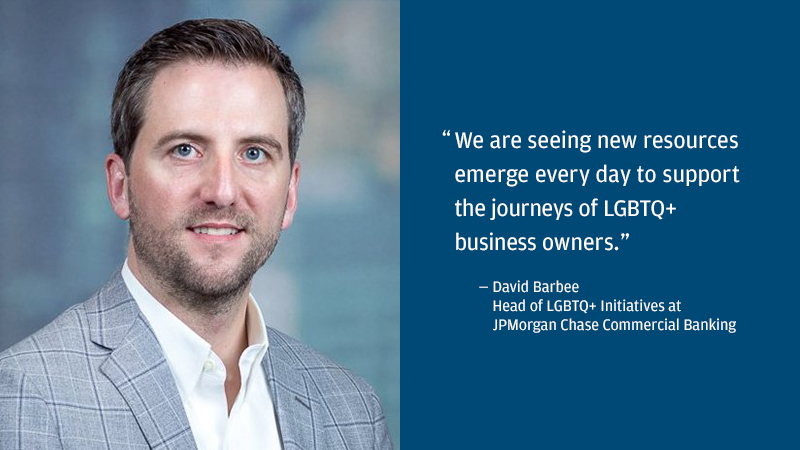 Through our work with the NGLCC, JPMorgan Chase is helping certify LGBTQ businesses and offering free Chase for Business educational courses designed to help entrepreneurs grow and scale their businesses. From navigating cash flow to marketing in a digital world, these guided sessions focus on addressing immediate and long-term financial needs and building resiliency.
Discover Specialized Accelerator Programs
In recent years, I've seen a growing trend among many corporations and investors looking to directly support LGBTQ+ businesses, resulting in the emergence of LGBTQ+-dedicated accelerator and mentorship programs.

One group I regularly work with is StartOut, the nation's largest nonprofit organization focused on growing LGBTQ+ businesses. Through the StartOut Growth Lab accelerator, the organization brings together early-stage companies twice a year for mentoring, education and networking opportunities.
Since 2017, Growth Lab has helped more than 65 companies to raise $763 million in funding and create over 3,650 new jobs.
Finding a Safe Space
We in the community know it is often not easy—or even safe in certain instances—to disclose our LGBTQ+ identity. This often plays out in the business setting where, according to a study by StartOut, only 0.5% of the $2.1 trillion in funding for startups went to LGBTQ entrepreneurs in 2022.
It took me years to feel comfortable bringing my full self to work. Ultimately, I realized that, by hiding my authentic self, I was creating a barrier to professional growth and self-fulfillment in my work. I encourage LGBTQ+ business owners to seek out safe spaces, or even create their own by engaging with groups like StartOut or the NGLCC in their local communities. More importantly, I call on leaders across the business community to create safe spaces for their LGBTQ+ clients to feel supported and thrive.
Improving equitable access to important financial resources will continue to be a work in progress. I believe the more we can do as business leaders to prioritize the needs of the LGBTQ+ community, the more business owners will feel comfortable being visible—which will, in turn lead to greater access to critical resources for their businesses to grow and succeed. We are seeing new resources emerge every day to support the journeys of LGBTQ+ business owners, and I am optimistic that as these resources grow, so too will the economic impact of LGBTQ+ businesses on our communities at large.