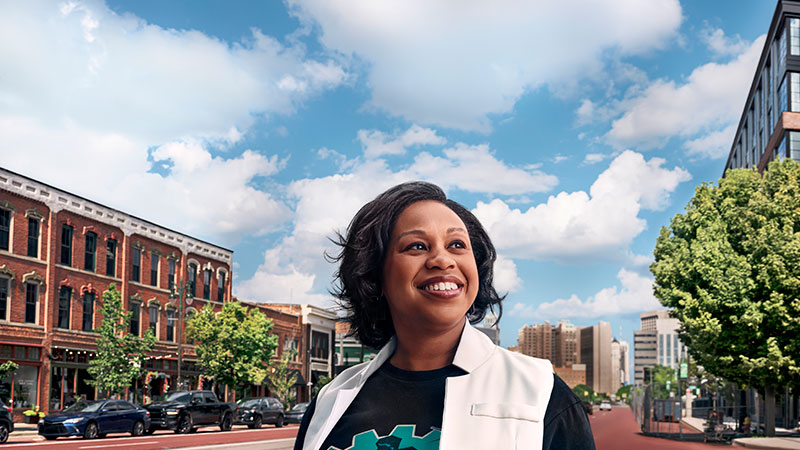 Stories
Creating Job Opportunities for Over 72,000 Detroiters
How JPMorgan Chase is working with local partners to help break down employment barriers and ensure Detroiters build long-lasting careers.
"Detroit is tough and strong. In part, because of our manufacturing history," says Dana L. Williams, Chief Strategy Officer at Detroit at Work, the city's staffing agency. "We are used to going to work every day, putting something together and saying, 'I made that.'"
This tenacity remains central to the city, despite the fact that the landscape of Detroit has changed dramatically over the past decade. When the City of Detroit filed for bankruptcy in June 2013, one in four Detroit residents were unemployed and 36 percent of the city's population was living below the poverty line.
Detroit needed to diversify its industries, and understand which industries were poised for growth so Detroiters could tap into these new opportunities. "We went from being a manufacturing town to now being more about technology and the arts," says Williams.
In order to paint a clear picture of the city and get Detroiters back to work, JPMorgan Chase collaborated with Corporation for a Skilled Workforce (CSW) to research and find solutions. Their work highlighted the need for a coordinated effort between the city, residents and employers to better align training and educational programs with well-paying, in-demand jobs that existed in Detroiter's own neighborhoods.
After continued collaboration between local government, community organizations, and private sector partners like JPMorgan Chase, Detroit at Work was born. In addition to providing free job training programs and connecting residents to job opportunities, Detroit at Work reimagined the city's workforce development infrastructure. "Ten years ago, you might've seen small increases and improvements in the unemployment rate, whereas today we have made tremendous gains," says Williams.
The numbers speak for themselves: Unemployment fell under 7 percent in 2023, its lowest since 2000, and Detroit at Work has helped more than 40,000 Detroiters secure employment.
What the numbers cannot show, however, is the way increased job opportunities are felt by Detroiters. "Sure, jobs are going to bring benefits, corporate dollars, and investments in our community, but the fact that companies are coming into Detroit makes Detroiters feel good," says Williams "Seeing a new building go up blocks away from your house makes you think, 'maybe I can even walk to work.' Just that possibility makes people feel hopeful."
These opportunities go beyond securing a job. "They can buy their first house, they can maybe even start their own business," says Williams. "We're not only supporting them in the short-term, but are helping to create generational wealth that adds to the economic wellbeing of our city."
Today, Detroit at Work helps match job seekers to corporations of all sizes, including JPMorgan Chase. In 2022, when JPMorgan Chase was looking to model its virtual customer service program in the U.S., it turned to Detroit. Within a few days, Detroit at Work shared a robust list of impressive candidates, and JPMorgan Chase exceeded its initial recruitment goals, hiring nearly every candidate it interviewed.
Now in its second year, the call center has hired more than 90 employees, and—through continued partnership with Detroit at Work—has trained its third cohort. Based on this success, there's plans to open additional virtual call centers elsewhere. "We wanted to expand the availability of careers to communities where we know that the talent exists but the opportunities do not," says Jordan King, Executive Director, JPMorgan Chase. "This program allows us to build a more diverse and equitable workforce, hire top talent and create new career paths at JPMorgan Chase."
JPMorgan Chase's $200M investment in Detroit has allowed job-seekers to participate in training programs aligned with high-demand industries, and resulted in nearly 72,000 people being placed into apprenticeships, full or part time jobs. Working with partners like Detroit at Work JPMorgan Chase is helping to keep up the momentum and create employment opportunities that match the needs of the community.
Learn more about how JPMorgan Chase is helping to strengthen Detroit's local economy and revitalize communities.


For 90 years, JPMorgan Chase has helped make lasting impact for Detroiters. See how in a video featuring local Detroit poet Joel Greene.
Participants Compensated.
©2023 JPMorgan Chase & Co. All rights reserved.