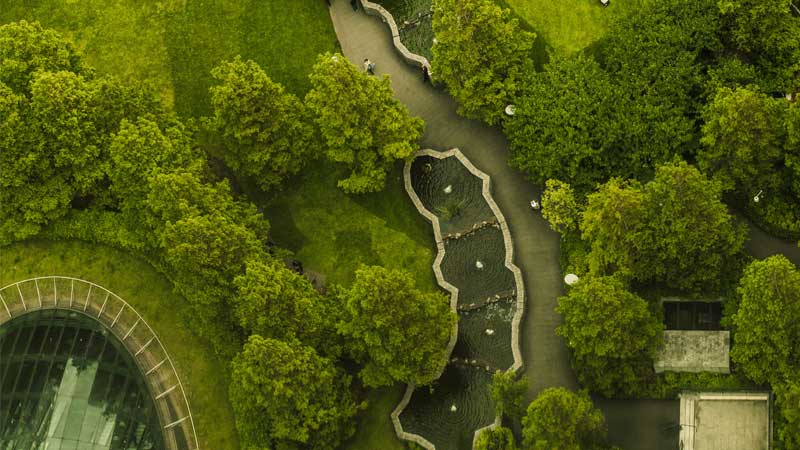 Sustainability
Clean energy is a massive investment opportunity
We're on track to finance $1 trillion for green by 2030
The International Energy Agency (IEA) recently observed that the "energy world is at the dawn of a new industrial age–the age of clean energy technology manufacturing." Capitalizing on this opportunity, while also advancing energy security and meeting today's energy needs reliably and affordably, is a core challenge of our time.
A trio of laws enacted since 2021–the Bipartisan Infrastructure Law, the Inflation Reduction Act (IRA), and the CHIPS and Science Act–catapult America to the forefront of this new age. Countries around the globe are actively evaluating similar laws to unlock clean energy investment.
Building on years of state policies that catalyzed the early days of low-carbon innovation, we now have the momentum to reinvigorate domestic manufacturing, build resilient supply chains, create good jobs, and cut energy costs–all while making progress on the climate challenge.
The private sector–including global banks–has a critical role to play. At JPMorgan Chase, we've financed more than $170 billion in green initiatives in the last two years and are targeting to finance an additional $800 billion for green by 2030.
At the same time, we're providing critical financing today to nearly every sector, including power, transportation, oil and gas, manufacturing, and heavy industry. That's why we have more than doubled our dedicated investment and commercial banking client teams to serve clients' carbon transition objectives. And we are not the only ones. Clean energy investment hit a record $1.1 trillion in 2022, the first time investment in the energy transition has equaled global investment in fossil fuels, according to BloombergNEF.
The task ahead is to deploy capital at an unprecedented scale to power the American economy in cleaner ways, ensuring that Americans don't have to choose between access to affordable and reliable energy and environmental progress.
The IRA unlocks business opportunities in two vital areas: how we produce energy and how we use it.
On the production side, capital is needed to develop and deploy clean energy solutions and to reduce the carbon intensity of traditional energy production. Those kinds of efforts are important because although we will rely on hydrocarbon supply for many years–including for planes and heavy industry–minimizing associated emissions can slow the rate of warming even as the transition is unfolding.
How we use energy is another critical piece of the climate puzzle–and a capital-intensive area for rewiring the economy. For example, financing will be required to grow business across the value chain that makes electric vehicle adoption possible, from battery manufacturing and vehicle assembly to charge point installation.
The IRA also incentivizes carbon capture and storage (CCUS)–a climate solution advanced by some of the most innovative companies in the field, for whom we helped raise more than $1 billion in private equity capital in 2022, double the total raised in the previous five years combined in the entire carbon capture venture capital space. CCUS will play an important role in tackling climate change while also keeping critical industries running to meet society's needs responsibly, which is why we're intent on driving capital to significantly scale these solutions.
These developments and more–from hydrogen and sustainable aviation fuels to geothermal and home retrofits–will only come to pass through the ambitious and skillful implementation of the laws now on the books, with thoughtful additional public policies as needed.
For example, building a low-carbon economy on a massive scale depends on hundreds of projects being successfully sited and permitted, from long-distance electric transmission lines and offshore renewable installations to manufacturing plants and natural gas pipelines. That's why it's essential to reform the broken permitting system, delivering the speed and certainty needed to help business leaders invest, while also engaging communities and respecting environmental considerations.
Another key to successful IRA implementation is creating secure supply chains, including responsibly developing domestic resources and enhancing collaboration with foreign allies and trade partners. We must pursue a race to the top marked by diplomacy, partnership, and healthy competition.
Furthermore, given that IRA breaks new ground on how tax credits are traded, it will be important for government to provide clear guidance to market participants on what they need to do to qualify, while also inspiring the confidence needed for companies and investors with tax appetite to buy credits on the market as the financial fuel needed to enable the development of low-carbon projects.
In this new era, we're growing JPMorgan Chase's focus on financing the energy transition because it's the right thing to do for clients, customers, communities, and shareholders. America can seize the opportunity to drive economic growth through innovation while creating jobs and delivering market-driven progress in advancing the energy transition.
Heather Zichal is the global head of sustainability at JPMorgan Chase. Ramaswamy Variankaval is the global head of J.P. Morgan's Center for Carbon Transition.
This article originally appeared on Fortune.com