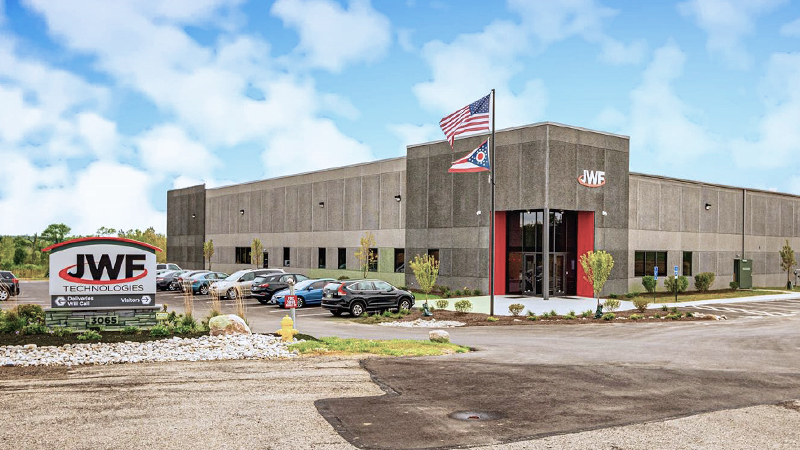 Stories
"Never Just a Number": How One Cincinnati Business Continues to Grow With Chase

JPMorgan Chase & Co.

"You don't know how good your bank is until you need them," says Dom DiPilla, owner, president/CEO of the 24-year-old, Ohio-based engineering systems company JWF Technologies.
Entrepreneurship is hard. And two years of a global pandemic, along with current challenges around labor shortages, supply chain issues, inflation and other market factors have made it even more difficult. However, the tide appears to be turning. A recent Chase for Business survey found that nearly half of small business owners are feeling more optimistic about the future of their businesses than at the beginning of 2022.
To navigate these challenges and continue to drive their businesses forward, Cincinnati small business owners need the help of their banking partners. Since its founding in 1998, JWF has grown from a handful of people serving Ohio and the Midwest to more than 50 employees and a footprint across the U.S., Canada and Mexico. The company began working with Chase in 2011, when, after surviving the 2008 recession, they found themselves looking for a new financial partner. Over the last decade, they've worked with their Chase partners to expand during the good times and maintain stability during the lean times.
"It's been a great relationship," DiPilla said. "Chase saw our potential, and we've been able to grow with them. As we've grown, our products have grown with Chase — from credit lines to check-scanning, purchasing and even financing the building we're in."
One of the most pressing challenges facing Ohio small business owners like DiPilla is maintaining a skilled workforce. The Great Resignation has shown little sign of slowing with 11.3 million job openings — or around two jobs for every unemployed worker — in May 2022 and 69% of small business owners reported a shortage of employees with necessary skills, according to the Chase survey.
Many industries had existing workforce issues that were exacerbated by the pandemic. For JWF, finding the right employees has been a challenge for some time due to the aging workforce that comprises the bulk of the specialty field.
"It's not a new problem," DiPilla said. "But now it's a struggle to hire employees across all departments."
The pandemic also accelerated the need for new technologies in banking, such as contactless payment capabilities and better digital customer management tools. These kinds of technologies help small businesses run efficiently, and, as simple as they may seem, they also set Chase apart from other banks.
"Chase is as much a technology company as we are a bank," said Ron Biggs, a senior relationship manager working with JWF out of Chase's Cincinnati branch. He notes that in addition to products such as those for cash management and deposits, small business owners are also seeking fraud protection products and a user-friendly banking experience.
"With Chase.com, we've built an intuitive digital banking platform along with a team of bankers for online support," Biggs said. "For example, customers can go to the website and, if they have any trouble, they can share their screen with me, and I can walk them right through how to do something. One of our biggest compliments is often, 'Wow, I didn't think that would be so easy to implement.'"
DiPilla seconded that sentiment, saying, "It's nice to be able to just pick up the phone and go, 'Here's what we need.' It's that kind of personal touch and consistent level of communication that has been so important. I wasn't expecting a big bank like Chase to have that kind of personal touch. We have never been treated like just a number."
This story originally appeared in Cincinnati Business Courier.